BEF JUNIOR NATIONALS HEADS TO NORTHERN ILLINOIS UNIVERSITY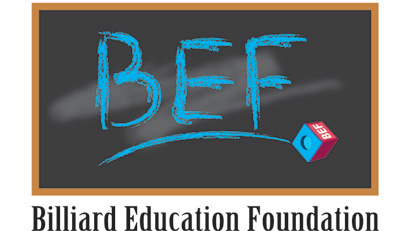 BEF JUNIOR NATIONALS HEADS TO NORTHERN ILLINOIS UNIVERSITY
To participate in the BEF Junior Nationals, players must earn an entry through a BEF qualifier or must be appointed by their local junior league. The national event features 4 divisions: 19 & Under Boys, 19 & Under Girls, 14 & Under Boys, and 14 & Under Girls. Qualifiers will be held throughout the United States through the month of June.  The BEF is accepting nominations and offering player invitations for the girls' divisions. For more information about hosting a qualifier, league guidelines, or upcoming qualifier dates and locations, visit www.BilliardEducation.org.
The 2010 BEF Junior National 9-Ball Championship sponsors include, Ozone Billiards, Simonis Cloth and Delta-13 Rack.
About Billiard Education Foundation
The Billiard Education Foundation (BEF) is a 501(c)(3) non-profit organization which is committed to promoting education and encourages the development of life skills through youth billiard programs. The BEF funds academic scholarships, produces the Junior National 9-Ball Championships, sponsors billiard athletes to attend the WPA World Junior 9-Ball Championships and promotes "Pool In School" programs. For more information, please visit www.BilliardEducation.org or call 303.926.1039.