16 U.S. Juniors Head to Shanghai for WPA World Junior 9-Ball Championships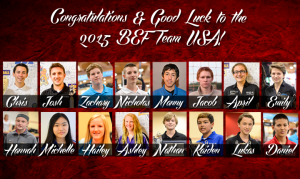 September 23, 2015 (Denver, CO): The 2015 Billiard Education Foundation (BEF) Junior National 9-Ball Championships qualified 16 billiard student-athletes to represent North America as part of Team USA at the upcoming WPA (World Pool-Billiard Association) Junior 9-Ball Championships. The prestigious annual world event will be held in Shanghai, China November 13-18, 2015.
Through the support of the Billiard Congress of America, the BEF continues to coordinate international travel and participation for this tournament for the past two decades.
The following players will proudly represent our country this year:
Chris Robinson, age 17 (Ventura, CA)
Joshua Franklin, age 17 (Creve Coeur, IL)
Zachary Gurganus, age 18 (Marrieta, GA)
Nickolas Kline, age 17 (Prescott Valley, AZ)
Manny Perez, age 17 (Kansas City, KS)
Jacob Watson, age 17 (Tyler TX)
April Larson, age 15 (Bloomington, MN)
Emily Herpel, age 15 (Freehold, NY)
Hannah Hohn, age 17 (Ethan SD)
Michelle Jiang, age 15 (Harvard, MA)
Hailey Fullerton, age 15 (Lake Park, MN)
Ashley Fullerton, age 14 (Lake Park, MN)
Nathan Childress, age 14 (N. Chesterfield, VA)
Kaiden Hunkins, age 13 (Waukesha, WI)
Lukas Fracasso-Verner, age 15 (Wallingford, CT)
Daniel Sardoncillo, age 14 (Puyallup, WA)
Win a Diamond Table"¦. Support a Junior Player!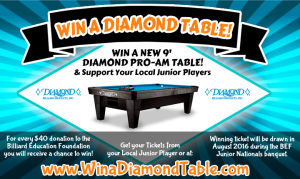 September 23, 2015 (Denver, CO): Diamond Billiard Products and the Billiard Education Foundation (BEF) have teamed up to offer an irresistible contest to support juniors pool! One lucky recipient will win a brand new 9-foot Diamond ProAm table which will be drawn during the 2016 Junior Nationals banquet.
Tickets will be available through the BEF and currently through all 16 competitors raising funds for the upcoming World Junior 9-Ball Championships in Shanghai, China. Supporters will receive (1) ticket for every $40 donation or (3) tickets for every $100 donation. Get your tickets directly from the junior players or from the following link:
www.WinaDiamondTable.com
Fundraisers are being held around the country to support these fine players on their quest for a world title. For more information on the ways you can help them on their journey, contact the BEF office at (303) 926-1039 or info@billiardeducation.org.
About the Billiard Education Foundation (BEF)
The BEF was formed in 1993 as a 501(c)(3) nonprofit charity committed to promoting a lifelong love of pool and building the next generation of players through youth programs and academic scholarships. Visit billiardeducation.org or call (303) 926-1039 to learn more about junior billiard programs in your area.