Pendennis Club USBA 3-Cushion Regional Qualifier
The semi-final match play on Sunday, January 24 was poetry on green felt as the 10 final gladiators of 3 Cushion shifted gears into a focused high. 2 brackets of 5 players each produced 3 players from each for the final playoff matches. The top 4 players after the last ball stopped rolling received free entry to the USBA Nationals in Tacoma, WA February 17 – 21, 2010.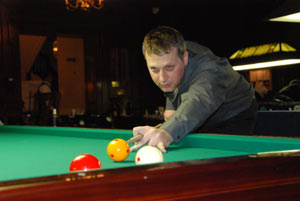 Dan Kolacz (bracket E top finisher) played Max Fisher (bracket F top finisher) to determine the overall USBA Regional Qualifier Champion. Displaying brilliant play technique, Kolacz maintained a smooth and steady movement around the table as he entered the winner's circle with a 25 – 15 win over Fisher.
Jim Shovak (2nd place finisher in bracket E) challenged Brian Haff (2nd place finisher in bracket F) for 3rd and 4th place honors. Both players showed great determination to win; however, Shovak got an early lead and never looked back. Shovak made the final point to win by a final score of 25 – 12. Haff received comfort in his loss with a berth in the Tacoma event free of charge. Brian also won a beautiful carom cue donated by Samurai Cues, Inc. in an event raffle.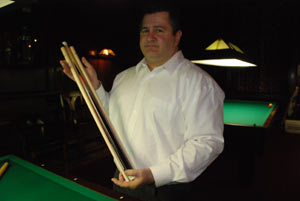 In a valiant effort to make the final top 4 places, Bill Johnson finished 5th overall and Jonathan Anderson finished 6th. Positions 7 thru 10 were in order Scharf, Rossman, Warren, and Friedman. Many of the semi-final matches were won by 5 points or less, which produced an exciting adventure among not only the players, but also the fans in attendance.
When the final ball stopped rolling and the event curtain closed, all players shared a wonderful time in special camaraderie with their fellow carom friends. Each enjoyed the roll and experienced many special moments in billiard history!! A special thanks goes out to the historic Pendennis Club for allowing all the 3 cushion players, fans, and friends of the game take residence in their private setting for 4 awesome days in January of 2010.
January 23rd – Day 2 produced some amazing 3 Cushion shots and matches. Each player kept one eye on the victory circle to garner a spot in the semi-finals and the other eye on the table. As the games rolled on it was evident that Dan Kolacz from Buffalo and Brian Haff from Chicago were playing for a perfect 5 – 0 record in the prelims, while 6 players set their individual win-loss stages at 4 – 1. This latter list of players included Gary Scharf, Ed Friedman, Bill Johnson, and Max Fisher. The other 2 players with 4 – 1 records gave the Pendennis Club a special treat in one of the greatest matches of the day with Greg Warren defeating Jim Shovak in their prelim match with both players averaging over 1.2!!The top 2 third place finishers from the 4 brackets would join the other 8 players in the race to victory. John Anderson and Tom "Dr. Cue" Rossman earned those places.
The 1st round of the semi final matches started off with a loud roar, as Rossman found a consistent cueing pattern with a victory over the smooth stroking Haff by a score of 25 to 15. Kolacz remained the only undefeated player as he coasted to a determined win over steady Anderson by 5 points. In the final match for Day 2 Scharf defeated Friedman by a focused score of 25 – 19.
Matches started on Day 3 at 9:30AM!! More to follow"¦
Click on chart images to enlarge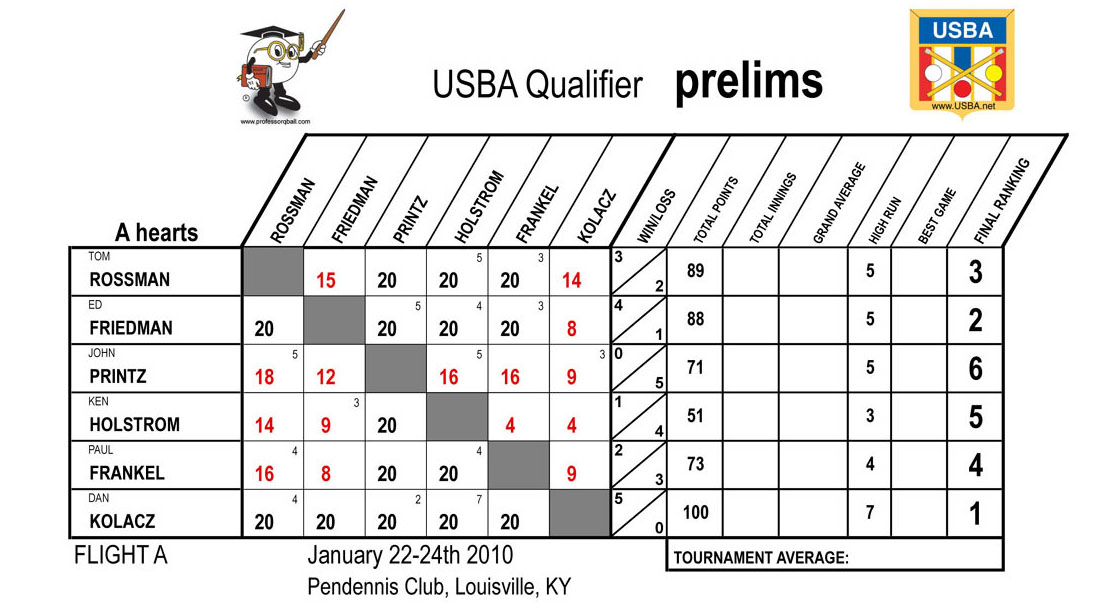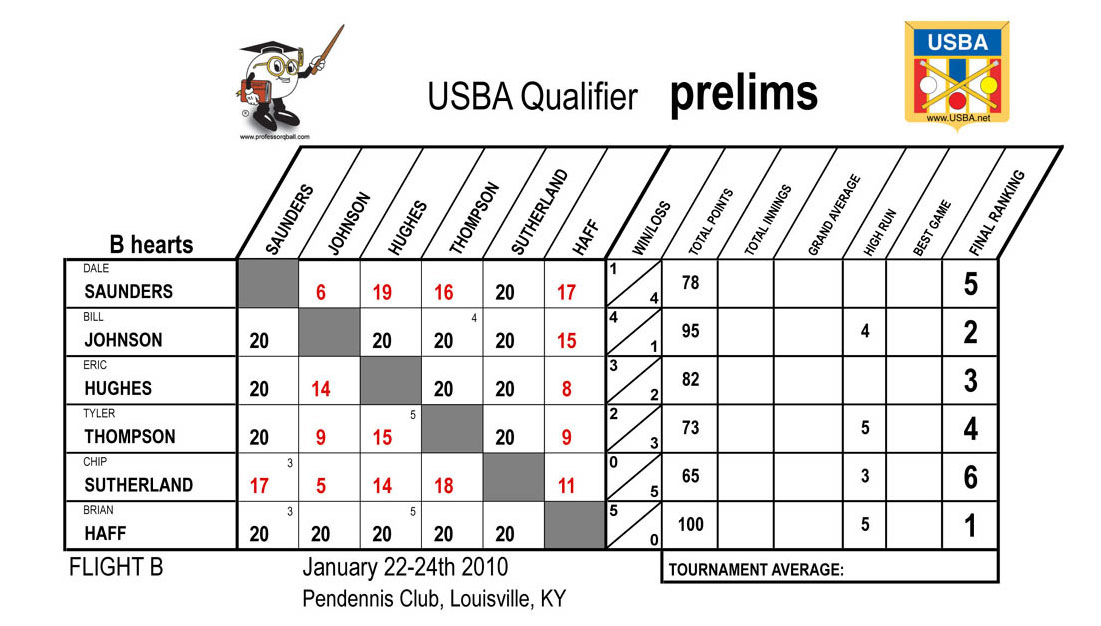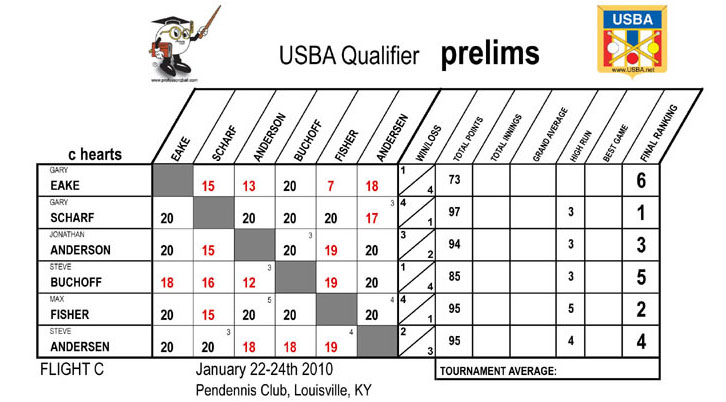 The 1st day of this spectacular event witnessed great play and a series of close matches. Jim Shovak of New York had a beautiful run of 9 points in his win over Chris O'Brien from Boston, MA. Jim currently holds the high run for the tournament with his dazzling display of poise and focus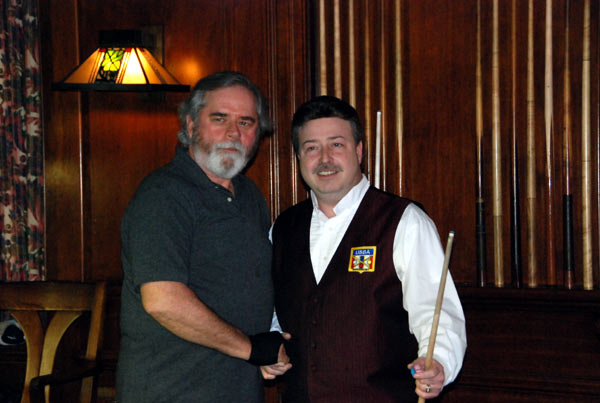 Chris O'Brien – Jim Shovak

After O'Brien's wide scoring differential in his loss against Shovak, Chris gained some special confidence in a close fought and exciting game victory over Greg Warren by a slim 1 point margin 20 – 19. In 2 other tight matches Gary Eake was defeated by Steve Anderson 20 – 18 and John Anderson returned the favor to Steve by the same 2-point margin.
Live stream coverage of each match on Table #1 at the beautiful Pendennis Club has given many of the event players an opportunity to showcase their billiard skills to viewers around the world. Day 2 play will begin at 10:00AM sharp, so stay tuned for more exciting action from Louisville, KY.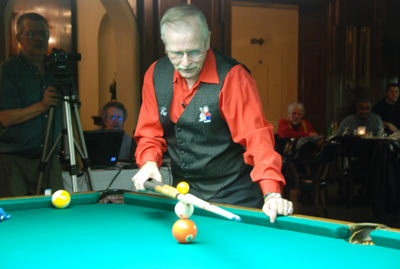 Thursday evening was a special night at the Pendennis Club in Louisville, KY. Tom "Dr. Cue" Rossman performed a dazzling display of artistic pool shots and entertained a very responsive audience of Pendennis Club members and 3 Cushion billiard players and fans. The magnetic humor and unique character-like antics of "Dr. Cue" created spontaneous laughter and special "table trotter" moments in billiard history.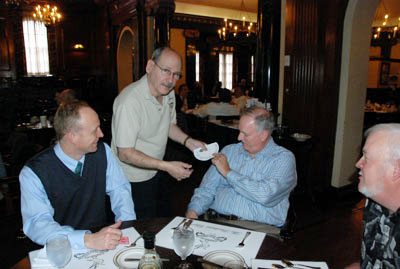 Paul "Professor Q Ball" Frankel, promoter of the USBA 3 Cushion Regional event being held at the Pendennis Club from January 22 – 24, 2010, also performed some of his special magic for those in attendance and kept each person leaning closer and closer to his amazing card tricks.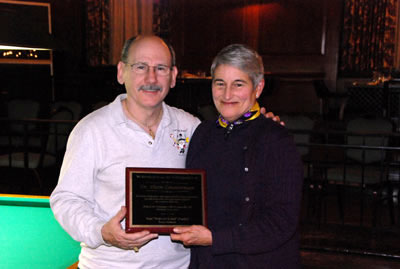 Prior to the evening's entertainment festivities Paul presented a special acknowledgement plaque to Tinker Zimmerman, wife of Thom Zimmerman, a long time member of the Pendennis Club and passionate player of 3 Cushion Billiards. Thom passed away recently and will be missed by all both on and off the table.
Live Stream of the 3 Cushion event began promptly at 10:00AM on January 22nd with a full field of 24 players and a growing number of spectators to "enjoy the roll"
More later"¦
[nggallery id=11]