United States Turn the Screws
10th December
United States Turn the Screws
Europe Facing a Mountain
Europe 2 – 7 USA
FOLLLOWING ANOTHER series of dominating performances, Team USA seem set to regain the PartyPoker.net Mosconi Cup as they need just four more points to get their collective hands on the trophy for the first time since 2006.
Wins for Hatch and Dominguez and Archer and Van Boening in the doubles and then Archer again in the final singles match gave the capacity crowd something to cheer about and only Thorsten Hohmann had any success for Europe as he beat Deuel.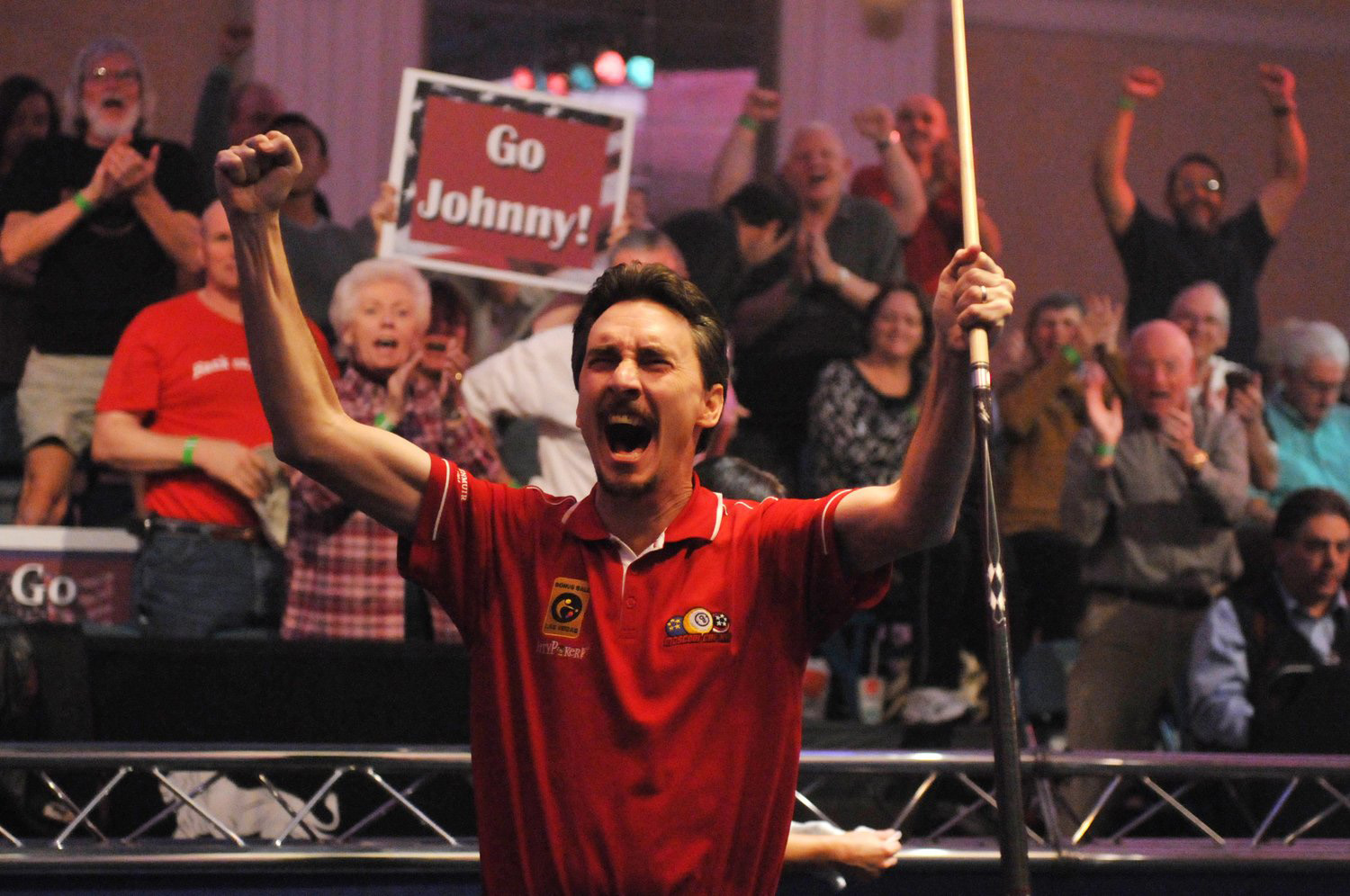 Archer's final win, coming from 1-5 down to beat Darren Appleton, was the killer blow;
"My heart skipped a few beats and it's tough to breathe. The Mosconi Cup brings a lot on to you.
"My crowd pulled me through, the crowd and my team mates. At 5-1 down all I could do was hope for mistakes and take it a ball at a time and maybe I could chip back. Then it was close and I got a shot to win it at the end.
"I do feel for other players and Darren is an awesome player and an awesome guy. He was putting his heart and soul into the match for his team. I've been there and made mistakes and it's hard to handle but he will come back from that I have no doubts.
"I know we were ahead but if you lose, you lose the momentum and that's a big momentum shift back in our favour."
Earlier in the day, starting out with his 'dream pair' of Ralf Souquet and Niels Feijen, Euro skipper Alex Lely hoped to seize the early initiative but it back-fired once again as his men were outplayed by Shane Van Boening and Johnny Archer who recorded a 6-2 win.
It was a big victory, moving the score to 5-1 instead of 4-2 and afterwards Archer revealed the atmosphere in the American camp.
"We're meeting at 8.30am every morning, having a nice meeting, telling jokes, relaxing, practising for two hours and ready for action.
"So far, this is one of the best teams I've ever been in. We're all a team and all pulling and squeezing together. We're living and breathing with each other and that takes a lot of the pressure off as if they make a mistake then there's someone ready to pick them up."
Thorsten Hohmann relieved some of the pressure mounting on Team Europe as he dug deep to defeat Corey Deuel 6-4 and give Europe only their second point of the tournament.
The critical moment came in the ninth game with the match finely poised at 4-4. Deuel could only watch in horror as the cue ball vanished into the side pocket after a thin cut attempt on the 2-ball.
Hohmann finished the rack with a 4-9 combination and a dry break from Deuel sealed the Americans fate. The relief was clear for Hohmann as he pumped his fist at his cheering team mates.
The European fight back was short lived as Oscar Dominguez and Dennis Hatch took down Mika Immonen and Darren Appleton in a dramatic match to restore a four point lead for the USA.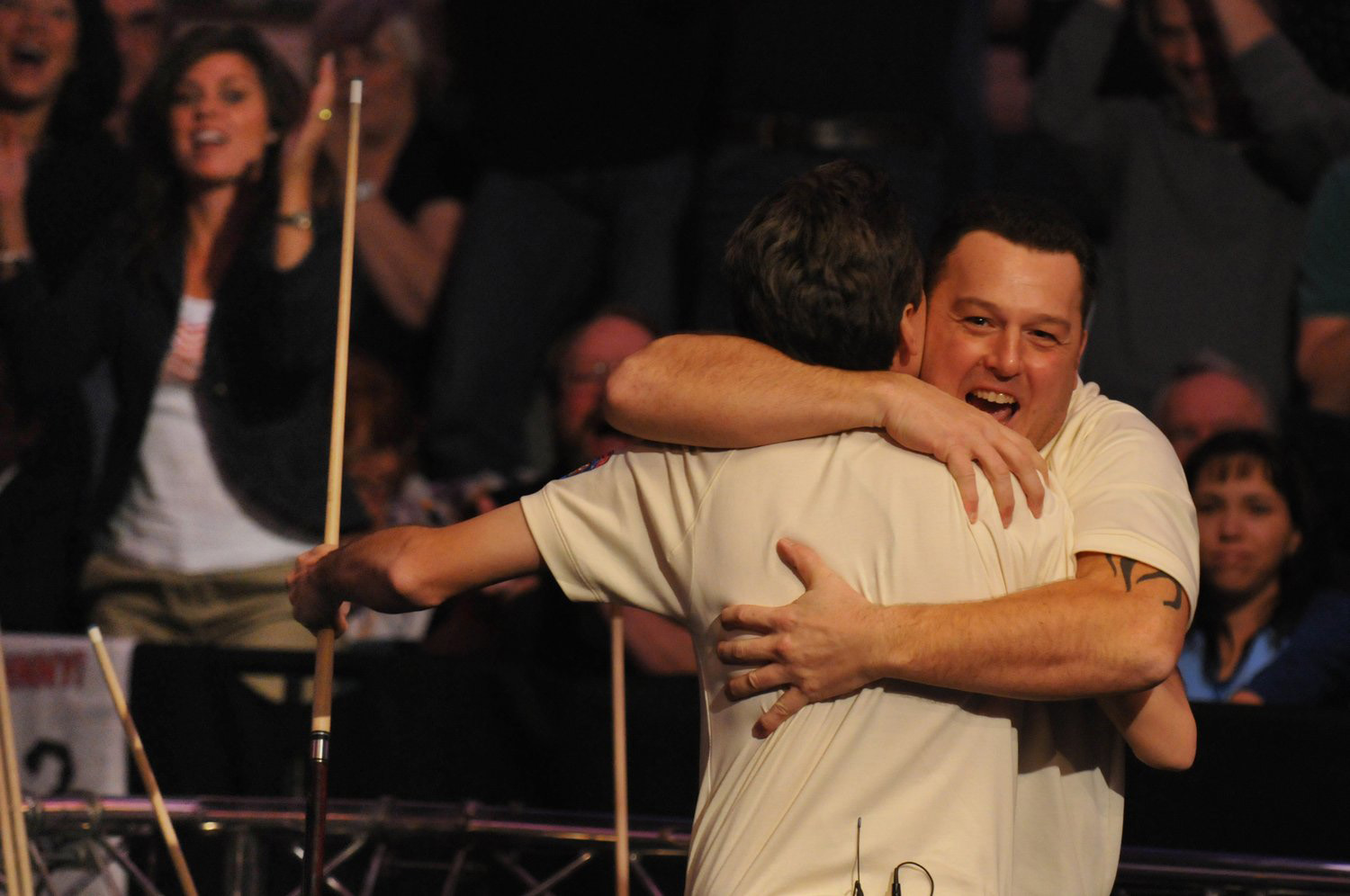 The 38 year-old Hatch is emerging as the personality of the tournament with some stellar play as he wears his considerable heart on his sleeve. His chalk and cheese pairing with the diminutive Dominguez proved a perfect combination as they got the better of a fading European pair.
'The Hatchetman' played off the crowd and could barely contain himself as every rack went down. When the final 9 ball dropped, he made his way to the European corner and vented his fury at Alex Lely who he felt had insulted him earlier in the match when Hatch failed to notice that the requisite number of balls did not pass the headstring following his break.
"He (Lely) said 'one plus one' like I couldn't count after a break and that was just rude so I couldn't wait to get payback for that.
"This means more than anything in the world. The pressure is unbelievable, you're nervous, emotional and you have to hold the tears back.
"This is about playing for your country, your brothers and your fans. This is the most amazing thing I've ever done in my life – I love it."
Hatch broke down in tears mid-interview, his second tearful moment of the first two days and his blend of fire and emotion is proving hugely popular with the large American crowd.
The real kick in the teeth for the Europeans came in what was the final match of the session as Darren Appleton gave up a 5-1 lead to Johnny Archer as the overall score after two days moved to 7-2 in favour of the Europeans.
A 6-3 score line would have seen the Europeans in with some sort of chance but they now have a mountain to climb.
The Englishman seemed to be shrinking in his chair as Archer clawed the racks back and grew in strength with the crowd.
When the final 9 ball fell it was a killer blow for the European team and captain Alex Lely will have the job of his life to turn this situation around.
The Scores
Souquet/Feijen 2 – 6 Archer/Van Boening
Thorsten Hohmann 6 – 4 Corey Deuel
Immonen/Appleton 4 – 6 Dominguez/Hatch
Darren Appleton 5 – 6 Johnny Archer
Live in its entirety on Sky Sports in the UK, the PartyPoker.net Mosconi Cup features two five-man teams representing Europe and the USA doing battle in a series of singles and doubles matches. Now in its 16th year, the Americans hold a 10-4 lead with one tied match in 2006.
Luke Riches, Matchroom Sport: luke.riches@matchroom.com, +44 7785 395688
www.matchroompool.com
Notes: Matchroom Sport are one of the world's leading producers of televised sport and are responsible for over 1,100 hours of original programming across a range of nine sports. Based in the UK and chaired by charismatic founder Barry Hearn, the Mosconi Cup is one of a stable of pool events that also includes the World Cup of Pool and the World Pool Masters.
The 2009 Mosconi Cup is sponsored by PartyPoker.net, the world's leading online casino. Tables are supplied by Brunswick Billiards, cloth by Iwan Simonis, Super Aramith balls by Saluc and the Official Cue is Predator.