Immonen Wins Second Consecutive U.S. Open Title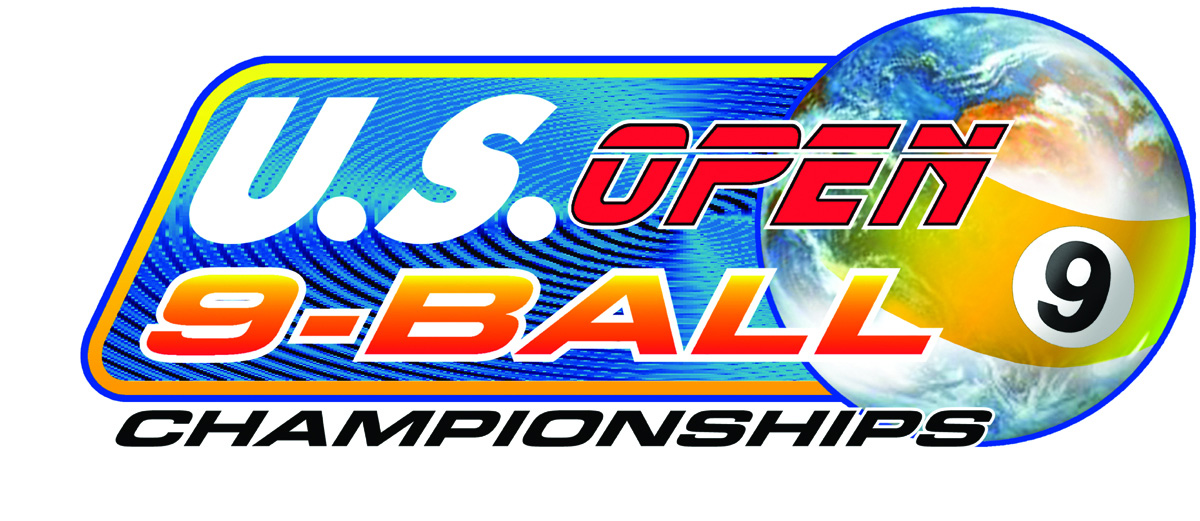 MIKA DOUBLE DIPS THE WORLD AT THE OPEN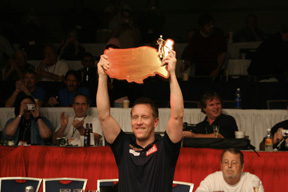 Mika Immonen pulled off a stunning come from behind victory to win his second consecutive U.S. Open title. Following an 11-9 second round loss to Chris Bartram, Mika won fourteen matches in a row, concluding with a 13-10 victory over Ralf Souquet in the finals. Along the way he had to overcome some tough opposition and extremely difficult conditions.
This was an Open filled with adversity for all the players. Tough equipment in the form of Diamond Pro Tables, serious competition with 216 world class players hailing from twenty six countries, long matches and late nights with play extending past 3 AM several times. Plus long waits between matches with nothing to do and nowhere to go. It was a long way to Q-Master Billiards and the only practice tables around. At the tournament site, practice was limited to early mornings and a few scattered minutes between rounds.
And then there were the racking wars that took place on match after match. In this loser's rack format, the players must both agree on a satisfactory rack before the next game begins. Sounds simple in formula, but not always so workable in reality. A very common theme was to observe both players head down over the rack, perusing it from every conceivable angle. They would both be pointing at real or perceived gaps between balls. With the breaker unhappy, the racker would start all over again, placing the balls in the triangle and moving them into position, tightening them up and finally removing the triangle.
Now the fun would begin once again. The breaker would study the rack, using both hands held flat above the rack to block the table light. He would proceed to inspect the rack as carefully as a scientist examining a specimen under a microscope. If any flaws were found, he would call the racker back to the table to show him the problem. The debate might rage on and on for several minutes before finally an acceptable rack was agreed upon by both players. It was usually with some reluctance that the breaker finally accepted what to him was a still flawed rack.
In extreme situations, one of the three tournament officials was called in to assist in providing an agreeable rack for both players. Oftentimes this only served to prolong the agony. The time spent racking the balls was often of much longer duration than the actual time spent playing the previous game. What these racking wars accomplished was to extend many matches past the three hour mark and cause some very late nights for many players. Even more disconcerting was that some players who completed late night matches might be scheduled to play again at 11 AM. This may have been Shane Van Boenings undoing as he was reluctant to go to sleep at 5 AM, fearful of not being able to wake up for his early morning match. He stayed up all night and was not in top form for his match with Karl Boyes, losing badly 11-4.
All this and more make the U.S. Open the toughest test in professional pool. It takes stamina, endurance and perseverance to gain this title. Lesser players fall by the wayside in the quest to be the Open champion. It could well have been the fate of Immonen as well. He was critically behind in several matches and somehow found the will to continue and a way to win. Beau Runningen had Mika down 10-8 and shooting. He lost 11-10. Scott Higgins from Great Britain had Mika behind 8-2! He lost 11-10. No less than Rodney Morris had Mika down 8-4. He lost 11-9. And Lee Van Corteza had Mika stuck 7-3 and then 8-5. Mika won the last six games in a row for an 11-8 victory. How many players could have overcome this amount of adversity and still found a way to win? I'm guessing only one in this field of 216 could have done it and he's the Open champion again. This was Mika's finest hour and greatest triumph in what is shaping up to be a Hall of Fame career.
Then there is Ralf Souquet, simply the best tournament player of the last fifteen years, and a sure thing for the Hall of Fame. The always stoic Souquet is the quintessential pool player; precise, calculating, unerring. He strolled through the winners bracket with eight straight victories. He was tested briefly by a member of the strong Kuwaiti contingent, Abdullah Alyousef, before prevailing 11-8. Heralded money player Chris Bartram, who earlier had defeated Immonen, took Souquet to 8-8 before losing the last three games. And in his most severe test, the relative unknown Donny Mills reached the hill first at 10-9, and then broke empty. He never returned to the table as Ralf ran out the final two racks to win 11-10. Undefeated after eight matches, Souquet waited patiently while Mills and Immonen fought to see who would play him in the finals.
Donny had won seven matches in a row prior to playing Ralf for the hot seat. In so doing he became the talk of the tournament. Players like World Ten Ball champion Darren Appleton, Eurotour number one Karl Boyes and perennial favorite Rodney Morris all felt the sting of Big Donny's cue. He trounced Appleton 11-5 and thumped the mighty Boyes 11-3. Rodney put up more of a struggle before falling 11-9. Even after losing 11-10 to Souquet, people continued to talk about the unflappable Mr. Mills. Donny is well deserving of his new found recognition. He has long labored in anonymity on the Florida and Seminole tours with hardly a blip on the national charts. He did manage a 9th place finish here last year which earned him some limited attention. But this year became his real unveiling to the greater pool world.
The losers bracket final between Mika and Donny was full of twists and turns. Donny jumped ahead of Mika 7-4 (what else is new?) and appeared to be running out for an 8-4 lead when he lost the cue ball in the side pocket. Mika took full advantage of this opportunity and made one of his patented goal line spurts to reach the hill first at 10-8. An empty break brought Mills back to the table and two quick run-outs later it was tied up 10-10. For the first time in the entire tournament Donny scratched on the break. That was all Mika needed to close out the match and gain his berth in the finals.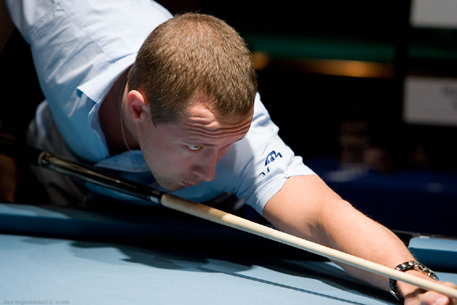 The finals seemed somehow anti-climatic after the two great matches that had preceeded it. There were a few early errors before Mika settled down and took a 10-7 lead. A foul by Mika brought Ralf back to the table for a run-out to make it 10-8. In the next game, Mika was running out but fell tough on the eight and had to try an eight-nine combination. He missed and Ralf cleaned up to draw within a game at 10-9. Ralf then made a break and run to tie the match, 10-10. A terrific safety battle ensued on the one ball in the next game before Mika found an opening and ran out. It was 11-10. In game twenty two Mika fouled on the two ball, giving Ralf ball in hand. Ralf was running out when he unexpectedly scratched on the seven ball. That's all she wrote. Mika wipes up that game for a 12-10 lead and makes a ball on the break in the next game. He is left with an awkward billiard from the one to the nine which he studies for some time. Finally he takes the bridge from referee Scott Smith and lines up the shot. PERFECTO! We have our 2009 U.S. Open champion – MIKA IMMONEN!
Mika has now made the finals in his last nine tournaments! An astonishing record of success.
SIDE NOTES: In spite of playing winner breaks, there were dozens of hill-hill matches. The argument for alternate breaks fades when you see how many matches still go the limit.
Kim Davenport is showing remarkable improvement from his severe eye injury six years ago. He won a 11-10 thriller over business partner Johnny Archer before running out of gas and losing back to back matches to Lee Van Corteza and Rodney Morris. He finished tied for 5th, an excellent showing.
Lee Van Corteza or Van Van as he is known to his countrymen, had an excellent tournament as well. He cruised through six opponents before losing to Souquet 11-7. He took out Davenport 11-6 before being eliminated by Immonen 11-8. His only losses were to the top two players this week. Van Van is a player's player. He doesn't care what table he is on, what time of day it is or who he is playing. He just gets up there and fires away, glad for the opportunity to do his thing.
Corteza also made the shot of the tournament to win his match with Imran Majid. Following a well played safety by Majid, Van Van was staring at a long very thin cut on the nine ball or possibly a bank shot. After some time considering his options he went for the cut shot and hung the nine in the corner pocket. Wait a second! The cue ball hit the point on the side pocket and began to meander slowly back toward the nine, resting comfortably in the jaws of the pocket. Somehow the cue ball had just enough steam to reach the nine and tap it ever so gently. That was enough to knock it over the edge and into the hole for a victory 11-7 over the downcast Majid.