CHAMPIONS CROWNED AT DR. CUE CLASSIC "ARTISTIC" CUP III
CHAMPIONS CROWNED AT DR. CUE CLASSIC "ARTISTIC" CUP III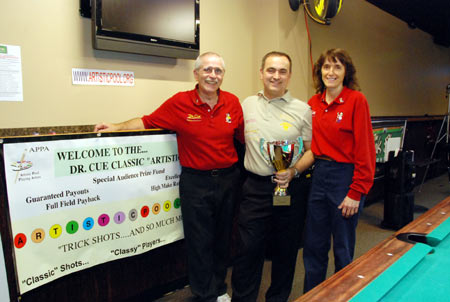 Nick "Quick Nick" Nikolaidis raced to the "artistic" victory circle on November 20, 21, and 22, 2009 at The Bank Shot Bar & Grill in Laurel, MD. Nick displayed burning focus, poise, and brilliant skill shot execution in the process. Ray Hansen of Cue and A Promotions did a live stream at the event, which was the 1st time an "artistic pool" event has ever been covered online.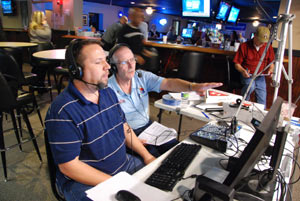 You may view all round play, the awards ceremony, and Cue-Dean-"E" at: www.ustream.tv/channel/drcue2009.
A determined group of 27 Artistic Pool Playing Artists came from every corner of the US, Canada, and France to participate in the "sport and show" arena of the Dr. Cue Classic "Artistic" Cup III. This signature event of the Dr. Cue Classic Artistic Pool "Sport & Shots" Tour showcased some of the greatest pro players under the APTSA umbrella and top amateur players from several league tour stops held in 2009 at respective National and / or International events of the BCAPL, VNEA, ACS, and APA, plus several "at large" entries.
Pros and amateurs played side by side in special 3 person – player groupings with 7 foot tables and high percentage make rate shots creating an equalizer effect for all competitors. Over $15,000 in guaranteed payout values and a rather large player / audience prize fund produced player and fan friendly opportunities in a reunion style billiard atmosphere.
The APPA (Artistic Pool Playing Artists) crusader force showcased a "class" act of billiard skills from each of the 8 magnetic disciplines of "artistic pool" – 1) Trick / Fancy Shots, 2) Prop, Novelty, and Special Arts, 3) Draw Shots, 4) Follow Shots, 5) Bank / Kick Shots, 6) Stroke Shots, 7) Jump Shots, and 8) Masse Shots. When the challenge of 40 "classic" preliminary shots and playoff shootout matches were over, there would be an Overall event champion, 8 Discipline champions, and 2 Sportsmanship recipients.
Below is a brief recap of the event. For a complete result, please visit www.artisticpool.org.
DR. CUE CLASSIC ARTISTIC CUP III
(OVERALL POSITIONS OF FINISH)
Place Player / Nickname / Home Base Points Prize Money / Award
1 Nick "Quick Nick" Nikolaidis (Canada) 203 $ 3000.00 + Cup
2 Jamey "The Sharpshooter" Gray (CT) 195 2400.00 + Cup
3 Andy "Magic Man" Segal (NY) 222 1900.00 + Cup
4 Mark "Dr. Popper" Dimick (OK) 187 1500.00 + Cup
5 Steve "Steller" Geller (ND) 193 1200.00
6 Jeremiah "Daddy-O" Owens (IL) 186 900.00
7 Chris "Juggler 314″ Kelly (NY) 186 600.00
8 Chris "Tricky Shot" Woodrum (VA) 179 400.00
9 Steve "Leapin Preacher" Lillis (NJ) 189 250.00 10 Jamie "Bayou Bullet" Moody (TX) 186 250.00 11 Charles "Spitball Charlie" Darling (MO) 184 250.00 12 Donald "Douge" Helbig (MD) 184 250.00
Payout Note: All players were paid a minimum of $100 for completion of the program.
Note: Event tiebreaker rules used to break same scores in preliminary rounds!!
Playoff Shootout Matches: 1st Round — Chris Kelly, Chris Woodrum, Mark Dimick, and Jeremiah Owens defeated Jamie Moody, Steve Lillis, Donald Helbig, and Charles Darling in respective matches. Andy Segal, Jamey Gray, Mark Dimick, and Nick Nikolaidis defeated Chris Kelly, Chris Woodrum, Steve Geller, and Jeremiah Owens in Round 2 matches. Round 3 revealed Jamey Gray over Andy Segal and Nick Nikolaidis over Mark Dimick. Nick Nikolaidis continued his winning way as he defeated Jamey Gray in the final match.
DR. CUE CLASSIC "ARTISTIC" CUP III DISCIPLINE CHAMPIONS
Trick and/or Fancy Shots Dainius Stipinas 30 out of 30 points
Prop/Novelty/Special Arts Andy Segal 28 out of 30 points
Draw Shots Donald Helbig 30 out of 30 points
Follow Shots Mark Dimick 30 out of 30 points
Bank/Kick Shots Steve Markle 30 out of 30 points
Stroke Shots Bill Meima 29 out of 30 points
Jump Shots Chris Woodrum 30 out of 30 points
Masse Shots Andy Segal 29 out of 30 points
Note: Discipline champions received $50 each, plus a special victory medal award.
SPORTSMANSHIP RECIPIENT AWARDS
By vote of players: Rodney "Preacher" Fontaine
By vote of directors: Jeremiah "Daddy-O" Owens
Note: Sportsmanship recipients each received a special victory medal award & select prize.
Results compiled / verified by"¦ Tom "Dr. Cue" and Marty "Ms. Cue" Rossman
November 24, 2009 Dr. Cue Classic Artistic Pool Tour / Event Directors
Rodney Fontaine Special Words on Cup III from Dr. Cue and Ms. Cue!Dear Tom,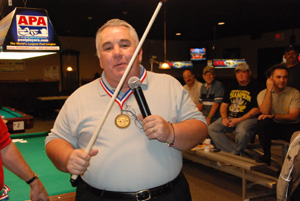 I wanted to write to you and all of the people involved last week in the Artistic Cup III. Would you please forward this to all of them for me.
It was an honor to spend the weekend with such a great group of people. My wife, Cindy, and I had a great time. I want to thank everyone who voted for me to get the Player Vote Sportsmanship award. It could have gone to any one of the people playing in the competition. I used to tell my youngest son that I was proud of his accomplishments when he was playing basketball, baseball and soccer in high school but the times he won the sportsmanship awards I was the proudest. The Monday after the tournament I was getting ready for work and he walked into my bedroom and put his arm around my shoulder and said, 'dad I'm proud of you'. I could not have been more thankful for this award at that monent. I didn't mind being in last place and to tell you the truth someone asked me how I did and I said, "I came expecting to be in last and I wasn't dissappointed". I had only practiced for a month and I am new to this type of competition. I just want to say thank you for welcoming me as part of the group. I want to say a special thanks to the two guys who invited me to their practice table Thursday when I was standing there with my case and my wife and I didn't know what to do, thank you JR Owens and Jamie Moody. thank you to Danno for coming over and asking if he could shoot with me and then he gave me several pointers. Steve Lillis you are my brother and I love you bro and thanks for helping me with the program at the Open. Tom, thanks for Thurday nights step by step.
You usually don't come in dead last and leave with $700.00 in cues,$100.00 in prize money and your first medal just for playing.
God bless all of you and I hope and pray that I will be at all the cups next year after getting more practice and learning how to masse'.
Thanks,
Rodney Fontaine
P.S. Thanks Tom and Marty.