MONK DOES IT AGAIN ON FLAMINGO BILLIARDS TOUR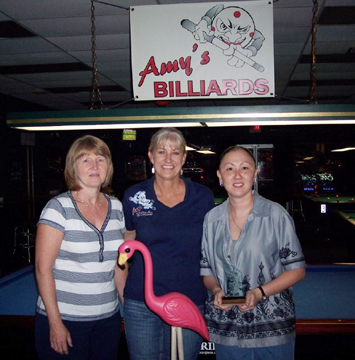 MONK DOES IT AGAIN ON FLAMINGO BILLIARDS TOUR
Monk vs. Caukin becoming familiar pairing
Stuart, Fla. (Oct. 4, 2009) – To quote the great Yogi Berra, it was déjà  vu all over again as Michell Monk topped Helene Caukin to win the Flamingo Billiards Tour stop on October 3. Monk previously defeated Caukin in the finals of the inaugural tourney in August, and as fate would have it, the two drew each other in the first round of the October event.
The modified double-elimination tournament was held at Amy's Billiards (www.amysbilliards.com) in Stuart, Fla. and was hosted by Amy Poulter, one of Florida's top players and a familiar name on the money list.
Monk took the first-round match against Caukin (7-2) and then defeated Christine Nevins (7-5) before running into Jeannie Seaver on the redraw. Monk squeaked into the finals after a back-and-forth match that appeared to be sewn-up by Seaver. But, in the closing moments of the double-hill game, Seaver uncharacteristically scratched on the 8-ball, drawing a Category 5 gasp from the room of shocked spectators.
Caukin rebounded from her first-round loss with decisive wins against Shanelle Loraine (7-3) and Sabra MacArthur-Beahn (7-1). In the semi-final match, Caukin won handily over Robin Boggs (7-1), who looked anything but rusty in her return to the tournament circuit after a 3-year hiatus.
The final match started as a see-saw battle with neither player catching fire. But the tide turned in Game 5, a long safety battle, when Caukin found herself with tough shape on the 9-ball, resulting in an easy tap-in for Monk. Michell went on to win the next three games, including a break and run in Game 8, before returning the favor for Caukin. In Game 9, Monk left herself a tough 9-ball, which Caukin easily pocketed.
Monk broke and pocketed two balls in Game 10, then played safe and locked up the 1-ball. Caukin's miss gave Monk ball in hand, which she played out to a 4-9 combo to seal the match at 7-3.