Reyes and Bustamante win World Cup of Pool again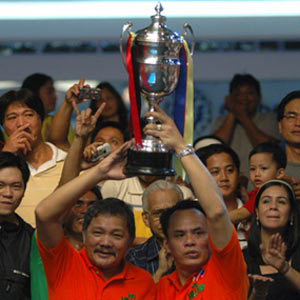 Reyes and Bustamante win World Cup of Pool again
PHILIPPINES B have won the 2009 PartyCasino.net World Cup of Pool
The pairing of Francisco Bustamante and Efren Reyes defeated the German duo of Thorsten Hohmann and Ralf Souquet 11-9 in an incredible final full of twists, turns and drama.
It was a fitting way to end a sensational tournament that has featured 32 teams from 31 different nations competing over six days of fantastic pool.
This was the first time the event had been staged in Asia and all of the matches were played in front of large crowds.
There were about 2,000 people watching the final from every vantage point possible at the SM City North Annex in Manila.
Each match of the competition was shown live in the host nation on either on CS9 or Solar Sports and the viewing fans, along with the spectators in the capacity crowd, were treating to a sensational three-hour epic final.
Philippines made a bright start and led 3-1 and 5-2 before Germany fought back and were in front 6-5, 8-6 and 9-8. However, Reyes and Bustamante, who also won the inaugural event in 2006, won the last three racks in a row to become the first team to win the competition twice.
"We are very happy because we thought we were lucky," said an elated Bustamante."¨"¨"When they were leading we thought we were going to lose as the score was 9-7 and they were still playing easy run outs.
"Thorsten's miss on the 5 ball meant we got lucky and that changed everything. We are very proud to have won this tournament twice.
"We didn't think we would get into the final but when we beat China, Efren said 'we will win this tournament'."¨"¨"We don't play much together normally then we came together for the World Cup and it's amazing that we have won but it was very tough."
Defeated Ralf Souquet could not hide his disappointment at the outcome.
"We should have won easily, 11-6, but it was just the way the match went but that's the way it is. There is nothing you can do about it," said a dejected Souquet.
"We had enough chances, and I'm very very disappointed we didn't win.
"To be honest I still don't believe that it was a fantastic match as both teams made a lot of errors, but it was very dramatic for the spectators and there was a lot of tension for both teams," he added.
EARLIER IN the day the two semi-finals took place and both were cracking matches.
In an absolute thriller of a match, the Philippines B team of Efren Reyes and Francisco Bustamante, made their way through to Sunday evening's final of the PartyCasino.net World Cup of Pool, beating China 9-8 in front a crowd in excess of 1,000 at the SM Mall North Annex.
Spare a thought for '07 Champions China, made up of Fu Jianbo and Li Hewen, who mounted a sterling comeback from 5-1 down to see themselves breaking for the match.
In the other semi-final, Germany took down tournament favourites Philippines A, made up of Dennis Orcollo and Ronnie Alcano by a 9-6 scoreline at the SM Mall North Annex in Quezon City, Manila.
"This is why we came here. Of course you have to fight, that's what it's all about," said a fired-up Hohmann afterwards."¨"¨"Who wants to see a Philippines A versus Philippines B final? It should be a great final of Philippines B v Germany."
Full results Р2009 PartyCasino.net World Cup of PoolӬFirst roundӬTuesday,
September 1″¨France 8-1 Canada, China 8-5 Korea, Spain 8-3 Australia, Indonesia 8-3 India, USA 8-7 Malta, Philippines B 8-3 Qatar"¨"¨Wednesday,
September 2″¨Finland 8-3 Sweden, Italy 8-5 Austria, Japan 8-6 Croatia, Germany 8-0 Canada, England 8-4 Malaysia, Philippines A 8-5 Thailand"¨"¨Thursday,
September 3″¨Taiwan 8-6 Singapore, Poland 8-0 Belgium, Russia 8-3 Denmark, Holland 8-3 Vietnam"¨"¨Last 16″¨Thursday,
September 3″¨USA 8-5 Indonesia, Philippines B 8-5 Italy"¨"¨Friday,
September 4″¨China 8-3 Finland, Germany 8-4 France, Poland 8-5 Chinese Taipei, Holland 8-4 Japan, England 8-6 Spain, Philippines A 8-3 Russia"¨"¨Quarter-finals"¨Saturday,
September 5″¨China 9-5 USA, Philippines B 9-1 England, Germany 9-7 Holland, Philippines A 9-5 Poland"¨"¨Semi-finals"¨Sunday,
September 6″¨Philippines B 9-8 China, Germany 9-6 Philippines A"¨"¨Final"¨Sunday, September 6″¨Philippines B 11-9 Germany