LONE STAR BILLIARDS TOUR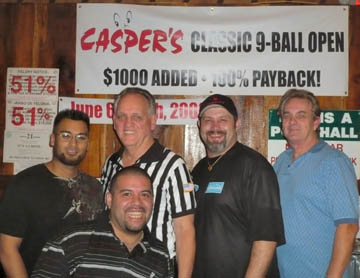 Back L-R: 2nd place Sylver Ochoa, referee Bob McFerren,
1st place Charlie Bryant, 3rd place Lanny Herrin
Front:4th Place Raul Escobedo
LONE STAR BILLIARDS TOUR
Charlie "Hillbilly" Bryant again on top of the hill
On the weekend of June 6 and 7, Casper's Billiards in San Leon, Texas celebrated its first anniversary by hosting the fourth stop on the 2009 Lone Star Billiards Tour.  This event drew a strong field of 51 players, including touring professionals Charlie Bryant, Jeremy Jones, and Cliff Joyner, and an international champion from Jordan, Zaid Thweib.  Other pre-tournament favorites included regional standouts: Sylver Ochoa, Raul Escobedo, Lanny Herrin, Dennis Strickland, Manuel Ayala, and Ernesto Bayaua.
The final four players to emerge from the two-day event were Charlie Bryant and Lanny Herrin on the winner's side, and Sylver Ochoa and Raul Escobedo on the one-loss side.  Bryant won the hot seat by defeating Herrin, 9 to 4, and Ochoa eliminated Escobedo from the tournament, 7 to 5.  Ochoa, who had lost a tough hill-hill set to Bryant earlier in the day, earned a rematch by defeating Herrin, 7 to 5.
In the first set of the true double-elimination finals, Bryant and Ochoa alternated wins for six games, then Ochoa won the next six to take the set by the convincing score of 9 to 3.  In the case race-to-7 set, Bryant opened by winning the lag and then taking the first four games.  Ochoa, however, fought back and tied the score at four all.  But then Bryant bore down and took the final three games to win the set, and the championship, 7 to 4.
This was Charlie Bryant's third win of the year on the Lone Star Billiards Tour, and he maintained his comfortable lead atop the player rankings.  Lanny Herrin's third place finish in this event enabled him to hold onto second place in the year-to-date standings.  Sylver Ochoa moved up into third place.
After four of this year's nine scheduled stops, the Lone Star Billiards Tour player rankings are as follows:
Points
1.    Charlie Bryant           850
2.    Lanny Herrin            475
3.    Sylver Ochoa             300
4    Nick Hood                   275
5.    Claude Marrier          200
Shane Van Boening 200
Dennis Strickland    200
Manuel Ayala            200
9.    Doug Young                175
10.    Danny Tam                150
James Christopher  150
Danny Lee                150
Three women competed against the men:  Kyu Yi, Courtney Peters, and Melissa Jorden.  Yi won two of her four matches and earned the bonus the tour sets aside for the top woman finisher.
Tour owner/operator Kim White announced she has added a new venue for the tour: Bradley's Billiards in San Antonio.  Bradley's will host a stop in late September.
The next stop will be July 18 and 19, when the tour returns to Rose Country Club in north Houston.
By Carlos Ledson Miller
Tournament Payouts:
Place         Player             Payout
1        Charlie Bryant        $3,200
2        Sylver Ochoa        $2,100
3        Lannie Herrin        $1,600
4        Raul Escobedo        $   950
5 – 6   Jeremy Jones        $   430
Dennis Strickland $   430
7 – 8   Bobby Pacheco       $     60
Cliff Joyner             $     60
9 – 12        Manuel Ayala        $     30
Danny Lee            $     30
Zuid Thweib             $     30
Andy Jethwa            $     30
Bonus for  top woman
player        Kyu Yi                $   130