JEFF ABERNATHY GOES UNDEFEATED ON JACOBY CAROLINA TOUR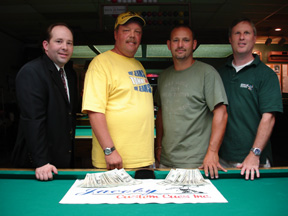 Subjects in the photo are (l-r): Doug Ennis, tournament director; Jeff Abernathy, first place; Sidney Champion, second place; and Eddie Allman, room manager
Break Time Billiards in Wilmington, North Carolina hosted the eleventh stop on the 2008-2009 Jacoby Custom Cues Carolina Tour July 11-12.  Fifteen players competed in the $1000 guaranteed added Main Event.  Jeff Abernathy defeated Sidney Champion in the final match, earning $1000 for first place.
To kick things off, an Early Bird Tournament was held on Friday night.  Larry Faulk defeated Younger Chapman (7-2) in the final match.  Results for this event were:  1st Larry Faulk, $140; 2nd Younger Chapman, $80; 3rd Ernie Mayhew, $40; and 4th Anthony Arney, $20.
On Sunday, there were three mini-tournaments.  Taylor Hobbs defeated Caleb Grissom (9-5) in the final match of the Junior Tournament.  Top honors in the Ladies' Tournament went to Terry Faulk, who defeated Rachel Eliazar (9-6) in the final match.
In the last mini-tournament on Sunday, Jim Barthule took first place in the Second Chance Tournament, defeating Ernie Mayhew (9-1).  Results of this event were:  1st Jim Barthule, $70 and 2nd Ernie Mayhew, $30.
In the Main Event, Abernathy took the hotseat after defeating Barry Irving (7-2), Jay Calhoun (7-5), Zach Wilson (7-4) and Larry Faulk (7-2).
Meanwhile, Champion began with a white-washing of Peaches Fuller (7-0) but was quickly sent west at the hands of Zach Wilson (7-4).  Champion took out David Tickle (7-4) and Trey Greene (7-3), followed by hill-hill victories over Chris Vollmar (7-6), Zach Wilson (7-6) and Larry Faulk (7-6).
In the final match, a single race to nine, Champion won the lag and made three balls on the break.  He was snookered, however, after his first shot and his next three shots were kicks.  Champion was given one more opportunity, but was unable to get out.
It was nip and tuck throughout the match, in which defensive strategy was prevalent and runs of more that four balls were rare.  Abernathy converted a 5/6/7 combo and got out to tie the score at 4 games apiece.  A break-and-run was followed by a scratch on the break.  With ball-in-hand, Champion ran out to tie it again at 5-5.  Champion won two out of the next three games to lead 7-6, but came up dry on the break and Abernathy ran out.  A 3/9 combo put Abernathy on the hill and a 5/9 combo gave him the match.  Final score:  9-7.
Congratulations to cue raffle winner Tyler Currin, who was the lucky winner of a Limited Edition cue, valued at $850, from Jacoby Custom Cues.
Rock City Promotions wishes to extend special thanks to the staff and ownership of Break Time Billiards and to OB-1 Cues for supporting the Jacoby Tour.
The next stop on the Jacoby Custom Cues Carolina Tour will be August 1-2 at Fast Eddie's in Goldsboro, NC.  The event will guarantee $1000 added with $1000 for 1st place.
Story and photo courtesy of Rock City Promotions.
FINAL RESULTS
1st        $1000  Jeff Abernathy
2nd        $500    Sidney Champion
3rd        $175    Larry Faulk
4th        $75    Zach Wilson
Abernathy
d. Barry Irving (7-2)
d. Jay Calhoun (7-5)
d. Zach Wilson (7-4)
d. Larry Faulk (7-2)
d. Sidney Champion (9-6)
Champion
d. Peaches Fuller (7-0)
l. Zach Wilson (7-4)
d. David Tickle (7-4)
d. Trey Greene (7-3)
d. Chris Vollmar (7-6)
d. Zach Wilson (7-6)
d. Larry Faulk (7-6)
l. Jeff Abernathy (9-6)