Javier Teran Wins at College Billiards-USBA Tour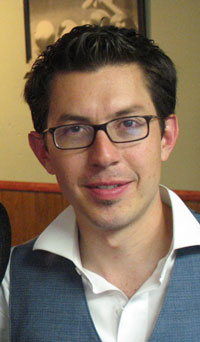 There were 40 players from different states across the country as well as from Mexico and Ecuador. In all, there were at least 15 players that have established averages of at least 1.000 and only 10 players would be able to qualify into the finals. That's how tough the field was. There were also some upsets which changed the outcome dramatically.
The tournament was played on 6 beautiful Verhoeven tables with brand new Simonis 300 rapide cloth. With the players split up into 5 groups of 8 players each, only 2 players from each group would qualify into the finals along with one auction and one lottery winner. The prize fund from the entry fees alone was $ 10,000.00 ($ 250.00 times 40 players). Between College Billiards and the USBA Tour sponsors, another $ 6,000.00 was added. The auction brought in $ 1,600.00 and the lottery brought in $ 1,900.00 raising the total prize fund payout to $ 19,500.00.
Flight A: Javier Teran from Ecuador, Jae Hyung Cho from Colorado and Sonny Cho from New York were the favorites, but only 2 could advance. Javier Teran finished 7-0 to win the flight. Sonny Cho lost 2 matches, one to Teran and one to Jae Hyung Cho but had only 8 and 9 points respectively in his 2 losses. Jae Hyung Cho lost his match with Teran but was upset twice, first by Arturo Velasquez ("Carnitas", as he is affectionately called) from Mexico and then by Alfredo Reyes from Huntington Park, California, giving Jae Hyung Cho three losses altogether. Because of points, the winner of the match between Arturo Velasquez and Alfredo Reyes would advance to the finals and "Carnitas" defeated Reyes 25-20 to earn the 2nd spot.
Flight B: Miguel Torres from New York, Rodolfo Covarrubias from Mexico and Michael Kang from New York were the favorites, however Lupe Cruz from Iowa upset some apple carts, first by defeating Miguel Torres 25-19 and then beating Michael Kang 25-21. Covarrubias wins the flight at 6-1 and a three-way tie for 2nd place between Miguel Torres, Michael Kang and Lupe Cruz is decided by points in favor of Miguel Torres. Lupe Cruz finished 3rd and Kang in 4th.
Flight C: This was a very tough flight as well with Mazin Shooni from Massachusetts, Miguel Almaraz from Mexico and Guillermo Sosa, also from Mexico as the favorites. The flight also had some strong players such as Carlos Alvarez from West Covina, California, Ivan Rosales from Mexico and Sean Park from Los Angeles. Shooni lost 3 matches, one to Almaraz, one to Sosa and an upset to Sean Park. Guillermo Sosa lost to Almaraz and was upset by Carlos Alvarez. Almaraz wins the flight going 6-1 with his only loss being an upset to Carlos Alvarez who finished 2nd, also at 6-1. Sosa finished in 3rd and Shooni finished in 4th.
Flight D: Carlos Francisco Palafox from Los Angeles wins the flight going 6-1 and Hugo Patino from New York finishes in 2nd, also at 6-1.
Flight E: This was also a very difficult flight with Pedro Piedrabuena from San Diego (College Billiards owner), Luis Avila from Mexico, Roberto Rojas from Mexico, Salvador Diaz from Los Angeles and Juan Delgadillo from Hayward, California. Roberto Rojas defeated Piedrabuena 25-10 in just 7 innings, but Rojas lost a match to Delgadillo. Avila wins the flight at 6-1 with Piedrabuena finishing 2nd, also at 6-1.
Finals:
With the 10 players already decided for the finals, there was an auction and a lottery held for the 2 additional positions in the finals. The auction was won by Sonny Cho who paid $1,600.00 to play in the finals. Then there was a lottery where tickets were sold for just $20.00 apiece and there was no limit to the amount of tickets you could purchase. The lottery brought in an additional $ 1,900.00 for the prize fund. A local patron won the lottery (not a player) so the patron decided to have us auction his winning ticket. Michael Kang won that auction, paying the man $ 1,450.00.
The 12 finalists were then divided into 2 groups of 6 players each (Flights F and G). The flights were determined exclusively by the players' performance in the preliminaries, meaning "Wins and Losses", "Total Points Scored" and "Total Points Against".
Click here to see rankings after the Preminaries.
Click on the flight name to see PDF chart:
Flight F: Javier Teran, Pedro Piedrabuena, Miguel Almaraz, Rodolfo Covarrubias, Sonny Cho and Miguel Torres. Wow! I wouldn't want to be in THIS flight! After 3 rounds of play, Javier Teran, Miguel Almaraz and Pedro Piedrabuena were all averaging over 1.500!!! Javier Teran wins the flight going 5-0 and averaging 1.579. Pedro Piedrabuena finishes 2nd going 3-2 and averaging 1.545. Miguel Almaraz finishes 3rd going 3-2 and averaging 1.320. Rodolfo Covarrubias finishes 4th going 2-3 and averaging 1.245. Sonny Cho finishes 5th going 2-3 and averaging 1.042. Miguel Torres finishes 6th going 0-5 and averaging .970. The average for the entire flight was an amazing 1.267!!!
Flight G: Luis Avila, Hugo Patino, Michael Kang, Carlos Palafox, Aruro Velasquez ("Carnitas") and Carlos Alvarez. Arturo Velasquez defeats Avila 30-21. Hugo Patino wins the flight going 4-1 with a 1.333 average. Luis Avila finishes in 2nd also going 4-1 with a 1.306 average. Grand average was the tie-breaker if there was a tie in Wins and Losses. Avila just misses winning the flight by 3 additional points or 3 less innings. Michael Kang finishes 3rd going 3-2 with a 1.198 average. Carlos Palafox finishes 4th going 2-3 with a .763 average. Arturo Velasquez finishes 5th going 1-4 with a .793 average and Carlos Alvarez finishes 5th going 1-4 with a .739 average.
The last matches were then played to determine the final placement of all 12 finalists. Javier Teran who won the "F" flight would play a 35 point match against Hugo Patino who won the "G" flight. The winner would come in 1st place and the loser would come in 2nd place overall. Pedro Piedrabuena who finished 2nd in the "F" flight would play a 35 point match against Luis Avila who finished 2nd in the "G" flight, and so on down the line for all 12 finalists.
Miguel Torres (11th place) defeats Carlos Alvarez (12th place) 35-25.
Arturo Velasquez (9th place) defeats Sonny Cho (10th place) 35-34.
Rodolfo Covarrubias (7th place) defeats Carlos Palafox (8th place) 35-30.
Michael Kang (5th place) defeats Miguel Almaraz (6th place) 35-18.
Pedro Piedrabuena (3rd place) defeats Luis Miguel Avila (4th place) 35-34.
Javier Teran (1st place) defeats Hugo Patino (2nd place) 35-33.
Pedro Piedrabuena had the tournament high run of 13.
Javier Teran and Miguel Almaraz both had the best game of the tournament:
30 points in 14 innings (2.143 average)
Click here to view results of the Final Matches
Click here to see the Final Rankings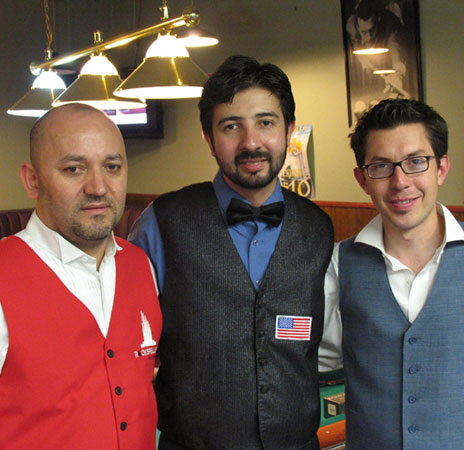 Hugo Patino (2nd), Pedro Piedrabuena (3rd) and Javier Teran (1st)
Congratulations to Javier Teran and all that participated in this fabulous tournament!
Right after the award ceremony, a raffle was held where Raye Raskin won a cue case and a local patron won a donated cue. Then the crowd was treated to a dazzling display of trick-shot wizardry by World Champion trick-shot artist, Roberto Rojas.
Next month, the USBA Tour swings into Peabody, Massachusetts for a "B" player event at World Class Billiards on July 10-12. Only players with an average below .800 can participate. Click here for more info.
We would like to thank the following:
-Pedro Piedrabuena and Timoteo Moreno, owners of College Billiards for putting up their room, for adding money to the prize fund and overall making it a fun time for all.
-Luis Castro who practically ran the whole tournament, cleaned tables and did whatever was necessary. Great job, Luis.
-Those that were score keepers for the finals. We really appreciate it.
Sponsors:
-Iwan Simonis
-Aramith (Saluc)
-Adam Cue Company

USBA Tour Sponsors:
David Levine, Jim Shovak, Bob Jewett, Professor-Q-Ball (Paul Frankel), Creative Billiard Shirts, Michael Kang, Andrew Janquitto, Dean Harrell, Pedro Piedrabuena, Robert Byrne, Tom Resk, Sonny Cho, Mazin Shooni, Dr.Cue Promotions (Tom Rossman), Bruce Warner, Mike Walo, Jim Watson, Tommy Thomsen, Tom Haskin, Jamil Isreal, Bob Roach, Mike Melloy, Don Sperber, Norm Brust, Ed Friedman and Pat Young.