THE BCA POOL LEAGUE NATIONAL 8-BALL CHAMPIONSHIPS
Having the subtitle. "The Greatest Pool Tournament in the World." the BCA Pool League National 8-Ball Championships has a lot to live up to.
In it's 33rd year and the economy heading south, just under 7000 players, in 10,000 entries, went, mostly, west in search of glory and the motivation of the $750,000 prize fund.

"That's only a couple of hundred players less than last year," expressed CSI's Mark Griffin. "We're really impressed with the loyalty of our league members, especially the international contingent." CSI is the parent company that owns and operates the BCAPL. "With the media singing the blues every time you turn on the TV, we want it to be known that pool players, amateur and pro alike, are not going to let that spoil their party."
And pool player, party paradise it was. The 24 division, BCAPL event commenced in conjunction with Matchroom's PartyPoker.net World Pool Masters. Then, on Monday, The Predator International 10-Ball Championship began and, simultaneously, over the 11 days of festivities, theActionReport.com introduced their TAR BAR offering high stakes indoor action. And, when it all got too hot, players and fans alike, mixed it up with a cool down from the 90 degree desert highs in the Riv's inviting swimming pool.
OnthebreakTV captured the final league matches and uploaded them to playbca.com. Kozoom.com broadcast the Predator 10-Ball with the final day produced for TV, and Matchroom had their crew record the WPM for the world.
Then, there was the logistics of Ric and Bonnie Jones and their crew at Bad Boys Billiard Productions setting up 250, or so, 7 foot Diamond Smart Tables. All decked with Simonis and Aramith, the 100,000 plus square feet allocated by the Riviera was an ocean of blue.
The big news this year was the introduction of CSI's new tournament operating software that lets players search on-line for their table and match time. The scores were updated and uploaded, in real time to playbca.com for all to view from their own laptop, Iphone, or the computer on site.
The Ref School, derived from the newly updated BCAPL Rule Book that Mike Shamos of Billiards Museum and Archive has suggested may be the bible, ensured that all were playing from the same page. The Pool School hosted by Randy Gottlicher, assisted by Scott Lee, gave league members free instruction and their stroke analyzed on video.
One of Griffin's goals is that players are invited to improve yet, they can't get so good that they don't have a place to play. So, three years ago, the Grand Master Divisions were introduced. Now, both male and female pros are invited to compete on the 7 ft. Diamonds; All they have to do is join the league. And the members loved it. Where else do amateurs have the opportunity to upset the world's best? Just ask Simon Pickering.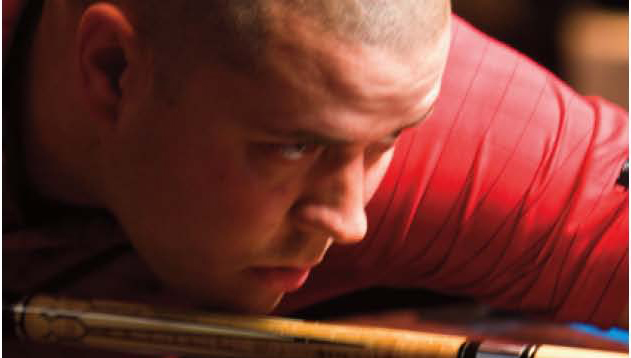 Men's Grand Masters. Race to 7: World titlists present were Roberto Gomez Jr; the defending WPM 9-Ball Champion, Daryl Peach; Mika Immonen (who was sent west by son of a world champion Sal Butera), and Oliver Ortmann. The Filpino contingent included Luat, Parica, and Orcollo. Past CSI event finalists Srevie Moore, Billy Palmer, Max Eberle, Warren Kiamko and, let's not forget, BCAPL player rep Shane Van Boening. All were ready to park the rock.
But it was Canadian Simon Pickering who snuck under the radar. Simon, a boyish beam on his 30 year old clock, was a 12 year veteran of the NAT 8s. His best finish was 5th in last year's Masters. This year, sitting atop the hot seat, he was guaranteed 2nd. With wins that included Palmer. Dan Louie, Butera, and Gomez–whom he sent to the loser's bracket to fall to proven bar table monster, Van Boening.
Pickering felt prepared for his bout with Van Boening. He had the advantage of being unknown. Shane, on the other hand, did not take Simon for granted, but felt confident of a positive outcome. He had beaten London's Karl Boyes, Mike Massey and Filipino champion Dennis Orcollo–who had just won Matchroom's World Pool Master event–and now Gomez.
The finals had Shane hill-5″¦and breaking. For the 3rd time in this match, he scratched. Simon took ball in hand while Shane sat, powerless, as the Championship drifted away.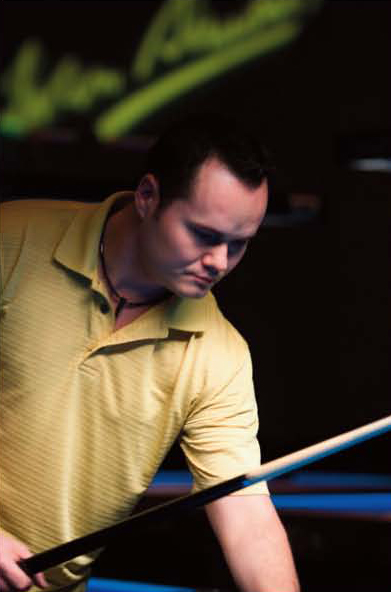 9-Ball Challenge. Race to 7. Canada's Tyler Edey has his name written all over the this event. Introduced only 3rd years ago, just to mix it up with a little bar box 9-ball, Tyler has always been a finalist. He won it last year and, this one, on the hill against 2008 US Bar Table Champion and 2009 Swanee winner Arizona's Mitch Ellerman.
Men's Open Singles. Race to 7: Texan Gus Correa Rodriguez sent Portugal's Bruno Sousa west where he battled back thru the loser's bracket to meet Gus again. Gus had just been beaten for the hot seat by Mike Boyd.
Mike was put on ice as he waited for the slow, deliberate, methodical Rodriguez to lose in his rematch with Sousa. The chill hadn't worn off as Bruno left Mike frozen at 2.
Master Master Singles:
Race to 7. It was Southern Cal's Danny Petralba over Vince Chambers"¦twice. Once for the hot seat then, after Vince defeated Bobby Benavides Sr. Altho, he had to double dip Danny, he got so close. At 6-6, Vince ran all the way to scratch while making the last ball to get on the 8. Devastated, he collapsed on the table. Quietly, Danny took ball in hand and with absolutely no traffic on the open road to the championship, calmly connected the dots to collect the $5,500.
Women's Open Singles: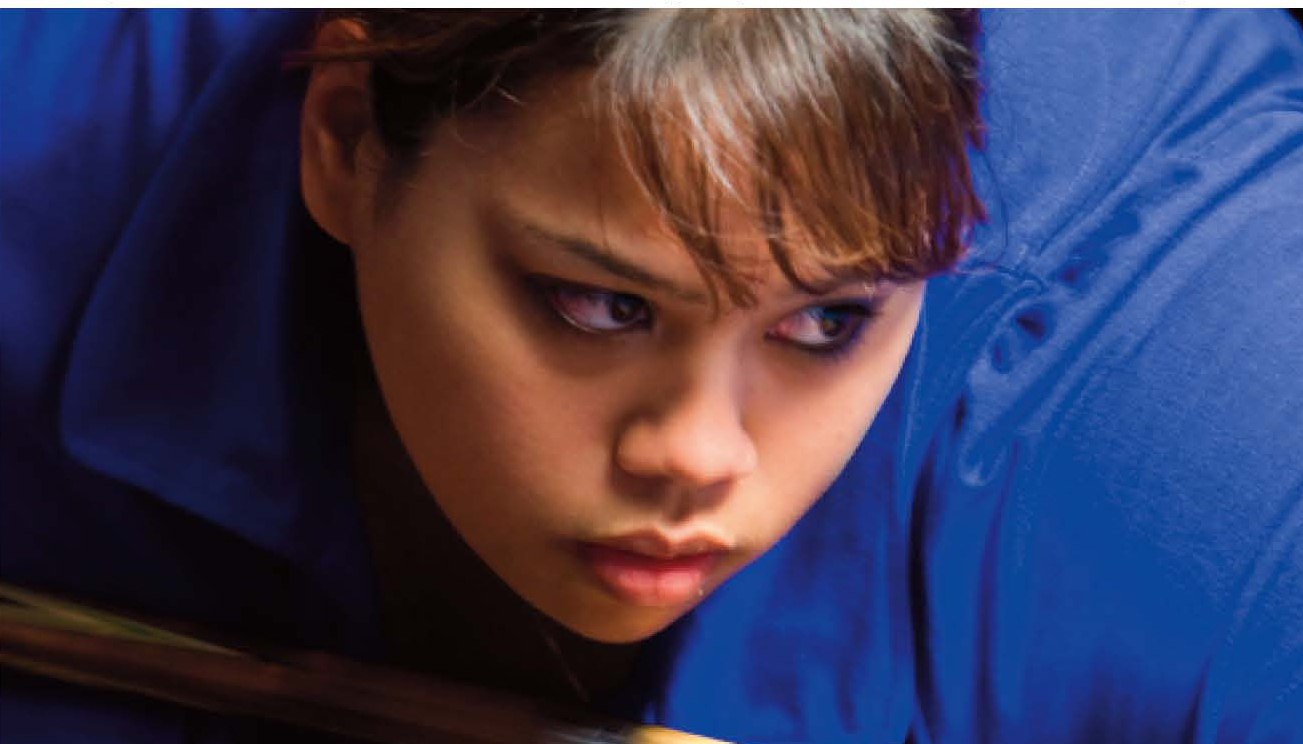 Race to 4. Cristina Dela Garza has more pressure than most as she, unfairly, has to justify being Shane Van Boening's girlfriend. That's a heavy load when you have a lot more in common that a pool game. The good news is that she can play. Just ask Helen Hayes, whom she left at 4-1 to put in the loser's bracket. Or, ask Angie Killips, at 4-2 for the hot seat. In the loser's bracket finals, Helen, at 4-3, left Angie with 3rd. Cristina then
suffocated Helen in the finals at 4-0.
Women's Master Singles: Race to 7. 21 year old Mary Rakin, last year's runner up, could not forget the skidding ball that cost her that title. She was determined. Her hot seat win at 7-2 sent Tina Pawloski to meet Gina Lim-Lipsky. At 7-6, Tina was ready for her Rakin rematch. Another nailbiter at hill-hill had Mary stoked as she closed the deal.
Women's Grand Master Singles: Race to 7: Julia Gabriel was wondering how did I get here? The hot seat was warm but there was a cool breeze coming from Korea. Yu Ram Cha had gotten in stroke in the loser's wing.
Melissa Little upset Allison Fisher who had just sent Cha there. She fared well, gotten used to the small table and now, had to beat Julia twice. That, she did. Julia was none worse for the wear and now has tales to tell.
Women's Open teams:
Race to 11. It was east coast vs. west as New York's Kiss of Death lived up to their name as San Francisco's Pool Party died respectably at 9.
Women also scored big over the men in team name originality: Where else are you going to find Victorious Secret, Leave It To Beaver, The Night-Mares, or Preferably On Top. The best the men can come with is Hustlin?
We could fill the mag with the 24 divisions of the event. Check out the 3000 or so players who cashed at playbca.com. You gotta know someone. And don't miss the uploaded, streaming matches, too. The hill-hill ones are killer. And they're free. The BCAPL"ˆthanks Predator for their support and all the vendors who, year after year, fill the halls.