Orcullo Outstanding at Predator International 10-Ball Championship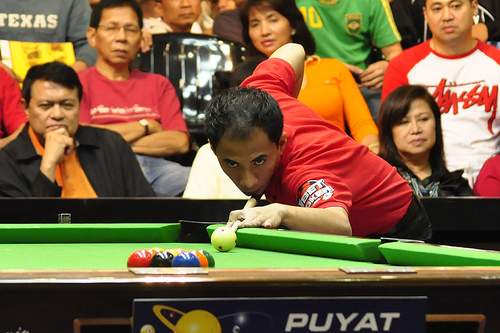 Orcullo Outstanding at Predator International 10-Ball Championship
By Sally Lee
The 9th Annual Predator International 10-Ball Championship has ended with Filipino Dennis Orcullo dominating Ralf Souquet in the finals. Orcullo is the first ever Filipino to win the title in its nine year history. Ozone Billiards presents the 112 top players from around the globe along with top sponsor JBETpoker.net on the Dragon Promotions production at the Riviera Hotel & Casino May 11-16,2009 during the BCAPL's National 8-Ball Championships. The 9th Annual Predator International 10-Ball Championship features live scoring of the entire event on www.Predator10ball.com .
Orcullo's accurate and consistent play won him his second biggest win ever
In the first semi-finals, Orcullo faced fellow countryman Warren Kiamco. Kiamco had been playing well the past few years with several top 4 finishes at major events including the US Open. But once again he was not able to top his run of fourth place finishes as he trailed the whole match with Orcullo till the final 7-4 score.
The other semi-finals was even more lopsided between Ralf Souquet and Alex Pagulayan. This was a rematch of the past US Open finals between the two stars, and this time the result was the same. In a flawless performance, Souquet gave Pagulayan no opportunities and defeated Alex 7-1.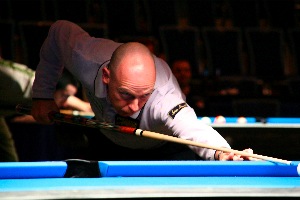 Souquet was flawless in the semi finals
The finals pitted Germany vs Philippines or Europe vs Asia. Orcullo has been considered to be the best player out of the Philippines the past 2 years now, while Souquet has been dominant in finals play in major events. And with the recent years having Filipino players coming in second place to their western counterparts in several major championships, Souquet seemed to be the favorite.
Fortunately for Orcullo, he was able to make his own destiny. Orcullo capitalized on a good roll from his own miss and a safety error from Ralf to take the first game. From there he built a 3-0 lead and never relinquished his lead. Souquet lost his flawless performance with a few bad safeties and a couple missed shots. Dennis was able to maintain his high level of play, and though not flawless, was strong enough for the win at 8-3.
"It looks like I saved all my mistakes for the finals", said a disappointed Souquet in his after finals speech. "But Dennis was the better player and deserves the win."
"Ralf is a very good player, but in our match he made some mistakes. He played good on Alex, so I had to play good,too. I'm very happy for this win because I didn't expect to win in this great field of players at the beginning of the tournament", said Orcullo in his speech to the fans.
Pictures, brackets, and news stories from the entire event goto www.predator10ball.com
Sponsors include Ozone Billiards www.ozonebilliards.com , www.Jbetpoker.net, Simonis Cloth, Diamond Tables, Aramith Balls, Laser Rack, Uni-Loc, and the event host BCA Pool Leagues in this Dragon Promotions production.
Predator Group, an international billiards industry leader, is focused on bringing constant innovation and game-improving equipment to billiards players worldwide. Headquartered in Jacksonville, Florida, USA, Predator Group's core brands include Predator Cues – high-end (professional level) cues with revolutionary technology to enhance performance, Poison Billiards – recreational cues with cutting-edge designs and Predator engineering for best-in-class playability, and Uni-Loc® – precision billiards equipment manufacturer. For more information regarding Predator Group's products, visit www.predatorgroup.com.
Dragon Promotions is one of the leading producers of billiard programming in the world today. Dragon produces over 40 events a year airing on networks in the Philippines, USA, Korea, India, and Europe such as ABS-CBN, ESPN, MBC ESPN, XTM, XPORTS, and Euro Sport. Events include The Women's World 10-Ball Championship, The World 14.1 Championship, The Predator International 10-Ball Championship, King & Queen of Carom, Empress Cup, Pro Pool Schools, Women's Trickshot Challenge, World Junior 10-Ball Championships, Korea vs USA, and many more. Dragon also manages some of the world's best players including Mika Immonen, Shanelle Loraine, Mike Davis, Yu Ram Cha, Raj Hundal, , Rodney Morris, Charlie Williams, and many more.
Visit www.dragonpromotions.com or www.dragonpromotions.co.kr