Congratulations to Eric Hughes on his new Gabriel 3-Cushion table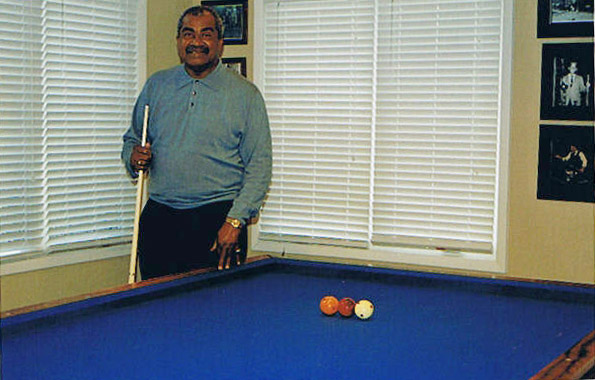 ERIC HUGHES BILLIARD ROOM
Dedicated to Steve Mizerak Sr. and Steve Mizerak Jr.
My birthplace is Perth Amboy, NJ, where Steve Mizerak, Sr. owned a billiard parlor on Madison Ave. and Smith Sts. during the 50s, 60s, and 70s. He had many of the greats perform exhibition games, including, Willie Hoppe in three-cushion billiards and Willie Mosconi in pool. It was a unique environment in which to see the best players compete in all types of billiard games.
Steve Sr. played an excellent game of three-cushion billiards. For many years in succession, he was the NJ State pool champion, and a great snooker player. He taught his son, Steve Jr. at the age of four, to play pool and guided his career, which enabled Steve Jr. to become world champion. Steve Sr. passed away in 1984.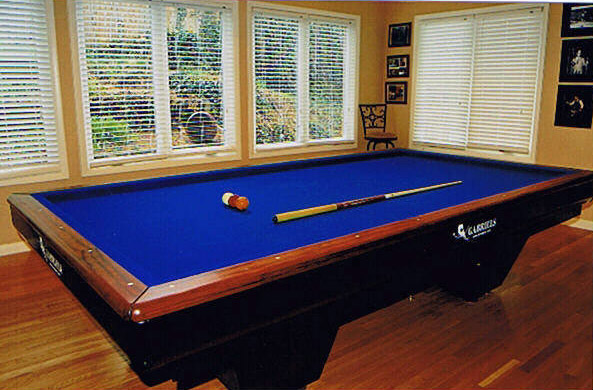 Photos by James McDonald
Steve Jr. also was an excellent three-cushion billiard player but excelled in 14.1 (straight pool) and nine-ball. He became the world champion in both games for many years. His high run in pool was a whopping 421 and he had over 80 other first place championships to his credit. Steve Jr. was the youngest at 40 years of age to be inducted into the Billiard Congress of America Hall of Fame. Steve Jr. passed away on May 29, 2006.

I left NJ many years ago and now live in Washington, D.C. I got back into billiards five years ago after a 30 year absence. I used to drive 32 miles to Annapolis, MD to practice and to play against competition. That did not work for long as the billiard parlor closed down. Then I drove 40 miles to Glen Burnie, MD where there is only one table. Try waiting for a couple of hours to play, then, if you lose, waiting another two or three hours to play. It will leave you looking for other alternatives.
My alternative resulted in adding a billiard room to my house and dedicating it to the Mizeraks because they both meant so much to me in my youth. The table I purchased is the state-of-the-art Gabriels Imperator. I wanted a first-class room because if I dedicated it to the Mizeraks, it had to be special. Steve Sr. introduced me to three-cushion billiards and looked out for me as a youngster when I played at his room. I watched Steve Jr. ascend to pool heights when he won the Perth Amboy City Championship at the tender age of 13, beating many older, seasoned veterans, and later becoming world champion.
Last year I was able to contact Steve Jr.'s sister to inform her of  my plan. She was gracious enough to send old, priceless photos of Steve Sr. and Steve Jr. which now grace the walls of my new room. I feel I've come full circle and I am proud to have photos of, arguably, two of the best father-son players in the history of the game.