2009 USBA National Qualification Results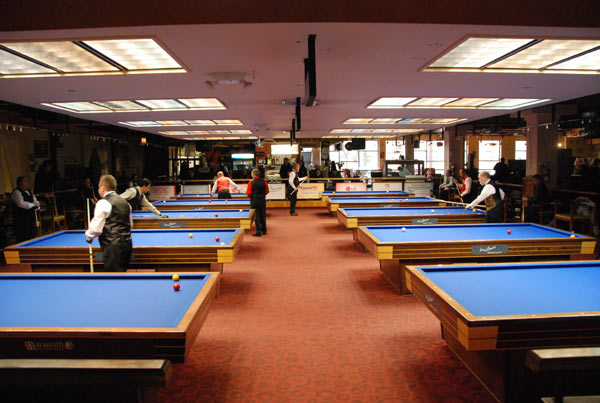 After 2 days of sterling play, 20 players from the original field of 42 made it to 4 flights of 5 players each for the semi final rounds. Event highlights from the qualification rounds revealed 6 players with perfect 6-0 records – Pedro Piedrabuena, Mazin Shooni, Michael Kang, Felipe Razon, Sonny Cho, and defending champion, Miguel Torres. The balance of the semi-final field demonstrated great resolve on the road to the championship finals.
Day 3 matches start promptly at 10:00AM and promises to be a fitting agenda of exciting matches and remarkable shooting knowledge. Everyone is welcome to come to the Carom Cafe for the final 3 days of carom action. This is a rare opportunity to see "billiards as it should be played" and to observe the intricate cue movements of each player remaining.
Qualification round results, event ranking list of the top 20 players to date, and the round robin flights (A, B, C, and D) for the start of the semi finals follow"¦
SEMI-FINAL CHARTS scroll down
Flight A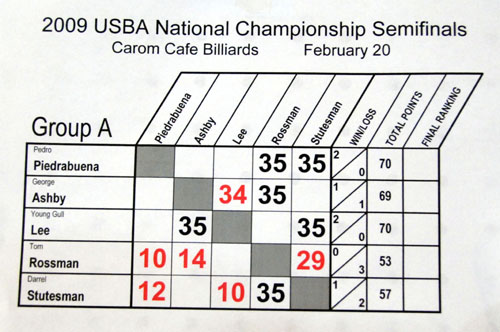 Flight B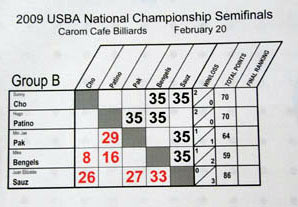 Flight C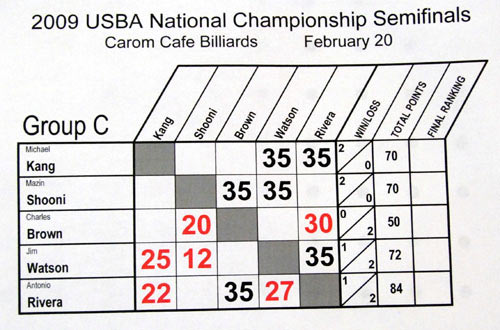 Flight D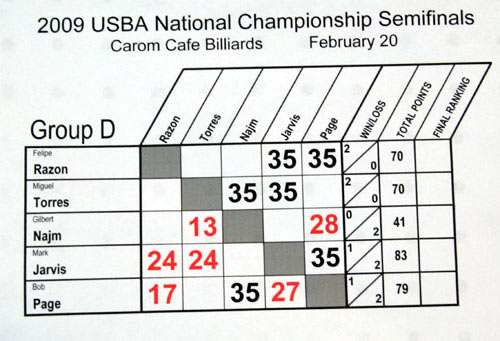 Payout
1st $4,000
2nd $3,000
3rd $2,400
4th $2,100
5th $1,900
6th $1,700
7th $1,500
8th $1,200
9th $1,000
10th $900
11th $800
12th $700
Hi-Run $100
Best Game $200
Only players in the final 8 man round robin are eligible for high run and best game prizes.