Pedro Wins 2012 USBA Nationals
The 2012 USBA National Three-Cushion Championship Tournament, played for the second consecutive year at the Las Vegas Tropicana Hotel as part of the ACS national tournament week, ended in dramatic fashion as defending champion Pedro Piedrabuena overcame a twelve point deficit with a scorching finish to defeat Mazin Shooni 40 to 33 in 34 innings.  With the victory, Piedrabuena not only defended his crown but also notched his 5th national championship title.
Played in the Cohiba Room of the Tropicana on 8 fabulous Gabriels Elements tables with Simonis 300 Rapide cloth, the USBA national championship started on Sunday, May 6th with 49 players from around the country.  The 49 players were randomly placed in flights of 7.  After a three-day round robin, where a player competed against each other player in a flight, 20 players advanced to the semi-finals.  The semi-finalists were placed in 4 flights of 5 players, where another round robin was played.  The top two players in each flight advanced to the finals, which was contested in a single-elimination bracket with consolation matches to determine all 8 places.
In addition to Piedrabuena and Shooni, the other finalists were Hugo Patiño, Miguel Torres, Sonny Cho, Jae Cho, Michael Kang and Khalil Diab.  In first round action of the final day, Patiño squeaked by Diab 40 to 38, Piedrabuena handley Kang 40 to 13 in 17 innings for a 2.353 average, Sonny Cho topped Jae Cho 40 to 36 and Shooni bested Torres 40 to 24 in 24 innings for a 1.667 average.  Piedrabuena continued his strong play in the next round by beating Patiño 40 to 21 in 24 innings (1.667 average), and Shooni defeated Sonny Cho 40 to 28 in 24 innings (1.667 average), thus setting up the Piedrabuena-Shooni final.
 SCROLL DOWN FOR CHARTS
In the title match, Shooni started strong, scoring almost at will.  "I knew I had to remaining patient and not do anything crazy on the table," Piedrabuena later explained what went through his head as Shooni built the early lead.  But, with Shooni leading 30 to 18, he missed a five-cushion shot by a hair that would have left position and provided the opportunity to lengthen his lead.  Piedrabuena stepped up the wide-open table and ran 5, making the score 30 to 23.  With Shooni's miss and Piedrabuena's run, the momentum shifted.  Over the next eight innings, Shooni managed but 3 billiards, while Piedrabuena scored 17 times, including a finishing run of 7, to win the title.  For the game, Piedrabuena averaged 1.212 and Shooni averaged 1.000.  For the finals, Piedrabuena's overall grand average was 1.600, while Shooni's was 1.395.
With the victory, Piedrabuena took home $4,000, while Shooni pocketed $3,000.  In other finals action, Sonny Cho defeated Patiño for 3rd place, and Jae Cho defeated Diab 40 to 15 for 5th place.  Torres finished 7th, and Kang 8th.  Prize money was awarded to the top 20 players.  Eighth place was worth $1,000, and 20th place was worth $300.  The total prize fund topped $20,000.
Gabriels was the primary sponsor for the tournament, supplying the tables, the Dyna sphere balls used in the finals, and a cash contribution. Other sponsors included Simonis, which supplied the 300 Rapide cloth and contributed to the prize fund. Aramith supplied the balls used in the preliminaries and the semi-finals, and Tiger Cues supplied three beautiful billiard cues that were raffled by the USBA at the conclusion of the tournament.  Tony Ferrara from Massachusetts, Doug Deitel from Texas, and Leonard Williams from Denver won the cues.  The finals were live streamed courtesy of Richard Helmstetter and Helmstetter/Adams cues.
Many individuals contributed to the success of the tournament.  Among them, great thanks go out to Charlie Brown, the Tournament Director who ran an efficient event; Larry Hundley, Jan Janssen,Rich Kuchma, Jim Hendrickson, Paul Frankel and Andy Janquitto who helped with assembling the tables; Russ ("Rosy") Rosenberger, Raye Raskin, Jim Shovak, Andy Janquitto and Tony Ferrara, who helped with vacuuming the tables between games; Doug Deitel, who manned the live stream cameras and chat room; and many others who volunteered to score matches in the semi-finals and finals.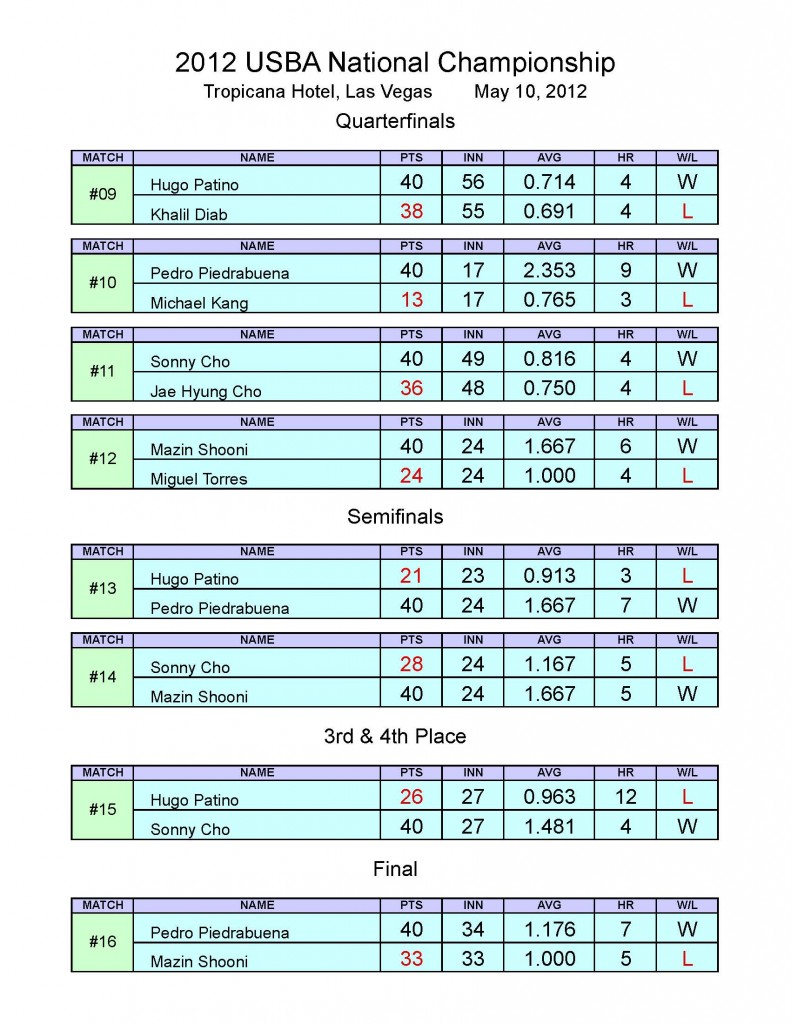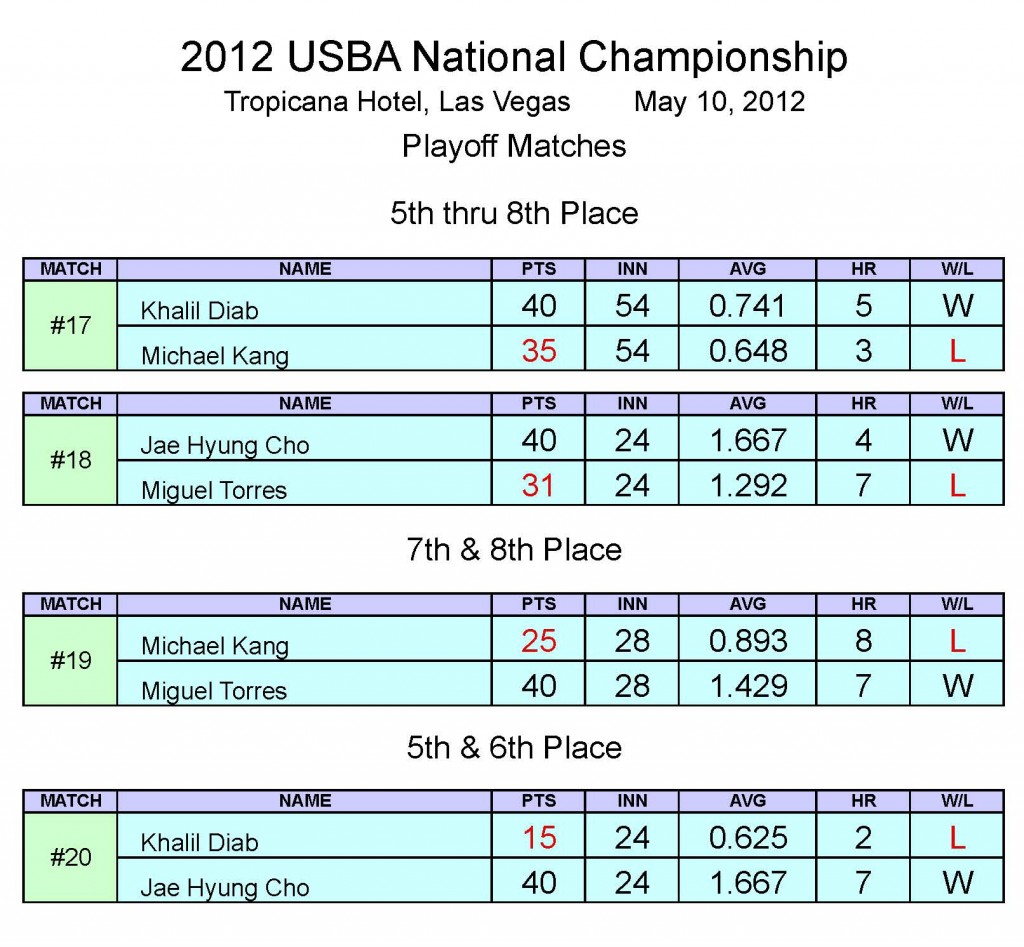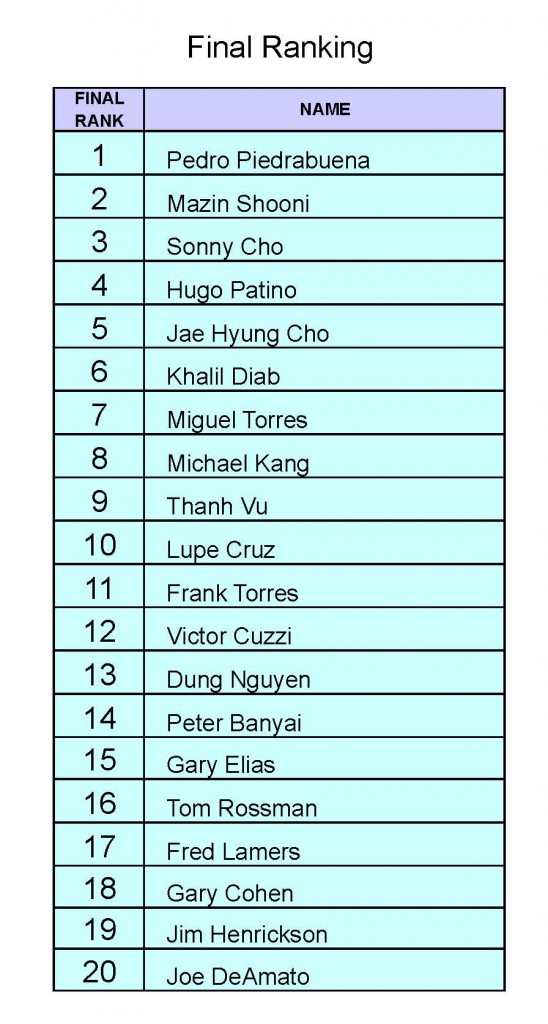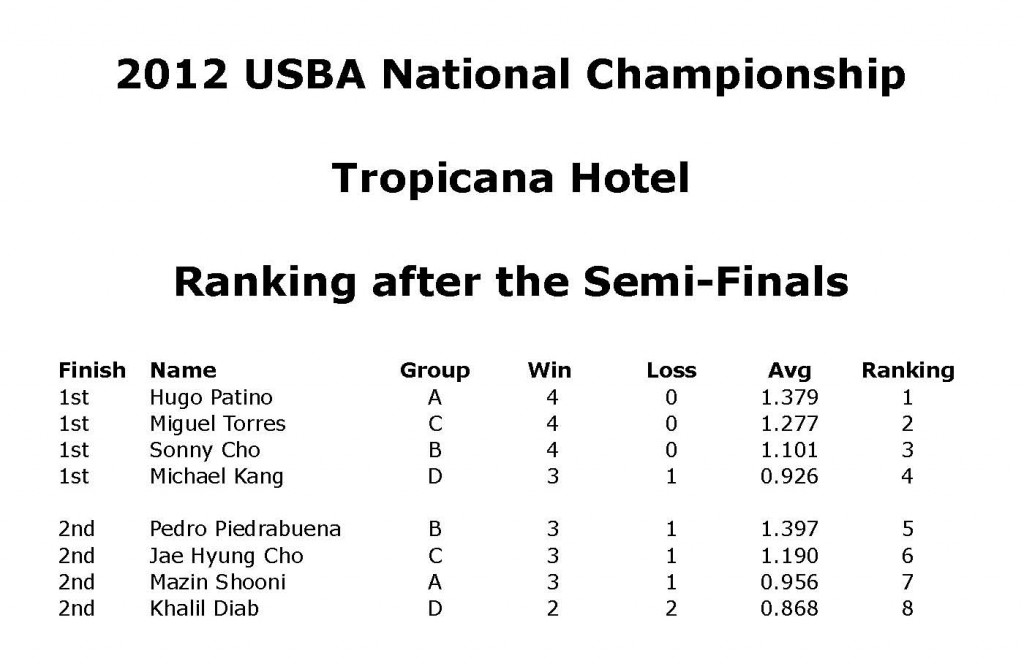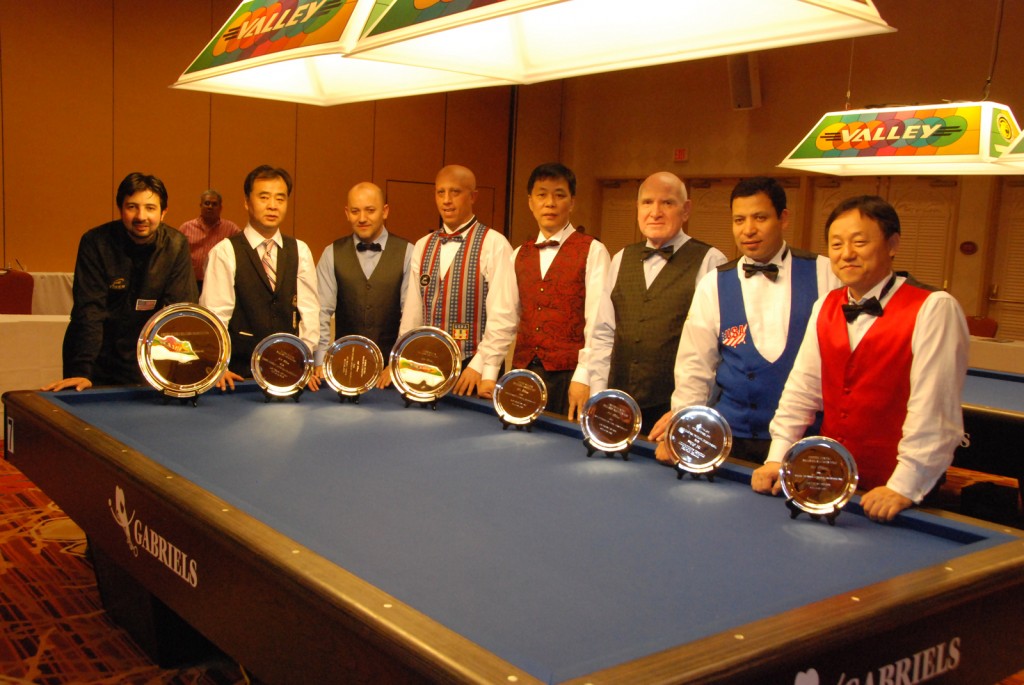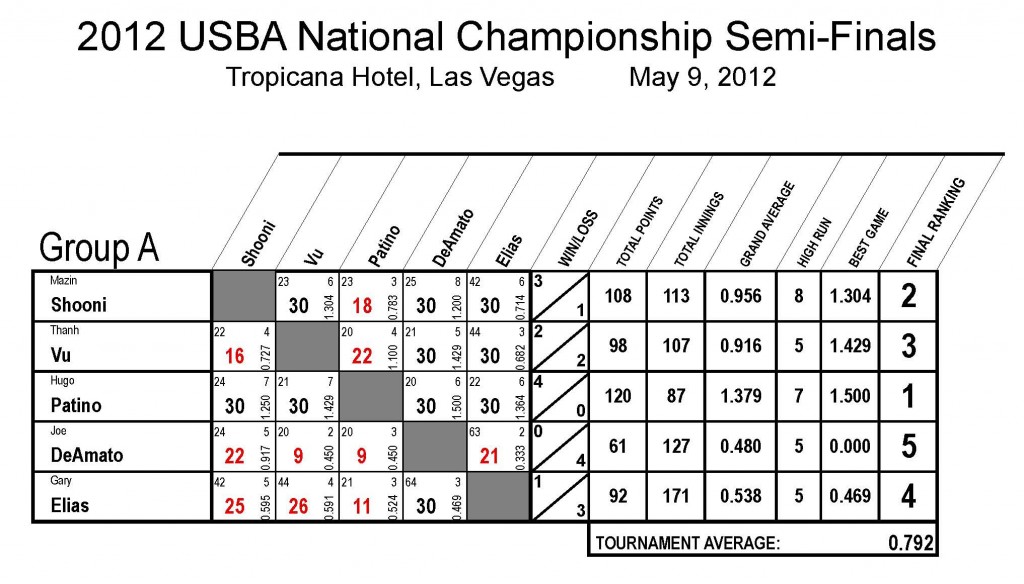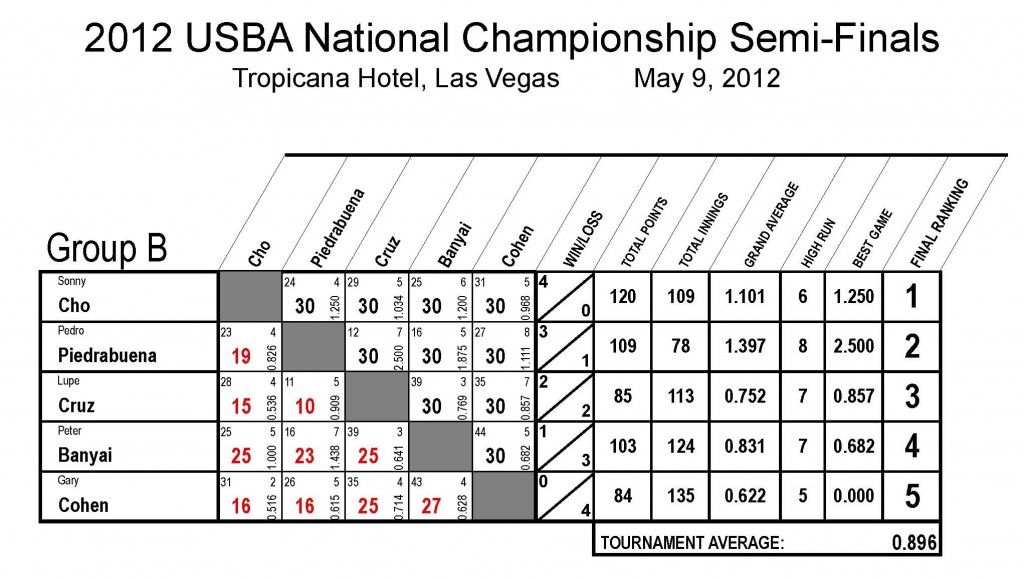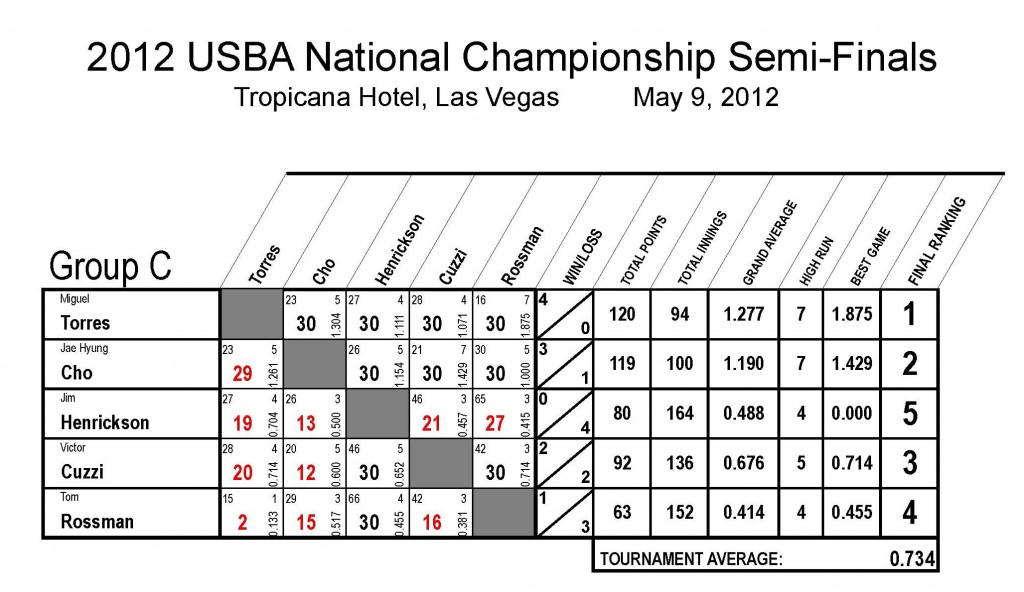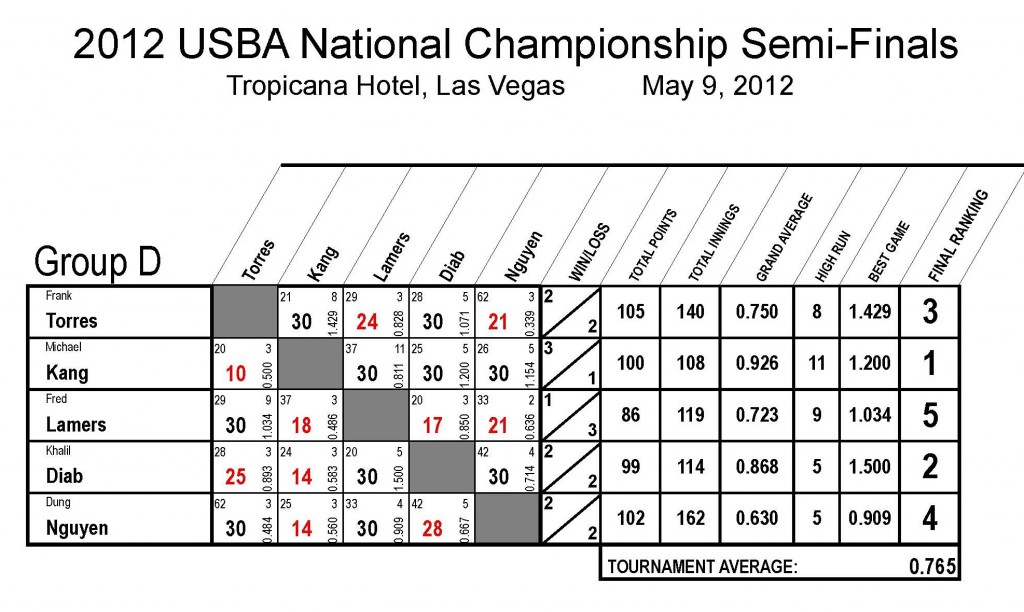 PRELIMS CHARTS  BELOW