3-Cushion Regional Qualifier
Left to right, Felipe & Hugo
Patino, Kolacz, Razon, and Ashby all earned their National entry at no charge, but had to play 2 final matches to determine the overall positions of finish in the Qualifier event and ranking points assigned by the USBA. Razon performed brilliantly as he defeated Patino by a score of 20 – 17 for 1st place honors. Meanwhile, Ashby sailed to victory over Kolacz 20 – 12 to win 3rd place positioning.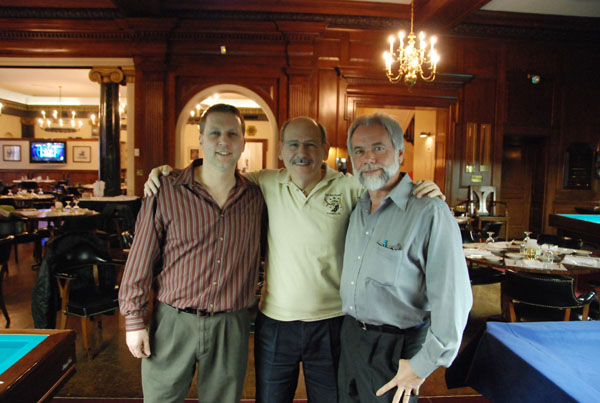 Left to right, Dan – Paul – George
The final match with Frankel and Stoner was a tense battle to see who would garner the remaining free entry to the Nationals. Stoner played very well but in the end lost to Frankel by a score of 20 – 14.
FINAL POSITIONS OF FINISH FOR EVENT
1ST Felipe Razon $ 75 + National entry paid ($500)
2nd Hugo Patino 75 + National entry paid ($500)
3rd George Ashby 75 + National entry paid ($500)
4th Dan Kolacz 75 + National entry paid ($500)
5th Paul Frankel 75 + National entry paid ($500)
6th James Stoner 25
7th Peter Hull 25
8th Tom Rossman 25
9th Gregory Warren 25
10th Gary Eake 25