Dani wins his 4th European crown.
By Bert Van Manen
He previously did it in 1997, 2000 and 2009, and he did it again in Berlicum 2022. Dani Sánchez Gálvez is the new European champion, after he beat the title holder and world number 1 Dick Jaspers in a strong final: 50-35 in 19/18 innings.
Sánchez played well throughout the event, averaging over 2 and even over 3 in the second half of most matches. In the final however, his start was better than his finish. Early runs of 4 and 9 gave him the initiative, and Jaspers was always on the back foot. Like Eddy Merckx, Dani Sánchez is extremely difficult to beat in finals, his resume speaks volumes about that (4 world titles, 3 World Games, 14 World Cups, 4 European titles). He is, quite simply, one of the all-time greats.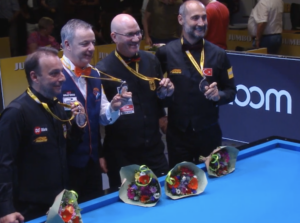 The last handful of points took a few more innings than Dani would have liked, and he acknowledged that he had made a fluke here and there. But, even with the benefit of the run of the ball, he was the better player in the final and the deserved champ.
Jaspers, who for a while looked like he could do miracles whenever he needed them, had to concede to Marco Zanetti in Ho Chi Minh, now to Sánchez in Berlicum. The Spaniard will be most happy with the precious 80 ranking points that come with the Confederal title.
Horn and Sayginer shared the bronze medal.
The best match of the event was shared between Zanetti's 50 in 15 and Jaspers' 50 in 15, Michael Nilsson's 19 was the high run.