Dieckman 4th Memorial 3-Cushion Handicap Event Results
HANDICAP FINALS RESULTS

Left to Right- 2nd Place Cleiton Rocha – 1st Place Mazin Shooni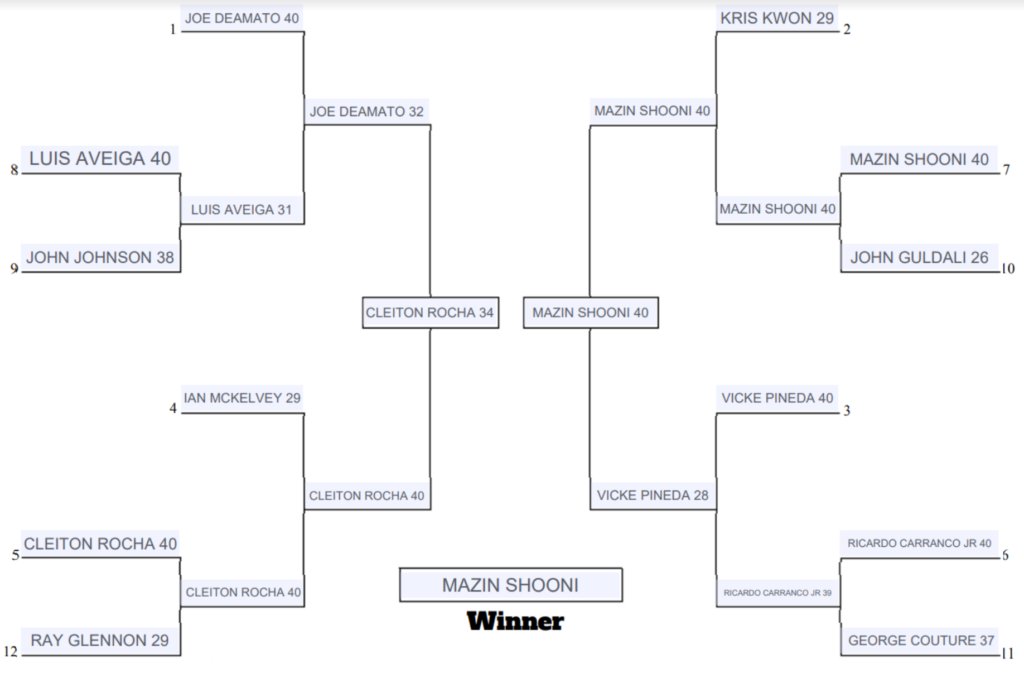 Preliminary Charts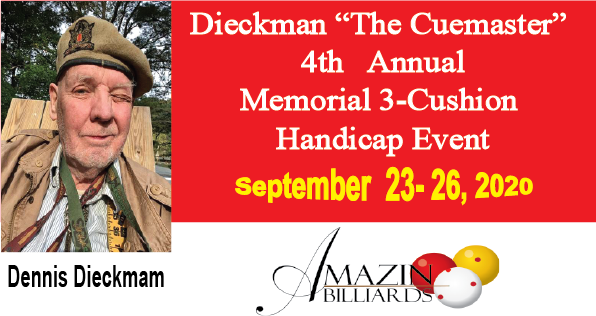 SCOTCH DOUBLE WINNERS
1ST PLACE-Team Luis Aveiga and Mickey Campbell

SCOTCH DOUBLES SEMI-FINALS
MAZIN SHOONI / RICHARD FALANGA 30 VS 17 VICKE PINEDA / ERICK VALERIO
LUIS AVEIGA / MICKEY CAMPBELL 30 VS 25 JOHN GULDALI / BERKAY KESKIN
FINAL: LUIS AVEIGA / MICKEY CAMPBELL 30 VS 14 MAZIN SHOONI / RICHARD FALANGA

Full Recap cap of 4th Annual Dennis Dieckman Memorial 3 Cushion Tournament
Thirty-three players representing at least 10 different states converged at Amazin Billiards in Malden, Mass- achusetts for four days of 3 cushion billiards in honor of the late Dennis Dieckman, a friend of all in the billiard world.
The main event, a handicapped tournament, pitted the players in a round robin format fielding three flights of seven and two flights of six players.
In addition, the evening brought about a Scotch Doubles tournament featuring eight teams (16 players in all) that battled over three nights.
In the main event format, the top two players advanced to a single elimination final. In addition, the two best 3rd place finishers advanced to ensure 12 players into the final round. The top four finishers from the prelims, how- ever, were granted byes, forcing the bottom eight to square off, with the top four joining the top four byes in a true single elimination round to the final game.
The top 4 finishers were:
Kris Kwon – record 5 & 0 averaging 1.069 Ian Mckelvey – record 5 & 1 averaging .654 Vicke Pineda – record 6 & 0 averaging .973 Joe DeAmato – record 5 & 0 averaging .921
Cleiton Rocha won his flight with a 5 & 1 record averaging .668, but was forced to play in the first round featuring eight players. The other seven players were:
Mazin Shooni – 5 & 1; 1.171 Luis Aveiga – 4 & 1; 1.524 Ray Glennon – 3 & 2; .681 John Johnson – 4 & 2; .432 Ricardo Carranco – 5 & 1; .920 George Couture – 4 & 2; .624 John Guldali – 4 & 1; .785
The charts will tell the tale from here but lets mention a few notable happenings:
Mazin Shooni. First and foremost, he was the emerging champion of this handicapped event. Mazins recent play had dipped just below the 1.000 average, but for this tour- naming his play brought back to memory the performance that won him the 2006 National Championship title. Mazin played many games over 1.400. He is, of course, the room owner, host of this event and is frankly responsible for the many tournaments happening around the country for several years now with more to come. Con- gradulations to our champion, Mazin.
Cleiton Rocha. Despite Mazin defeating him and knocking him into second place, he had a wonderful tournament. An established pool player, Cleiton took on and defeated many more experienced 3 cushion players,
albeit playing at a handicap he's not likely to ever see again thanks to his finishing average. Great playing Cleiton.
Luis Aveiga. Another highlight of the event happened in a preliminary match between Luis Aveiga and Richard Falanga. Luis was the top dog handicap wise, playing to 40, while Richard was playing to 20 points. With 20 points to start the match, Richard had a lead of 29-13 and seemed as though he might just hand Luis an early loss would not bode well for the highly-rated players chances. Then Luis stepped to the table and put together a high run the likes of which patrons of Amazin Billiards had never seen in tournament play before. Luis ran a 21, running the score to 34-29 in just a matter of minutes. Awesome work Luis.
Ian Mcklevey. How about Ian finishing 5 & 1 in his first ever tournament at Amazin Billiards and averaging .654 in doing so? You don't see that too many times for a tournament newbie. He too may see a different handicap number in the future as well but so be it, congratulations on a fine showing.
Ben Sutherland. I also have to mention Big Ben Sutherland – not only for delivering once again a high-quality live stream throughout the event, but also for winning two
games in his flight. Ben"™s a true beginner in the 3-cushion discipline, though it's quite apparent that his cueing ability from playing pool is enhancing his promise. He loves the game, and we love him, congrats Ben.
Ricardo Carranco. This gentleman is a highlight unto himself. In the eyes of many, myself included, he is the preeminent tournament director in the country. The fact that he plays in the tournament alongside running every- thing is a wonder in itself. Finishing 5 & 1, averaging 1.00 and being 5th overall while running the event? Awe- some job. Congratulations and a big thank you from all.
Vicke Pineda. Vicke went 6 & 0, besting his friend Ri- cardo 40-39 and then losing in the semi-final match to his Boston friend, Mazin Shooni. Nice tournament Vicke.
Kris Kwon. He went undefeated in his flight, averaging over 1.00 and he too lost to the eventual winner Shooni in a single elimination match. Nice play Kris.
Joe DeAmato. Joe informed me that his own personal high- light was besting Master Champion Luis Aveiga in a quarter-final match and finishing 3rd overall with Mr. Pineda.
John Guldali. He played superbly throughout, also losing to the eventual champion in the single elimination round.
Terrific showings also from Ray Glennon, George Cou-ture and John Johnson in making the 12-man final round.
The Scotch Doubles winner was the team of Luis Aveiga and Mickey Campbell. Luis and Mickey beat a team comprised of Shooni and Falanga 30-14 to take the title.
Thanks and congratulations to all 33 players for making this 4th annual Dieckman memorial tournament a reality and special thanks once again to Ben Sutherland for live streaming, to Ricardo Carranco Jr. for being the most efficient and approachable tournament director and to Mazin Shooni whose time, effort, money and dreams continue to make tournaments like this a reality and a memory for all its participants. A big thank you to Amazin Billiards Staff – Stevie Roy and Al Buontempo – who kept the play running smoothly with clean tables and balls.
Mazin and his organization, 3-cushion USA will be moving on to Tucson, Arizona in January. Visit the Amazin
Billiards website or Professorqball.com for posted details and stay tuned for updates.