2nd Annual East Tennessee Diamond Shootout-Resutls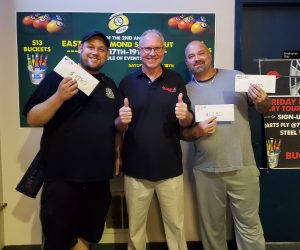 Leftt to Right -1st, $1,780.00  Shane McMinn, Steve McDonald (Director) 2nd Place $1,185.00 Mike Gann
2nd Annual East Tennessee Diamond Shootout
On July 17 – 19, 2020
Event was at Billiards & Brews in Knoxville, Tennessee on 7 foot Diamond Tables with Cyclop Pool Balls.
50 players participated.
9-ball, race to 9 on winners side / race to 7 on one loss side.
Winner was Shane McMinn from Tulsa, OK undefeated all the way.
2nd was Mike Gann from Dayton, TN.
Also director was Ricky Chitwood with Steve McDonald.