WORLD POOL MASTERS RETURNS TO GIBRALTAR, MARCH 26-29
The 2020 World Pool Masters, 9-ball's biggest invitational tournament, will take place from March 26-29 at the new Europa Sports Complex in Gibraltar, Matchroom Multi Sport is pleased to announce.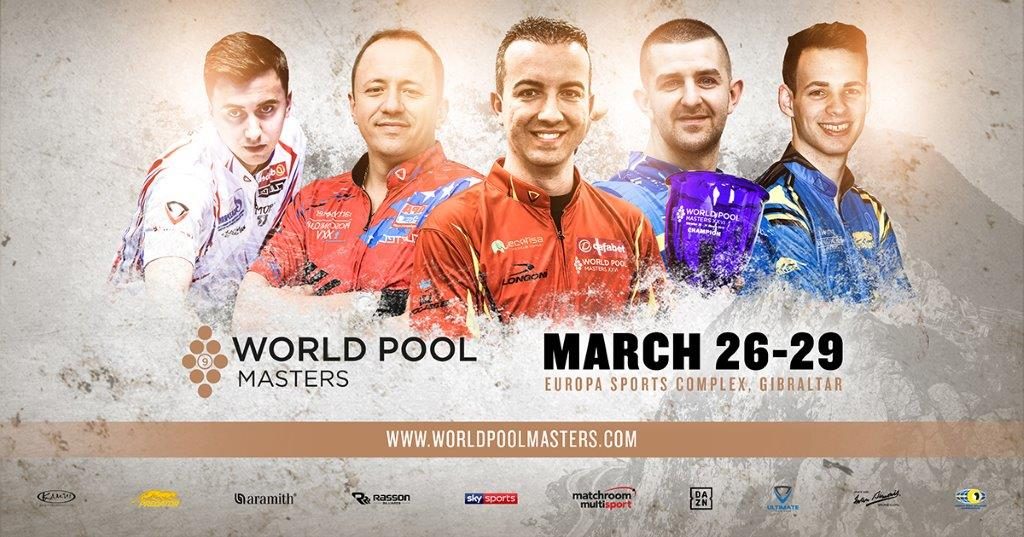 The World Pool Masters features 24 of the best players from around the world battling it out for their share of the $100,000 prize fund. Tickets will go on sale to Matchroom Pool Club subscribers on Monday, December 9 and on general sale on Tuesday, December 10.
David Alcaide won his second Masters title in 2019 and will be looking to defend his crown against a superstar field including the likes of US Open champion Joshua Filler and two-time Masters winner Shane van Boening.
The 24-player field will again include eight pre-determined players who qualify through major achievements, with a further 15 players invited by tournament promoter Matchroom Multi Sport. The final member of the field will be selected by you, the fans as the Fans' Choice vote returns.
Van Boening, Jayson Shaw and Alex Pagulayan are the first invited payers while Alcaide, Filler and European Champion Fedor Gorst have already qualified to participate.
Matchroom Multi Sport COO Emily Frazer said: "The re-vamped World Pool Masters is back on the Rock in Gibraltar seeing 24 of the world's best in a straight knockout format. $100,000 in prize money, a qualification criteria and a new sports venue supported by the Gibraltar Ministry of Culture, Media, Youth and Sport; this is the Superstars of Pool!
"The standard of play in women's pool is impressive right now and what better stage to see the World No. 1 female player than the World Pool Masters. It's race to 7 with the exception of the final, 9 on the spot – expect drama, excitement and close matches. Only the best of the best will be there!" 
The Hon Steven Linares MP, Gibraltar's Minister for Sport said: "It is an honour for me as the Minister for Sport to see the World Pool Masters and Matchroom Sport return to the Rock once again in 2020. These world class events continue to attract both locals and visitors alike and are true examples of HM Government of Gibraltar's events-led tourism policy.
"I am truly delighted to continue our work with Matchroom Sport. Our close relationship allows us to deliver and host world-class events such as this one for the enjoyment of all."
The eight pre-determined players will be seeded straight into the last 16, with the remaining 16 invited players – including the Fans' Choice – contesting the preliminary round. The eight seeded spots are reserved for:
Defending Champion                   David Alcaide
World No.1                                    As of December 31, 2019
World 9-Ball Champion
US Open Champion                      Joshua Filler
European 9-Ball Champion         Fedor Gorst
Mosconi Cup MVP                        
Asian No.1                                      On WPA World Rankings, Dec 31
World No.1 Female                      As of December 31, 2019
Invited players will be announced over the coming weeks before then Fans' Choice poll launches early in 2020. For all the latest World Pool Masters news follow World Pool Masters on Facebook, Twitter and Instagram. Full ticket details will be released soon