Amazin Billiards 3-Cushion Handicap Tournament
Paul Feltman Jr 1st- Joe DeAmato 3rd- Tony Ferra 2nd – Mazin Shooni 4th
$500.00 Added
1st – $1000
2nd – $800
3rd – $650
4th – $550
5th – 8th $ 350.00 each
Hi Run $100 won by Mazin Shooni Hi Run 10
Final 8 Players
CLICK ON CHARTS TO ENLARGE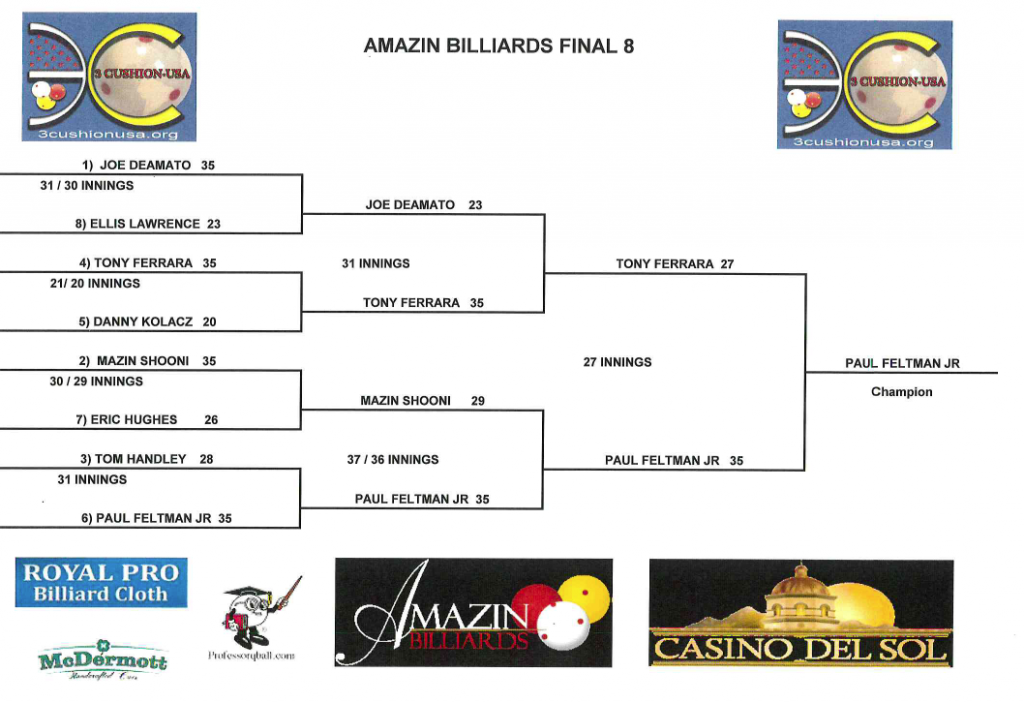 THE SUCCESS   OF A NEW THREE-CUSHION BILLIARDS ORGANIZATION
During the weekend of March 29-31, 2019, a new organization entered a new era with the beautiful and scientific game of Three-Cushion Billiards. The very successful event took place in Malden, Mass. at Amazin Billiards, under the leadership of Mr. Mazin Shooni, Founder and Tournament Director (3cushionusa.org).
The historical event comprised a diverse field of 21 (twenty-one) local and out of town players, all excited to display and test their talents against their comrades. All participants were given a copy of the "playing guidelines," a reminder about displaying acceptable conduct, decorum and respect while playing. Everyone adhered to the guidelines and as a result, the players were very content with the "Handicapped Format." The Handicapped format included Round Robin preliminaries and a Single Elimination Final. The beauty of this format is that everyone was given an equal chance to be successful in determining their own outcome, regardless of whom they're playing.
The players were placed into three pools of seven players based on a blind draw. Each player would have to play six matches in their respective pool, with the top two from each pool, as well as the top two third place finishers moving into the eight man single elimination finals. Each bracket ranked the players based on their win/loss record, followed by total points scored, then total points against. Mazin Shooni was the highest rated player in the tournament, going to 35 points, therefore, all games were played to 35, with the players handicap added to the score at the start of the match.
The handicap format made the tournament very exciting. In the preliminary rounds, there were just over 60 matches, of which 26 ended with the loser over 30 points. Boston local Joe DeAmato ended the preliminary rounds with the best overall record at 5-1, with his only loss coming to Paul Feltman JR, 35-34. Mazin Shooni earned the 2nd seed by winning his bracket going 5-1, with his one loss coming to Ellis Lawrence 35-33. Tom Handley from Buffalo, NY, earned the three seed by winning his bracket with an overall 5-1 record. The second place finishers were, Tony Ferrara from North Carolina, Danny Kolacz from Buffalo, NY, and Paul Feltman Jr from Tucson, AZ. The top two third place finishers were Eric Hughes from DC, and Ellis Lawrence from Fl..
The eight-man single elimination got under way Sunday morning, and top seed Joe DeAmato continued his winning ways by defeating Ellis Lawrence 35-23. Mazin Shooni dispatched of Eric Hughes, 35-26, while at the same time Paul Feltman JR was able to pull off a 35-28 win over the number three seed Tom Handley. The best game of the first round saw Tony Ferrara play a great game, defeating Danny Kolacz, 35-20. Both players go to 25, so they start with 10 on the wire. Tony was able to get out in just 20 innings.
Round two saw Tony continue his hot play defeating top seed Joe DeAmato 35-23, while Paul Feltman JR scored a big win over Mazin Shooni 35-29. Joe DeAmato quickly recovered and played the best game of the tournament, defeating Mazin Shooni 35-14 in 17 innings, claiming third place. The final match went just 27 innings, as Paul Feltman JR was able to defeat Tony Ferrara 35-27 to win the first tournament under the new 3 Cushion USA organization.
One of the highlights of the tournament was a special showing by Dr. Cue (Tom Rossman). He performed fancy pool tricks, one-arm shots, audience challenges, instruction and technical advice. Dr. Cue is world famous with his sport and show artistic pool tour and is regularly in high demand for his unique services, showmanship and skills.
CLICK ON LINK BELOW TO SEE ALL PRELIM CHARTS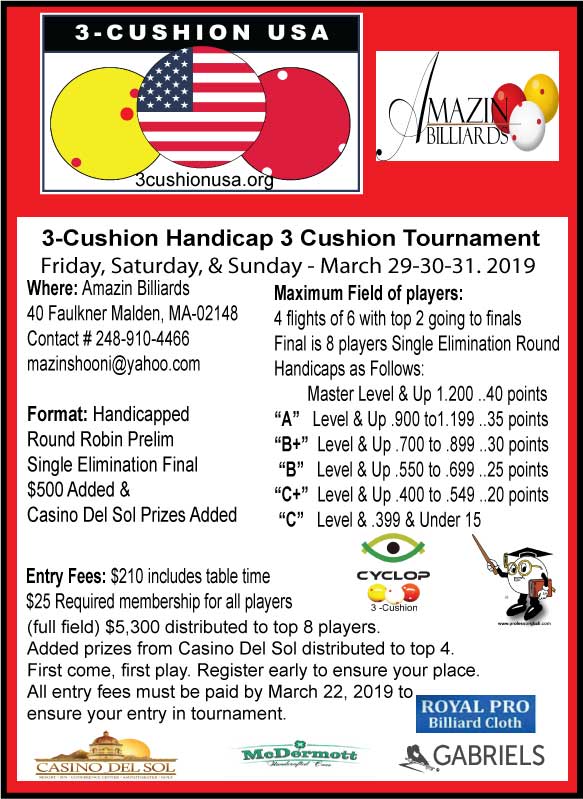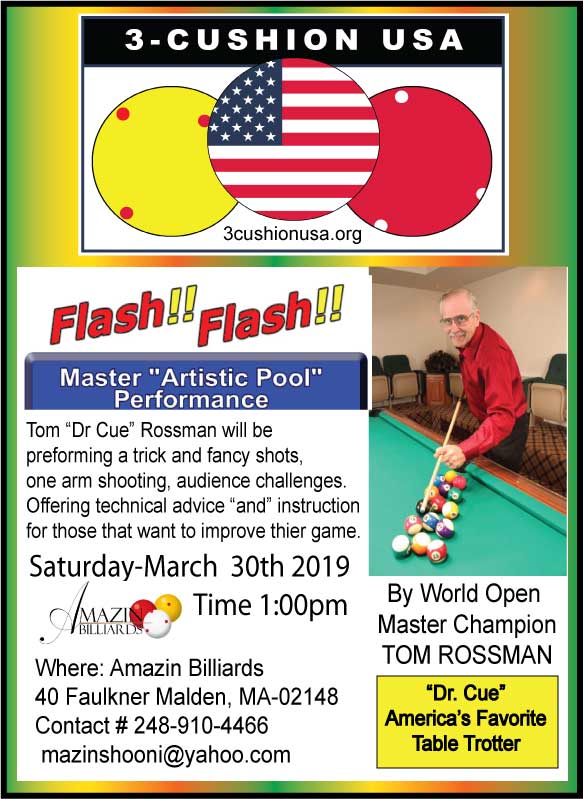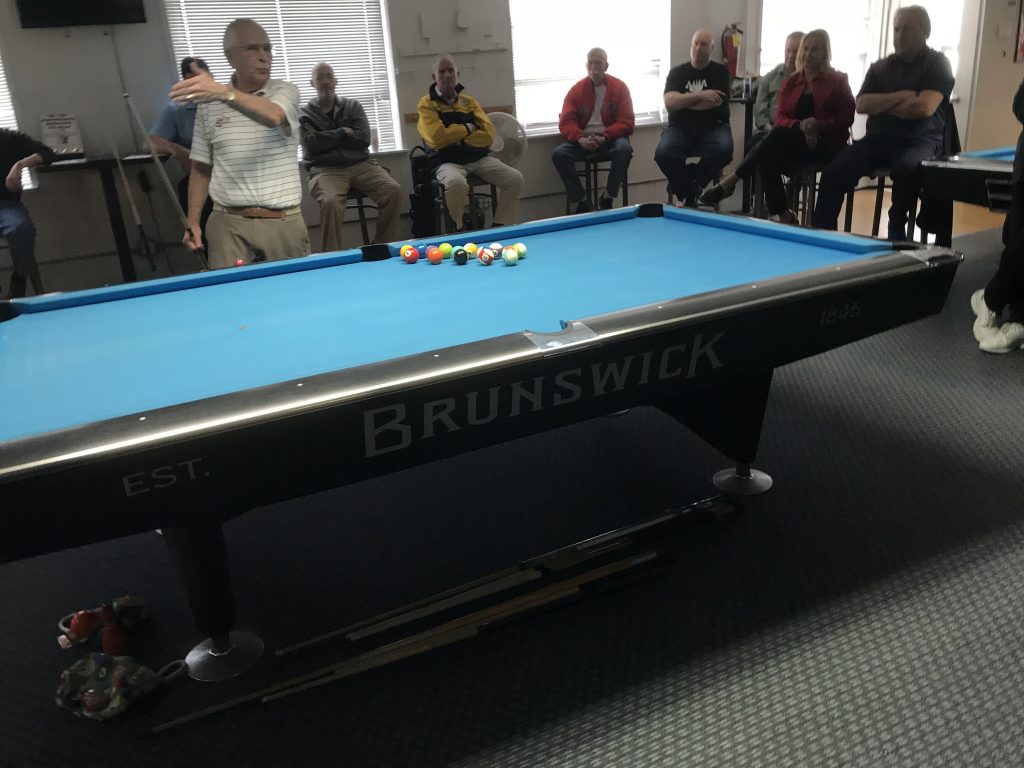 Dr.Cue (Tom Rossman) performing at Amazin Billiards his Fancy Trick Shots.
3-Cushion USA Events In 2019
3cushionusa.org will also be sponsoring the following upcoming tournaments this year so check the website for details.