The 13th Guangzhou International Billiards Exhibition

The 13th Guangzhou International Billiards Exhibition (GBE2019)
Date:May, 9th-11th,2019
Venue: China Import & Export Fair Complex, Guangzhou
Organizer:Guangdong Grandeur International Exhibition Group
Exhibition Scope:Billiards Tables,Cues,Billiards Slate,Billiards Cloth,Balls,Cue Cases,Chalk,Gloves,Billiards Lights,Billiards prokets,Cue Tips,Scoreboard,Tripod,Accessories,
hardware fittings for billiards table,Darts,Dart Board,Shuffleboard,Games and Amusement products,ect.
Mobile/WhatsApp/Wechat:+86 13169641676
Email:gbeexpo@yeah.net; grand.wa@grahw.com
Website:http://www.gbechina.com/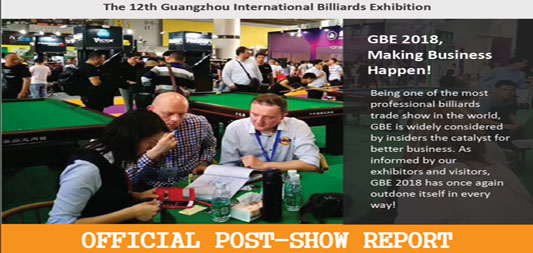 Making Business Happen!
Being one of the most professional billiards
trade show in the world, GBE is widely considered
by insiders the catalyst for better business. As
informed by our exhibitors and visitors,
GBE 2018 has once again outdone itself in every way!
Click on Post Show Report Link above to read all about it.