Filler Wins The Rasson 10-Ball Masters Championship
Things weren't looking so hot for Joshua Filler on Thursday afternoon.
The fiery young German had just lost his first round match Shane Van Boening in the Rasson 10-Ball Masters Championship, leaving him 0-3 in World Pool Series events overall dating back to April's Aramith 9-Ball Players Championship.
"I think it was still in my mind that I lost the last two matches in the last event. That's why I didn't feel so well. I tried too hard and put too much pressure on myself," Filler said.
By Sunday night Filler was feeling much better. The Mosconi Cup Most Valuable Player rattled off eight consecutive victories, capped off with a 17-10 defeat of Greece's Alex Kazakis to earn top honors in the 41-player event at Astoria's Steinway Billiards.
Filler used a safety battle victory and a break and run to win the first two games but gifted Kazakis the third rack when he missed a routine 5-ball. Filler would miss a couple more balls in the fifth and sixth games that allowed Kazakis to win back-to-back games and pull to within 4-3.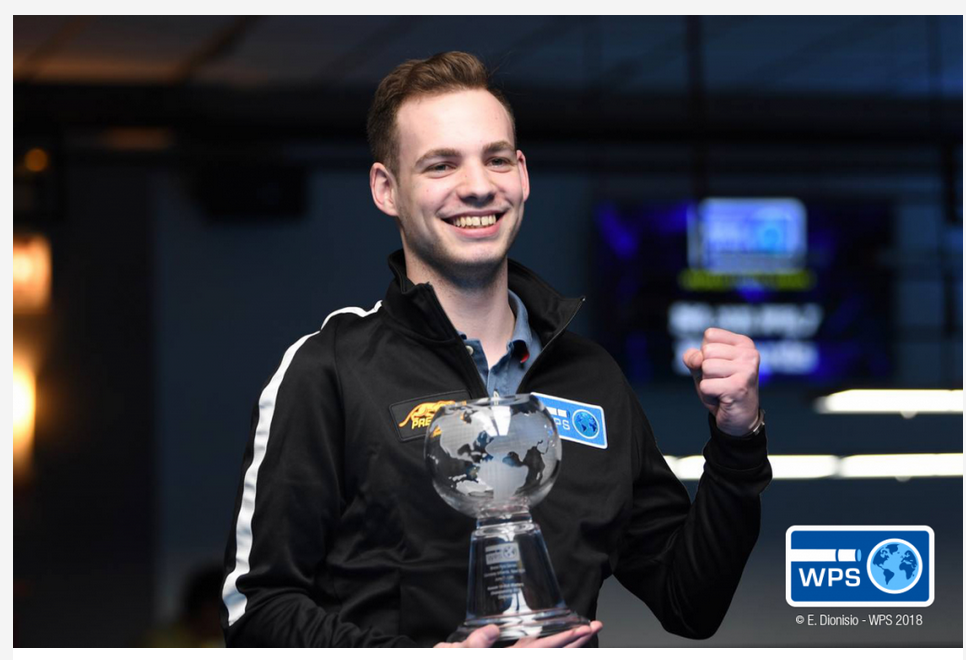 "I think that was because I was tired, to be honest. It was a very long event with races to 11, races to 13 and the finals being race-to-17," Filler said. "It's just tough and I just felt tired."
The young German used two more safety battles, a break and run and a Kazakis miss to win four consecutive games to take an 8-3 lead. After the Greek won the 12th and 13th games Filler would win three of the next four to extend his lead to 11-5 heading into the 15-minute mid-match intermission.
Unlike the Aramith event, Kazakis attempted to fight back but unforced continue to plague him. He left a 6-ball in the jaws with a chance to pull to within 11-7 and missed another 6-ball in the 22nd game.
"I'm really disappointed about the match because the balls I missed, they were all easy balls," Kazakis said. "I don't know what happened. I guess I was just tired."
Despite the missed opportunities, Kazakis used mutual breaking woes as well as some safety play and a break-and-run to climb to within 14-10.
"In the second half I just said to myself to take every chance that Josh or the table gives me," Kazakis said.
However, a misplayed a safety on the 3-ball during the 25th game proved to be costly. Filler stepped to the table and executed a full-length, cross-table cut shot on the ball, propelling him to clear the rack and take a 15-10 lead. The German then closed out the match with back-to-back breaks and runs.
"He got more time at he table. He got more chances. But sometimes he didn't take advantage of his chances. That's why I won in the end," Filler said.
Although both players struggled breaking, the opening shot was really a liability for Kazakis – breaking dry five times and scratching on the break once.
It was the second consecutive runner-up finish at the World Pool Series for Kazakis, who didn't fall upon the late match luck that he had in the previous three matches.
Friday afternoon the Greek was able to capitalize on a couple of unforced errors in his match with Lee Vann Corteza to advance to Saturday's semifinals. The next day Kazakis held a narrow 12-11 lead against James Aranas but was seated in his chair watching as his opponent cleared the rack in the 24th game. While Kazakis mentally prepared for a possible sudden death shootout Aranas missed a makeable 8-ball, handing his opponent a routine three-ball out earn a spot in the semifinals. Sunday afternoon Kazakis appeared to be on the verge of letting an 11-3 lead to Dennis Orcullo slip away until Orcullo missed a routine 6-ball in the corner pocket in the 22nd game, allowing the Greek to get back to the table and gut out a 13-10 victory.
The Rasson 10-Ball Masters Championship is the second event of the four-tournament 2018 World Pool Series. Created by Darren Appleton, the WPS is sponsored by Aramith, Rasson, Predator, Iwan Simonis, Tiger, and Kamui and our suppliers and partners are Billiards Digest, CueScore, Let's Go Print, Outsville, UpState Al, and the WPA