Fourth Annual Texas Open 10-Ball
THE SIBERIAN EXPRESS ROLLS THROUGH TEXAS!!!
By Mary Kenniston
All the action was at Skinny Bob's Billiards in Round Rock, TX and live-Streamed by PoolAction TV and held on February 15-19th
As owners John and Sue Cielo presented the 4th Annual 10-Ball Championships – races to seven, alternate break. Special event sponsors included Hanshew Jump Cues, ATX Napa, Honest Air Conditioning and the Sleep Inn & Suites. Without their support, this event would not be possible.
Thursday kicked off with a 21 team Jack & Jill Scotch Doubles Championship. Tommy Tokoph and Gail Eaton were the winners of this event over Carl Honey and Chris Fields.
Keeping the place hopping, 23 players put up their entries for the Banks Rails Game with Ronnie Alcano taking top honors over the always-tough John Morra.
Keeping the action going on Friday, there was a men & women's 10-ball ring game. The Siberian Express, Ruslan Chinahov, has been winning all over the country & added another victory over Alcano in the means ring game. Ming Ng and Jennifer Kraber were the final two in the 14 players women's ring game and they decided to chop.
Under the able direction of James Davis Sir, there was the players meeting, draw and players auction.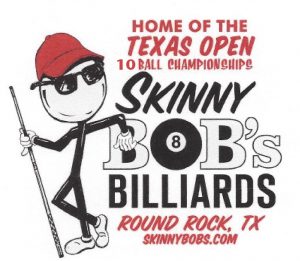 The women's division drew 32 players including Kim Pierce, Kelly Isaac, Ming Ng, Gail Eaton, Chris Fields and Jennifer Kraber. When the smoke cleared, it was Kraber going undefeated to take the title over the always-tough Ng. Eaton finished third and Michelle Cortez finished in fourth place. Congratulations to Jennifer! Good job, Ming!
The main event drew a full field of 128 players including Morra, Tokoph, Sky Woodward, Danny Smith, Robb Saez, Richie Richeson, Mike Delawder, John Gabriel, Mitch Ellerman, Kevin Guimond and this year's Derby City Banks Ring Game and Turning Stone XXIX champ, Billy Thorpe. The Texas contingent was led by newly inducted One Pocket Hall of Famer Jeremy Jones, Charlie Bryant, Manny Chau, Alex Calderon, the father-son duo of James Davis Sr & Jr and a familiar name to the old schoolers, Tommy Sanders. The foreign contingent included Chinahov, Casper Matikainen, Ruben Bautista and the always tough Filipinos – Warren Kiamco, Jeffrey DeLuna, Ronnie Alcano and recent Derby City Bigfoot Challenge winner, Roberto Gomez.
First round action saw Matikainen send Kiamco west while Delawder was trounced by DeLuna. Second round matches had no real upsets but the third round matches saw Matikainen wallop De Luna while Jones dusted off Chau and Shane Manaole skunked Tokoph.
By the fourth round, things were tightening up: Saez couldn't get past Morra, Jones was handed a donut by Gomez while Loftis held Woodward to zero! Meanwhile, Bryant survived a hill-hill match with Matikainen.
Bryant did it again next round in his match with Morra – 7-6! Loftis sent Bautista to the left side as Gomez and Alcano duked it out. Alcano moved on as did Chinahov over Calderon.
Down to the final four on the winner's side, Chinahov drilled Alcano 7-0 while Bryant was fighting for his life against Loftis! Another 6-6 match but this time, Charlie couldn't pull it out. That left Chinahov and Loftis to fight it out for the hot seat…
It was neck and neck but the young Russian finally pulled away to claim his spot in the finals 7-5 while Loftis went west to await an opponent.
Meanwhile, on the one loss side of the chart, Bryant – no stranger to hill-hill matches – knocking Woodward out 7-6 to advance. Alcano cruised to the next match with a 7-3 win over Bautista. Both Woodward and Bautista finished in a 5th-6th tie.
Alcano had no trouble with Bryant leaving him with a very respectable fourth place finish. Loftis, however, was having none of it as he battled it out and emerged the victor over Alcano – he finished third.
Since this is a true double elimination event, Kenny would have to defeat Ruslan twice to claim the title. Leading 3-1, Loftis broke dry and Chinahov went on to tie it up at four apiece and then go ahead 5-4. Loftis tied it up at five all with a spectacular shot on the ten and went ahead to reach the hill first! The next game saw each at the table more than once but Kenny ended up with a fairly routine out to take the first set 7-5!!!
Alas, but the Cinderella story was not to happen"¦Ruslan jumped out to a 4-0 lead. It was Kenny's break and he ran out to get a mark on the board – 4-1. Chinahov won the next two to go ahead 6-1 and needing one game to clinch the title. Loftis wasn't about to give up though, winning the next game. The Siberian Express rolled over the young Loftis to take the next game and the title with a final score of 7-2.
Hailing from the Memphis area, what a great finish for a guy who works a full time job! I'm sure this is not the last we'll see of this young man! Great finish, Kenny!
And congratulations to Ruslan! The young Russian's had a great year so far"¦he won the Derby City 14.1 Challenge, the Virginia State 10-Ball Championship and is now the Texas Open 10-Ball Champion! Congratulations!!!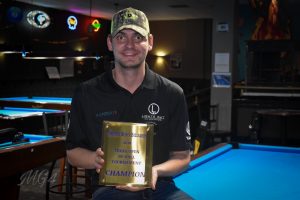 We'd like to thank the Cielos & their staff at Skinny Bob's for another great event! And a tip of the hat to Tournament Director James Davis Sr. for keeping things running smoothly.
The Texas Open 10-Ball Championships were played on Brunswick Gold Crown lll.
Tournament Blue Simonis Cloth, Aramith Tournament Balls with Aramith Pro Cup TV6 Red Dot Cue Ball.
Open Division: $125 entry; $4000 added
1st $4900            Ruslan Chinahov
2nd $2700            Kenny Loftis
3rd $1700            Charlie Bryant
4th $1000            Ronnie Alcano
5-6th $630
7-8th $460
9-12th $300
13-16th $210
17-24th $160
25-32nd $125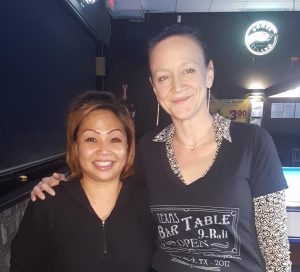 Ladies Division: $40 entry; $1000 added
1st $700            Jennifer Kraber
2nd $450            Ming Ng
3rd $340            Gail Eaton
4th $230            Michelle Cortez
5-6th $170
7-8th $110
Once again, PoolActionTV.com would like to thank our fans and sponsors. Our sponsors include Steve Lomax of Lomax Custom Cues, Aramith, John Barton of JB Cases, James Hanshew of Hanshew Custom Cues, GoPlayPool.com, Mike Durbin of Durbin Custom Cues, Simonis, Kamui and Club Billiards of Wichita, KS. Thank you!