2018 MansionBet World Pool Masters Wins for Souquet, Boyes and Feijen as defending champ goes out
THE 25TH ANNUAL Mansion Bet World Pool Masters got underway at the Victoria Stadium in Gibraltar as the first three first round matches took place. And there were wins for veteran Ralf Souquet, Niels Feijen and Karl Boyes and all take their places in the quarter-finals over the weekend.
Souquet, a record-breaking six-time winner of this event, took out 2012 champion Karol Skowerski, Poland by 8-4. It was close until half-way through until Souquet turned the screw to run out a winner.
Commented Souquet, "I broke the table in so it should be a little easier for the guys but it will be the same for every player. The first match is always really tough, especially if it is the first match of the whole event. The TV table plays a lot different from the practice table, so it is tough.
"It would be awesome to win. That is my goal and to have won the Masters six times already is amazing but to put a seventh one under my belt would be the icing on the cake."
The second match saw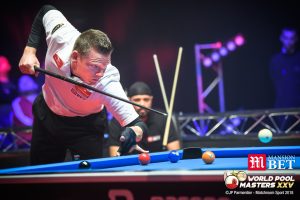 , come-backing after a lengthy spell out the game through injury, brush aside a ring-rusty Raj Hundal, coming home an 8-2 winner. Hundal was never at the races as Feijen eased his way through the racks.
"I felt really good and the first couple of games are about logic. I had to get going a little bit and missed an easy shot as I was getting used to the light and the atmosphere but probably 15 minutes into the match I cracked a couple of good breaks and ran some racks.
"My kicking game was pretty good, and my tactics, so overall it was a decent match. Raj had some ring rust as he called it but I played well enough, I was happy.
"My game is pretty decent. I was hitting the ball really well in practice – I picked up my cue after ten weeks and I didn't know how I would hit the ball but my touch was pretty good and it was a matter of a couple of days and the game was pretty much back. So, it is a matter of match play and mental toughness and everything will click back together."
Earlier, there were some concerns behind the scenes as Matchroom referees Brendan Moore and Nigel Rees both struggled to get to the southern-most tip of Western Europe in time for the event. In the end, local referee Jason Walker stepped in at the last moment and did a stellar job officiating the opening match of the competition.
Third referee, Desi Bozhilova, finally made it to the venue after her flight was diverted to Jerez and she was in charge of the remaining two matches.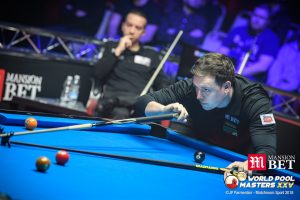 The final game saw defending champion David Alcaide go crashing out of the competition as he fell to late sub, Blackpool's Karl Boyes by 8-3. Boyes, who came into the event after Tony Drago withdrew through illness, took his opportunity as Alcaide struggled to get to grips with the match.
"I was disbelieving as I only got the call up to play on Tuesday, but not a bad effort for a full-time father," said a delighted Boyes who can look forward to a quarter-final match against Ralf Souquet.