DRAW MADE FOR WORLD POOL MASTERS XXV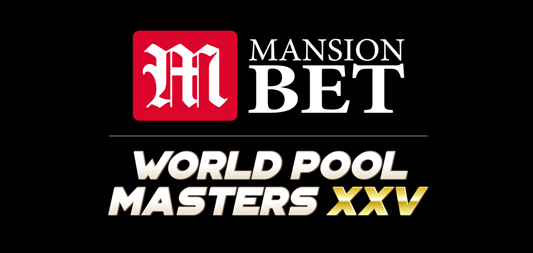 FILLER AND BOYES JOIN MANSIONBET MASTERS
Joshua Filler and Karl Boyes have joined the line-up for this weekend's MansionBet World Pool Masters in Gibraltar after Francisco Bustamante and Tony Drago were forced to withdraw.
Filler propelled himself onto the global scene last summer when he won the WPA China Open, which helped him qualify for December's Mosconi Cup. He then thrived on pool's biggest stage in Las Vegas, claiming the MVP award while European fans found a new fan favourite as their side defeated USA 11-4.
One of England's most successful players, Boyes has always excelled at the top level. WPA World 8-Ball champion in 2010, he lifted the World Cup of Pool alongside Darren Appleton in 2014, was runner-up at the US Open in 2015 and has won the Mosconi Cup four times.
Boyes will face defending Masters champion David Alcaide in the first round on Friday evening after Drago was forced to pull out through illness. Filler will come up against Jayson Shaw on Saturday evening with visa issues denying Bustamante the chance to participate.
"It's great to be back at the World Pool Masters," said 'Box Office' Boyes. "I didn't play a lot last year but I'm back now and feeling good after winning on the GB 9-Ball Tour last week.
"The Masters is a great event with only the best players in the world. The Matchroom tournaments are always the ones you want to play in so I'm pleased to get the invite and can't wait to get into that arena on Friday night. There are some great players in the field but I'd love to come up against Earl Strickland again – we always have great battles and I've got a good record against him.
"I've won the Mosconi Cup, and I've won the World Cup. Not many players achieve the Matchroom Triple Crown and I'd love to complete that set by lifting the Masters trophy in Gibraltar."
Filler added: "I'm so excited to play my very first World Pool Masters. I'm honoured to be one of 16 players and all legends. I had a lot of practice the last weeks and I just feel great and confident. I am really looking forward to this great event.
"The Mosconi Cup last December gave me some good experience in tournaments like this and I will try to play my best. It's an unbelievable feeling to play at the Mosconi Cup and I'm looking forward to playing the MansionBet World Pool Masters."
The draw for the 25th World Pool Masters has been made, with some mouth-watering first-round matches in prospect for Victoria Stadium, Gibraltar this March 2-4.
Old Mosconi Cup hostilities are set to be renewed as the legend Earl 'The Pearl' Strickland faces Darren Appleton in round one. The winner of that clash will face the victor of Shane van Boening versus Daryl Peach, raising the prospect of Peach and Strickland come head-to-head again, 11 years after the pair infamously clashed at the 2007 Mosconi Cup.
Elsewhere in the draw Jayson Shaw will take on Filipino legend Francisco Bustamante, who proved he can still mix it at the elite level when he was crowned Master of The Table at the Derby City Classic last weekend.
Defending World Pool Masters champion David Alcaide will open the tournament against Tony Drago on Friday, March 2 with record-breaking six-time Masters winner Ralf Souquet also in action during the first session – 'The Kaiser' faces Poland's Karol Skowerski.
The 16-man field for the 25th World Pool Masters features 14 former tournament winners along with two wildcard picks – Jayson Shaw and Wu Jiaqing. Tickets are on sale now priced £7-12 per session with season tickets available for just £34.99 at www.buytickets.gi.
The World Pool Masters will be broadcast live for 20 hours in total on Sky Sports in the UK and on networks around the world. The World Pool Masters is sponsored by the following suppliers: RASSON (tables), IWAN SIMONIS (Simonis cloth), SALUC (Aramith balls), PREDATOR (cues) and ULTIMATE TEAM GEAR (clothing).
2018 World Pool Masters Draw
(1) David Alcaide (Spain) v Karl Boyes (England)
(8) Ralf Souquet (Germany) v Karol Skowerski (Poland)
(5) Niels Feijen (Holland) v Raj Hundal (India)
(4) Wu Jiaqing (China) v Dennis Orcollo (Philippines)
(3) Shane Van Boening (USA) v Daryl Peach (England)
(6) Darren Appleton (England) v Earl Strickland (USA)
(7) Alex Pagulayan (Canada) v Alex Lely (Holland)
(2) Jayson Shaw (Scotland) v Joshua Filler (Germany)
All matches are race to eight, winner breaks.
30 second shot clock with one 30 second extension per rack.
2nd March, Friday Evening
(8) Ralf Souquet (Germany) v Karol Skowerski (Poland)
(5) Niels Feijen (Holland) v Raj Hundal (India)
(1) David Alcaide (Spain) v Karl Boyes (England)
3rd March, Saturday afternoon
(4) Wu Jiaqing (China) v Dennis Orcollo (Philippines)
(3) Shane Van Boening (USA) v Daryl Peach (England)
(6) Darren Appleton (England) v Earl Strickland (USA)
3rd March, Saturday evening
(7) Alex Pagulayan (Canada) v Alex Lely (Holland)
(2) Jayson Shaw (Scotland) v Joshua Filler (Germany)
Quarter Final 1
4th March, Sunday afternoon
Quarter Final 1
Quarter Final 2
Quarter Final 3
4th March, Sunday evening
Semi Final 1
Semi Final 2
The Final