2017 American Cuemakers Association (ACA) Awards by Ricky Bryant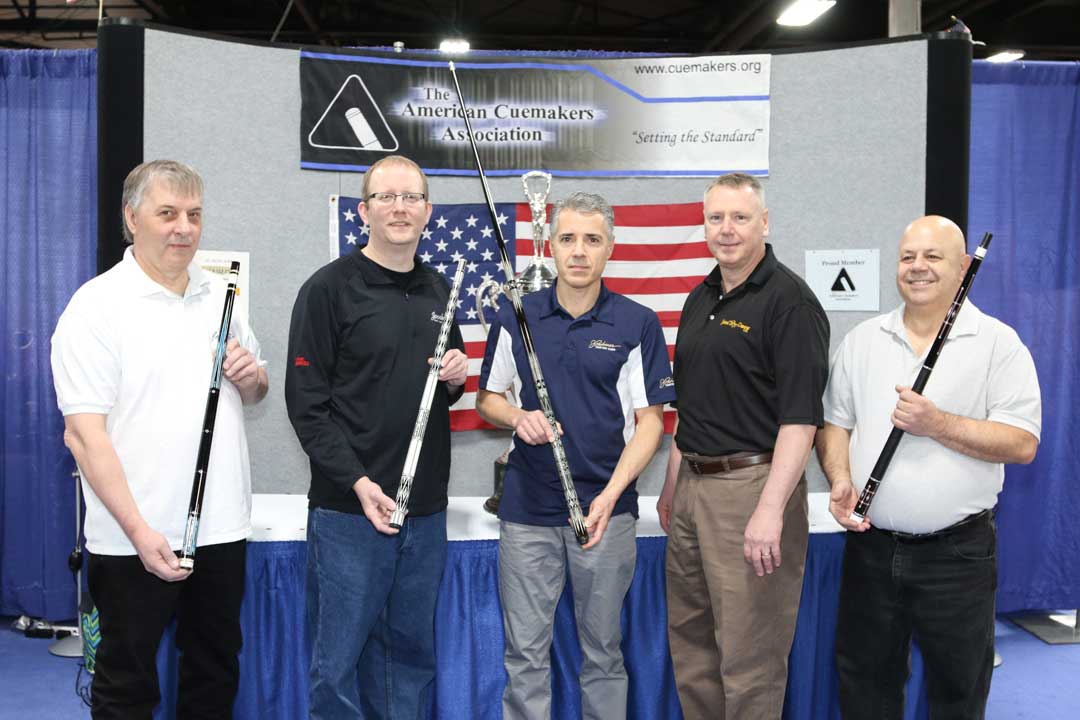 This marked the 25th year of the Super Billiards Expo and the 23rd year for the ACA event. There were three presentations at the annual member's dinner which is held on Saturday night at the Super Billiards Expo. The ACA has two main sponsors Diamond Pool Tables and Simonis Cloth. The dinner is attended by the members who are some of the best Cuemakers in the United States, and guest. The annual membership meeting follows the dinner.
The first presentation was Cue Maker of the Year which was presented to Stephen James of Joss Cues of Towson Maryland. Stephen started with Joss in 1979 when he was 18 years old. He has learned the trade from his dad. His Hall of Fame Dad, Dan James was one of the founders of Joss Cues in 1968 and now owner. Dan and Stephen still work side by side in the shop. Joss cues were chosen for the film "The Color of Money", even the cue passed off in the movie as a "Balabushka" is really a Joss.
The second presentation was the Annual People's Choice Cue Award which is actually three awards. This is presented for 1st, 2nd and 3rd place or as the emcee says Win – Place – Show! The cue makers make something special to put on display at the Expo each year and visitors to the ACA booth vote for their choices. Every year the competition gets tougher, there were eleven cues entered this year.
Third place went to Tonkin of Tonkin Custom Cues.
Second place went to Brandon Jacoby of Jacoby Custom Cues.
First place and Cue of the year went to J. Pechauer Custom Cues.
The third presentation was Cuemakers Cue Choice Award. This was the second year for this award. The voting was done by the ACA members based on the same cues entered in the People's Choice competition.   The award was a tie and went to Pete Tonkin of Tonkin Custom Cues, Willow Creek, California and Nitti Custom Billiard Cues, Orlando, Florida.
Congratulations to everyone and to learn more about the ACA visit the web site www.cuemakers.org
Pete Tonkin, Brandon Jacoby, Joe Pechauer, Stephen James,