Parks goes undefeated to win 21st Jay Swanson Memorial 9-Ball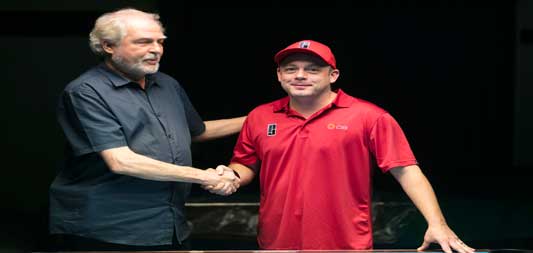 CueSports International, Henderson, NV (Feb. 21, 2017) – Brian Parks, a seasoned pool player and owner of Cue Ball Billiards in Bakersfield, Calif., went undefeated through a full field of 128 players to earn the title of champion of the 21st Jay Swanson Memorial 9-Ball Tournament.
On Cue Billiards in La Mesa, Calif. hosted the tournament Feb. 18-19, 2017. The popular memorial tournament, produced by CueSports International (CSI), is an annual tribute to Jay Swanson, a wellrespected player in Southern California. He was a giant of a man, known for his quiet demeanor and
silky, smooth stroke. Swanson passed away in June 1996. A few months later, the first Jay Swanson Memorial was organized by Mark Griffin, now CEO of CSI.
Parks has been playing since he was 16 years old. His FargoRate previous to playing in the Swanee was 704, just 16 points below what CSI determines to be professional caliber (FR 720). Parks' path to the championship started with a no-show forfeit over Anaquad Cobe of Los Angeles. Parks
then posted wins over: Bill Meacham (FR 656) of Florence, Colo., 8-2; George Teyechea (FR 658) of Tucson, Ariz., 8-4; Chris Tate (FR 607) of Nipomo, Calif., 8-3; Rodney "The Rocket" Morris (FR 782) of Lincoln, Calif., 8-7; Mitch "Wonderboy" Ellerman (FR 742) of Phoenix, Ariz., 8-6; and the legendary Francisco "Django" Bustamante (FR 796) of Cerritos, Calif., (8-3) before meeting Oscar Dominguez (FR 769) of Sylmar, Calif. in the finals.
Dominguez's path to the finals included wins over Salvador Laguna (FR 575) of San Marcos, Calif., 8-1; Vince Vidaurre, (FR 547) of San Diego, Calif., 8-1; Johnny Kang (FR 731) of Lake Forest, Calif., 8-5; Bob Yamasaki (FR 627) of Valencia, Calif., 8-3; and a forfeit from his father, Ernesto Dominguez (FR 733) of Sylmar, Calif. before losing to Bustamante, 1-8. But Dominguez was undeterred by the loss and continued his quest to the finals with wins over Morris, 7-5 and Ellerman, 7-4, before getting revenge against Bustamante in the semi-finals by a score of 7-5.
In the final match, which was a single race to 11, Dominguez jumped to an early 5-2 lead. Then Parks began fighting his way back, tying the score at 5-5 and then pulling ahead of Dominguez by a game. The players then traded games back and forth with Parks reaching the hill first, with the score at 10-8. But the alternate break format allowed Dominguez to break and run, making the score 10-9, before Parks would get back at the table.
Parks broke, made a ball and was faced with a difficult one-three combination into the corner pocket to start the rack. Parks made the combo, got perfect position on the one ball and ran out to earn the title of 2017 Swanee Champion and collect the $2,500 prize. Dominguez finished second and earned $1,500, while Bustamante received $900 for his third-place finish.
The event was live-streamed for free on the CueSports International Facebook page. Follow CueSports International on Facebook to receive notifications when CSI live streams matches. CSI extends a big thanks to: On Cue Billiards owner Clyde Nooris and his staff for their hospitality;
tournament director Amy Kane, who kept the event running in a smooth and timely manner; Mark Griffin; Steven Quan; George Teyechea; Ashi Fachler; and Chris Santana of Fast & Loose Designs.
To view replays of the free live stream matches, visit www.playcsipool.com/2017-swanee.
Final placing list for the 21st Jay Swanson Memorial 9-Ball Tournament:
1. Brian Parks, Bakersfield, Calif. (FR 704) $2,500
2. Oscar Dominguez, Sylmar, Calf. (FR 769) $1,500
3. Francisco Bustamante, Cerritos, Calif. (FR 769) $900
4. Mitch Ellerman, Phoenix, Ariz. (FR 742) $600
5. Bebeng Gallego, Philippines (FR 772) $400
6. Rodney Morris, Lincoln, Calif. (FR 782) $400
7. Vilmos Foldes, Fresno, Calif. (FR 790) $300
8. Jose "Fach" Garcia, Victorville, Calif. (FR 696) $300
9. Ernesto Dominguez, Sylmar, Calif. (FR 733) $215
10. Ken Johnson, Vista, Calif. (FR 595) $215
11. Mike Massey, Park City, Utah (FR 667) $215
12. Robert Morales, Temecula, Calif. (FR 581) $215
13. Dave Hemmah, Harbor City, Calif. (FR 678) $160
14. Jess Libsack, Ramona, Calif. (FR 583) $160
15. Sina Valizadeh, San Diego, Calif. (FR 668) $160
16. Bob Yamasaki, Valencia, Calif. (FR 627) $160
17. Ramin Bakhtiari, Aliso Viejo, Calif. (FR 687) $120
18. Rogin Figueroa, Temecula, Calif. (FR 525) $120
19. Johnny Kang, Lake Forest, Calif. (FR 731) $120
20. Alfred Martinez, San Pedro, Calif. (FR 619) $120
21. Shaun Murphy, Ramona, Calif. (FR 649) $120
22. David Nakano, Oceanside, Calif. (FR 525) $120
23. Jack A. Rippel, Las Vegas, Nev. (FR 590) $120
24. Chris Tate, Nipomo, Calif. (FR 607) $120
25. Sal Butera, Simi Valley, Calif. (FR 722) $80
26. James Cabal, Spring Valley, Calif. (FR 578) $80
27. Phil Carranza, Chula Vista, Calif. (FR 491) $80
28. John Ferguson, Riverside, Calif. (FR 563) $80
29. Ray Lorenzo, Imperial Beach, Calif. (FR 645) $80
30. Alfonso Moreno, Jr. Ontario, Calif. (FR 617) $80
31. Jeff Nesbihal, Yorba Linda, Calif. (FR 627) $80
32. Winnie Tolentino, San Diego Calif. (FR 625) $80