BEF Junior National 9-Ball Championships Returns to Vegas with the BCA Expo
Story by Alison M. Fischer
December 20, 2016 (Denver, CO): The Billiard Education Foundation (BEF) is excited to announce that its 29th Annual Junior National 9-Ball Championships will be returning to Las Vegas, and will be held August 2-5, 2017 at the South Point Hotel & Convention Center.
The BEF Junior Nationals still remains the only youth billiard event in the nation that qualifies student-athletes to compete in junior events all around the world, such as the WPA World Junior 9-Ball Championships and the Atlantic Challenge Cup.
2017 plans to have even more in store for players, guests and the industry. This year's Junior Nationals qualified 14 players to represent the U.S. at the WPA World Junior 9-Ball Championships. "2016 was a great year jam packed with junior state championships and an amazing junior national event. We had our largest field of over 200 players and we hope to see you again in 2017!" said BEF Executive Director, Samm Diep-Vidal.
Bids will be accepted for cash and product sponsorships for this prestigious event, as they are available, through May 1, 2017. Through BEF underwriting/sponsorship, you can enhance your corporate image throughout the community with exclusive recognition, while supporting your favorite billiard charity and its junior members. Event production categories include, but are not limited to: tables, cloth, balls, catering, lodging, travel, trophies, shirts, prizes, media, printing, and photography.
Underwriting all or a portion of any one of the event costs enables the BEF to direct more funds to youth billiard programs and academic scholarships. BEF also accepts goods or services to help offset these costs.
To receive the Underwriting & Sponsorship Bid Application for the 2017 BEF Junior Nationals, or to host or participate in a National Qualifier for Junior Nationals, contact the BEF directly.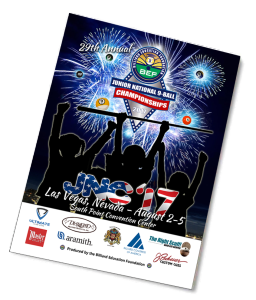 About the Billiard Congress of America
Founded in 1948, the Billiard Congress of America (BCA) is a non-profit trade organization dedicated to growing a united, prosperous and highly regarded billiard industry through BCA leadership. The BCA seeks to enhance the success of its members and promote the game of billiards though educational, marketing and promotional efforts, annual industry trade shows and other programs designed to encourage billiards as a lifestyle and make pool everybody's game. For more information, visit www.bca-pool.com or call 303.243.5070.
About the Billiard Education Foundation (BEF)
The BEF was formed in 1993 as a 501(c)(3) nonprofit charity committed to promoting a lifelong love of pool and building the next generation of players through youth programs and academic scholarships. Visit billiardeducation.org or call (303) 926-1039 to learn more about junior billiard programs in your area.