BATTLE HARDENED HOHMANN SLUGS HIS WAY THROUGH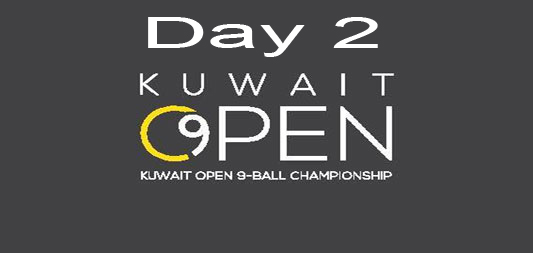 Two time World 9-ball Champion is all business as the Final 64 knockout rounds take shape at the Kuwait Open 9-ball Championship.
By Ted Lerner
WPA Press Officer
Photos By Takayama Takao
(Kuwait City)-This Gulf nation of 4.2 million people is considered one of the richest countries on earth, a place where big business thrives.  And big business is exactly what the Kuwait Open 9-ball Championship will be all about for the next two days, as the race to 9-ball pool's biggest prize of the year kicks into high gear.
The stellar field of 128 of the world's best players that began battle yesterday at the Al Ardiya Youth Center in Kuwait City has now been cut in half to 64. The always difficult and dreaded double elimination group stages are now history, and from here on in over the course of the next two days, all matches will be single elimination knockout.   The player that wins six matches will take home this brand new title, and 50,000 tax fee US dollars.
With a total of $275,000 on offer, the inaugural Kuwait Open 9-ball naturally attracted a field that was as good as anyone will ever see in this game. Several big names bit the proverbial dust today, –among them Dennis Orcollo, Mika Immonen, Daryl Peach, Rodney Morris and Nick Van Den Berg. But the field that remains has some of the biggest names the game has to offer, along with plenty of rising stars, and upstarts who crashed this prestigious Middle Eastern pool party.
It all came into shape after yet another day of tense action, as all 64 matches today were played on the losers' side of the group stage brackets. That meant all matches were do or die, with one small roll of the ball possibly meaning either quick and brutal elimination, or perhaps a wild ride all the way to 9-ball glory. Pool is perhaps the cruelest and hardest sport to earn one's living at, and paydays like this don't come along every day. It's no wonder the tension in the arena throughout today's play was palpable.
Former World 9-ball Champion Mika Immonen had high hopes coming into the event  this week. But after a stinging 9-8 loss to American Hunter Lumbardo yesterday, the flying Finn had to win two today. Immonen handily won his first match  and was a prohibitive favorite against 18 year old debutante Aton Raga of the Philippines, who was playing in his very first international tournament.
Surprisingly, the boyish Raga stayed with Immonen throughout their tight match. Then, down 8-7 in the race to 9 contest, Raga showed the grit of a wily veteran and hung on for a scintillating 9-8 win and a spot in the Final 64.
Raga is another in a long list of products from the Filipino pool school of hard knocks. From the southern city of Cebu, he dropped out of school after the 6th grade to earn money for his family playing money games. He makes enough bread playing 10-ball money games that he didn't even give a thought to playing in international events, until his manager, Rolly Baron, convinced him to give it a try. Here in Kuwait, Baron had booked Raga's ticket for the day after the group stages.
"I will have to purchase him a new ticket," Baron said. "I truly believe that this kid will be the new face of Philippine pool."
The Philippines will be well represented in the Final 64 as Pinoys make up one fourth of the remaining field with 16 players. Among those still standing are veterans Warren Kiamco, Lee Vann Corteza, Jeffrey De Luna and young talents Carlo Biado and Jeffrey Ignacio. One disappointment for the Philippines was the surprise exit of Dennis Orcollo.  Orcollo went to the wire in a very tough do or die match with Austria's steady Mario He, before flubbing an 8-ball in the very last rack, and allowing He to take the match and advance.
The USA's Shane Van Boening got back on the winning track today, outlasting former World 9-ball champion Daryl Peach, 9-6, to advance.  The only other Americans to move on are Hunter Lombardo, who has shown excellent improvement in his game lately, and veteran Corey Duel. Newly minted Hall of Famer Rodney Morris came to Kuwait looking to notch some Mosconi Cup points. But he went away empty handed when he got dumped out of the tournament by top Tawainese youngster Ko Ping Chun, 9-4.
Six Taiwanese players  make up the final 64, including 2015 World 9-ball Champion Ko Pin Yi, recent US Open runner up Chang Jun Lin, and current world number 1, Cheng Yu Hsuan. Cheng looked the goods today with a 9-4 drubbing of Canadian John Morra.
China's top two players, Wu Jia Jing and Liu Haitao, came through the losers side today to qualify for the final 64.
Fans may want to pay close attention to those top players who have not had an easy ride to the knockout rounds.  Spain's David Alcaide has been through the gauntlet in the last two days. After a bitter hill-hill loss to Darren Appleton on day 1, Alcaide came back and won two matches today to quality. His last match against the Philippines Richard Alinsub went down to the last rack, with the Spaniard barely holding on for a clutch 9-8 win and a spot in the final 64.
The same could be said for England's Mark Gray. Gray is ranked number one on the Euro tour and his rock steady stroke is always dangerous. After losing his first match yesterday, Gray had two solid wins today against tough opponents to advance to the knockout stage.
Perhaps no other top player has taken more heat on his way to the Final 64 then two-time World 9-ball Champion Thorsten Hohmann. After winning his first match 9-8 over the Philippines Roland Garcia on day 1, the German lost a hill-hill thriller to Corey Duel later in the day. Today Hohmann had to contend with stingy upstart Moroccan Bouchaib Farhat, who fought toe to toe with the German for 13 racks until Hohmann pulled away on a single mistake by his young opponent.
Whereas some players may prefer to waltz into the money rounds, Hohmann seems to feed off the rough and tumble. In fact, the German has been looking to recapture his mojo lately by doing battle in practice and in competition, and taking inspiration from one of the games hardest working and most successful players.
"I was very confident going into this tournament," the 37 year old Hohmann said after his qualifying win today.  "I was in New York City lately practicing with Hunter Lombardo 8 hours a day at Amsterdam Billiards. I'm just hungry watching Shane win all of these tournaments. Watching him win the US Open for the 5th time was inspiring because he works the hardest in pool. He's the one that complains the least and does the job and that actually inspired me. I remember how it used to be playing that much and being hungry and wanting to win tournaments. And you lose that over the years. So watching him win the US Open inspired me to put in the hours and work.   I'm just happy to be in the last 64. I haven't had a tournament win in over a year and I need to prove myself."
Play in the round of 64 begins on Friday at 10am Kuwait time, GMT +3. The rounds of 64, 32 and 16 will be played Friday, while the quarters, semis and finals will be played on Saturday. All matches in the knockout stage up to the final will be race to 11, alternate break. The final will be race to 13, alternate break.
* The 2016 Kuwait Open 9-ball Championship takes place at the Al Ardiya Youth Center in Kuwait City from October 24 to November 5, 2016. The winner of the Kuwait Open 9-ball Championship will receive $50,000. The runner up will receive $25,000. The total prize fund is $275,000.
The WPA is also on Twitter; @poolwpa 
Day 2
Groups 1-8 First Session
Group 1
Mark Anthony(PHL) 9- 5 Abdulla Falah(KSR)
John Morra(CAN) 9 – 2  Ameur Abdelati Riad(MOR)
Group 2
Mika Immonen(FIN) 9 – 4 Ahmed Acana Okaily(JOR)
Abdullah Al Yousef(KUW) 9 – 4 Khalid Al Mutairi(KUW)
Group 3
Jeffrey De Luna(PHL) 9 – 7 Chang Yu Lung(TPE)
Francisco Sanchez Ruiz(ESP) 9 – 2 Saeed Aseeri(KSA)
Group 4
Tareq Al Mulla(KUW) 9 – 6 So Shaw(GBR)
Francisco Diaz Piarro(ESP) 9 – 8 Andreja Klasovic(CEZ)
Group 5
Khalid Sayaf(KUW) 9 – 5 Mohammad Saleh(KUW)
Daryl Peach(GBR) 9 – 5 Marcus Juva(FIN)
Group 6
Raymund Faraon(PHL) 9 – 7 Abdullah Alsheha(KUW)
Muhammad Al Gumaiz(KSR) 9 – 6 Hamza M. Saeed Ali(ERI)
Group 7
Omar Al Shaheen(KUW) 9 – 4 Abdulla Alshammari(KSR)
Radislaw Babica(POL) 9 – 3 Nadim Okbani(ALG)
Group 8
Tommy Dato-on(PHL)9 – 3 Mohammad Alhmoud(KUW)
Mario He(AUT) 9 – 6 Irsal Nasution(INA)
Groups 1 to 8, 2nd Session
Group 1
Mark Anthony(PHL) 9 – 5 Aref Ali Awadhi(KUW)
Cheng Yu Hsuan(TPE) 9 – 4 John Morra(CAN)
Group 2
Anthony Raga(PHL) 9 -8 Mika Immonen(FIN)
Hunter Lombardo(USA) 9 – 7 Abdullah Al Yousef(KUW)
Group 3
Jeffrey De Luna(PHL) 9 – 5 Nick Van Den Berg(NED)
Francisco Sanchez Ruiz(ESP) 9 – 2 Naoyuki Oi(JPN)
Group 4
Han Hao Xiang(CHN) 9 – 8 Francisco Diaz Pizarro(ESP)
Payual Valeriano(PHL) 9 – 1 Tareq Al Mulla(KUW)
Group 5
Artem Koshoviy(UKR) 9 – 1 Khalid Sayaf(KUW)
Shane Van Boening(USA) 9 – 6 Daryl Peach(GBR
Group 6
Raymund Faraon(PHL) 9 – 8 Joshua Filler(GER)
Mishari Buhaimed(KUW)  9 – 2 Muhammad Al Gumaiz(KSR)
Group 7
Jeffrey Ignacio(PHL) 9 -6 Omar Al Shaheen(KUW)
Radislaw Babica(POL) 9- 7 Ricky boy Godez(PHL) 9 – 4
Group 8
Lui Haitao(CHN) 9 – 6 Tommy Dato-on(PHL)
7 Mario He(AUT) 9- 8 Dennis Orcollo(PHL)
Group 9 to 16 1st Session
Roman Hybler(CEZ) 9 – 6 Dario Hopilito(PHL)
Mark Gray(GBR) 9 – 4 Fahad Aljassas(BAH)
Group 10
Rodney Morris(USA) 9 – 0 Meshall Al Murdhi(KUW)
Wojciech Szewczyk(POL) 9 – 0 Fawal Abdul Latifal
Group 11
David Alcaide(ESP)9 – 3 Mohammed Alhosani(KUW)
Wu Kun Lin(TPE) 9 – 6 Majed Al Azmi(KUW)
Group 12
Ruslan Chinakov(RUS) 9 – 3 Cherif Zine-El Abidine(MOR)
Jundel Mazon(PHL) 9 – 4 Robert Hart(USA
Group 13
Bouchaib Farhat(MOR) 9 – 8 Masser Al Mujaibel(KUW)
Roland Garcia(PHL)  9 – 6 Nick Malai(GRE)
Group 14
Mieszko Fortunski(POL)9 – 6 Brandon Shuff(USA)
Ong Zhao Chieng(SIN) 9 – 2 Ali Hadi Al Marri(QTR)
Group 15
Imran Majid(GBR) 9 – 3 Bader Al Awadhi(KUW)
Jalal Yousef(VEN) 9 – 5 Wiktor Zielinski(POL)
Group 16
Ahmed Naim Ali(JOR) 9 – 7 Li Hewen(CHN)
Maksim Dudanet(NED) 9 – 2Mohamed Chakib El Raousti(ALG)
Group 9 to 16, 2nd Session
Group 9
Roman Hybler(CEZ) 9 – 6 Hsieh Chia Chen(TPE)
Mark Gray(GBR) 9 – 4 Elmer Haya(PHL )
Group 10
Wojciech Szewczyk(POL) 9 – 4 Johann Chua(PHL)
Ko Ping Chun(TPE) 9 – 4 Rodney Morris(USA)
Group 11
David Alcaide(ESP) 9 – 8 Richard Alinsub
Wu Kun Lin(TPE) 9 – 1 Muhammad Bewi(INA)
Group 12
Ruslan Chinakov(RUS) 9 – 6 Waleed Majid(QAT)
Jundel Mazon(PHL) 9 – 2 Marcus Chamat(SWE)
Group 13
Thorsten Hohmann(GER) 9 – 6 Bouchaib Farhat(MOR)
Roland Garcia(PHL)  9 – 4 Shaun Wilkie(USA)
Group 14
Takenaka Hirishi(JPN) 9 – 4 Mieszko Fortunski(POL)
Edwin Gamas(PHL) 9 – 5 Ong Zhao Chieng(SIN)
Group 15
Imran Majid(GBR) 9 – 3 Ivica Putnik(CRO)
Dennis Grabe(EST) 9 – 4 Jalal Yousef(VEN)
Group 16
Wu Jiaqing(CHN)  9 – 4 Ahmed Naim Ali(JOR)
Maksim Dudanet(RUS) 9 – 6 Mateusz Sniegocki(POL)