Turning Stone Classic XXVI 9-Ball Open – August 25-28, 2016
Here is the complete order of finish for our Joss Northeast 9-Ball Tour's, "Turning Stone Classic XXVI 9-Ball Open", which was held on August 25-28, 2016. The event was $25,000 added with a total prize fund of $41,400. There were 128 players (full field).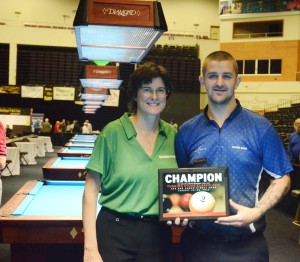 Photo By Tony Fox
1st         $8,000            Jayson Shaw (Scot)
2nd         $5,000           Karen Corr
3rd         $3,600           Earl Strickland
4th         $2,600           Donny Mills
5/6th       $2,000 each – Mike Dechaine & Ernesto Dominguez
7/8th       $1,600 each – Danny Hewitt (Can) & Maxsim Dudanets (Rus)
9/12th     $1,200 each – Joey Cicero (Can), Brandon Shuff, Shaun Wilkie & Samoth Sam
13/16th   $850   each – Hunter Lombardo, Nelson Oliveira, Kevin Guimond & Dan Heidrich
17/24th   $550   each – Alain Parent (Can), Jeremy Sossei, Jarrod Clowery, Rick Scarlato, Cleiton Rocha, Redgie Cutler, Rodney Morris & Sourith Thammavong
25/32nd $300   each – Sean Morgan, Bruce Nagle, Norm Pomainville, Ivaylo Petrov, Dave Fernandez, Erik Hjorleifson, Tom D'alfonso & John Moody
33/48 – Bruce Barthelette, Jerry Crowe, Jerome Rockwell, Luc Salvas (Can), Martin Daigle (Can), Ed Abraham, Kevin Ketz, Caroline Pao, Ron Casanzio,
Dave Shlemperis, Jennifer Barretta, Zion Zvi, Mike Yednak, Ed Saur, Dan Milligan, Gregg McAndrews
49/64 – Earl Herring, Jorge Rodriguez, Shawn Jackson, Nicole Fleming, Kyle Pepin, Greg Antonakos, Ed Culhane, Nick Antonakos,
Joe Dupuis, Brian Holmes, Jean Therriault (Can), Tom Zippler, Dawn Fox, Mike Toohig, Jason Michas, Marco Kam
65/96 – Matt Tetreault, Charley Lamarche (Can), Holden Chin, Kang Lee (S. Kor), Richard Miller, Robert Ferry, Frank Gaetani, Jed Jecen,
Kevin Piccinin, Greg Bombard, John Abraham, Tony Antone, Xavier Libby, Rick Matarazzo, Nick Coppola, Tom Gildea,
Mike Wallace, Raphael Balverde (Can), Ray Lee, Paul Rozonewski, Richard Andrews, Rohit Aggarwal, Nick Brucato, Hendrik Drost,
Gary Lloyd, Willie Oney, John Babravich, Bucky Souvanthong, Matt Krah, Dave Mills, Larry Phlegar, Brent Boemmels
97/128 – Stephen Motilal, Josh Harding, Joe Sinicropi, Mike Perhach, Mike Andrews, Tom Peterson, Jerry Markland, Rick Grannis,
Steven W Smith, Patrick Meyer, Paul Pensgen, Steve Lillis, Fred Gokey, Linas Veselka, Ray Buthe, Travis Arias,
Chuck Sampson, Charlie Matarazzo, Frank Delconte, Joe Ziegler, Ira Lee, Cory Payne, Phil Harju, Dave Ricci,
Jim Romanowski, Gene Hunt, Roarke Dickson, Bob Cunningham, Steve Fleming, Spencer Auigbelle, Chris Braiman, Don Reigel
Our Sunday second chance event results are:
1st   $500 Jean Therriault
2nd   $300 Kevin Ketz
3/4th $200 Mike Toohig & Tom Zippler
5/8th $100 Stephen Motilal, Nick Coppola, Steve Fleming & Dave Shlemperis
 The equipment for our world class event will once again be 16, 9 foot Diamond Pro tables covered with 860 Simonis ("The Cloth Of Champions") tournament blue cloth. We will be using the new Aramith Tournament TV Pro Cup balls. Thanks again to Ivan Lee for providing us with the World's best cloth and the World's best balls! All of these items will be for sale in tournament used condition, and only seriously interested parties are urged to contact Mike Zuglan immediately at 518-356-7163 for info and pricing.