3-Cushion Shot Contest at The Rack in Memphis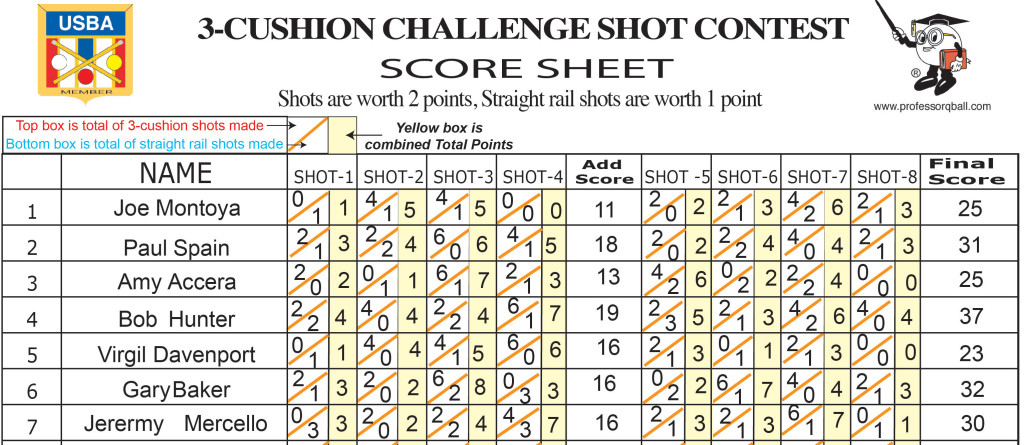 On Sunday September 4th, Labor Day Weekend, The Rack in Memphis, Tn. held their 5h Annual 3-Cushion Shot Contest. A $20 entry also included table time and $250 was added money. It was played on a Gabriel table with Simonis cloth. All diagram shots were placed on the Racks bulletin board for several weeks to give the players a chance to practice the shots if they chose to, giving the room an opportunity for extra table time.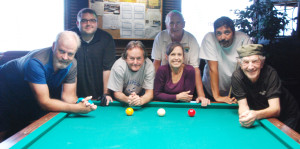 L to R Front-Bob Hunter (Winner $225)  Gary Baker $90 2nd, Amy Accera, Virgil Davenport – Back Row – Jeremy Mercello, Paul Spain $75 3rd, Joe Montoya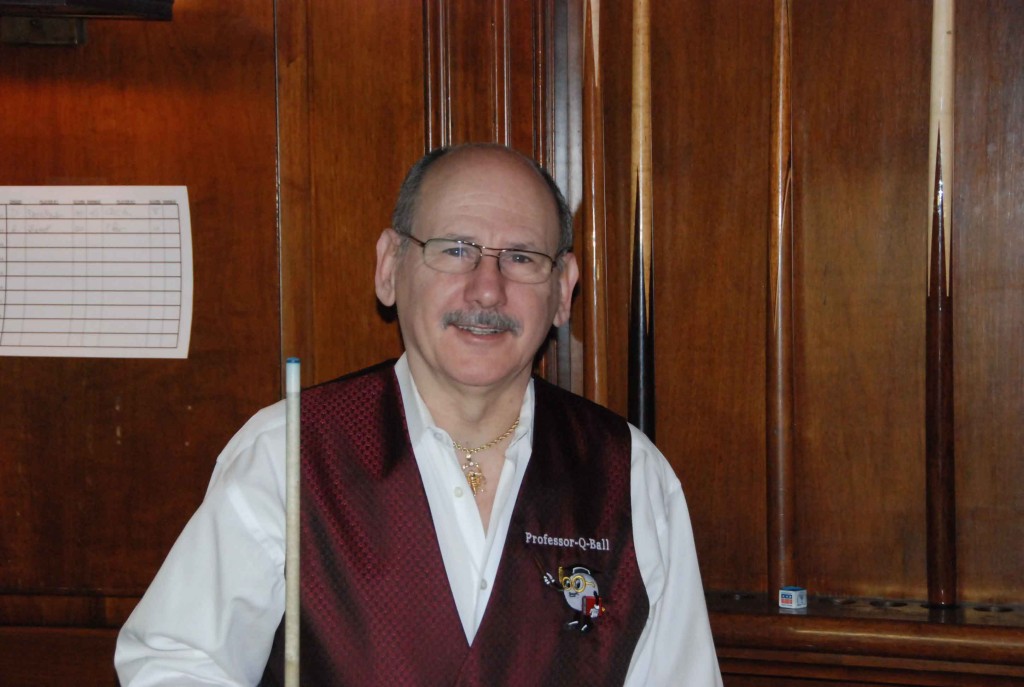 Paul Frankel, tournament director, went over all the rules before the start of the Shot Contest and thanked all 7 contestants for accepting the CHALLENGE.
Here is a short recap of how the 3-Cushion Billiard Shot Contest works. 3-Cushion Shot Contest Format:
There were 8 diagram shots. Each player shoots each of the 8 shots 3 times (24 shots total). Each shot is worth 2 points (48 pts max) and the total number of points wins. Three small round dots (stick-ons) are placed on the table, which represented the exact placement of the diagrammed shots. All players had the same shot and same placement of the 3 balls. Then the dots are removed and replaced for the next shot selection.
Special Note: After each shot a player takes a straight rail carom shot as the balls come to rest. If they make it, it is worth 1 point and added to their previous scores.
It was not only an exciting time for the pool players, but very funny at times to see the players missing by just a little bit and listening to some of their remarks.
Half way through the event the shots were tallied so the players knew their score.
This type of tournament is fun and teaches you the game of 3-Cushion Billiards. Any room with one table now can have a 3-Cushion tournament. If any room owner is interested in knowing more information just call me and i will be more then glad to supply the diagram shots and rules.