Skyler won the 2016 Texas Open 10-Ball Championship.
2nd Annual Texas Open 10-Ball Championship…February 12-14.
A full 128-player field arrived at Skinny Bob's Billiards in Round Rock, TX, to compete in the Texas Open 10-Ball Championship.  Now that this tournament is a Mosconi Cup XXIII qualification event, the talent level was the best that we've ever seen at SBB.  There was an appreciative crowd of spectators there throughout the three-day tournament, observing some great pool.  PoolActionTV streamed the main table throughout the event.
Local player Jennifer Kraber made it to 33rd place tie, taking home the $500 Last Woman Standing prize.  Local player Junior Jueco played extraordinarily well taking 4th place over many of the pro players.  Although Dennis Orcollo beat Skyler Woodward during the hot seat match, Skyler won the hill-hill match with Roberto Gomez to earn a rematch with Dennis in the double elimination finals.  Skyler won both matches 7-5 to earn the Champion trophy.  Skyler is the first player to be the reigning champion in both the Texas Open 10-Ball Championship and the Texas Open 9-Ball Championships.
The tournament results can be found at challonge.com/txopen16.
Payouts:
1st   $4000
2nd   $2300
3rd   $1520
4th   $980
5-6th   $600
7-8th   $440
9-12th   $330
13-16th   $250
17-24th   $200
25-32nd   $175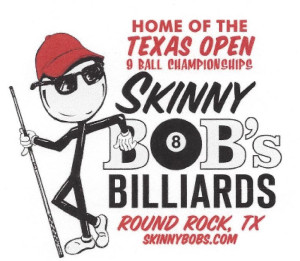 Supreme Champion:          Sky Woodward
Worthy Adversary:          Dennis Orcollo
Maybe Next Time:          Roberto Gomez
4th place:   
Junior Jueco
 5th place tie:  
Justin Bergman
Jeremy Jones
7th place tie:
CJ wiley
Josh Roberts
9th place tie:
Billy Thorpe
Warren Kiamco
Tommy Tokoph
Robb Saez
 13th place tie:
Jeff Ignacio
Mark Mendoza
Johhny Martinez
Ruben Flores
17th place tie:
James Davis Jr
Gerardo Perez
Tony Chohan
Manny Chau
Joe Aguilar