Sparks and Pacheco Headline Lone Star Tour Finale
Sparks and Pacheco Headline Lone Star Tour Finale
After a 47-year retirement from pool, 72 year-old Houstonian Jeff Sparks captured his first tournament win since 1972. Sparks went undefeated in the Lone Star Billiard Tour's 52-player amateur 9-ball division, overcoming Deer Park's Bobby Pacheco in the final set, 7-6, becoming the oldest player to ever win the amateur division. Pacheco also fought his way through the elite, 44-player open 9-ball division, defeating John McDowell in the finals, 9-3. This was Pacheco's second, consecutive win on tour, with an amateur division win in July, and now this month's open division. Congratulations to Bobby Pacheco who will advance to "open" player status in 2016! Kevin Nguyen and Chase Rudder were crowned the 2015 Lone Star Tour Champions, amateur and open divisions, respectively, for their year-end, number one rankings. These players will join the multitude of title-holders in the Lone Star Tour archives, documenting division and tour champions since 2009.
On October 10th-11th, 2015, Bogies Billiards and Sports Bar, along with tour sponsors Poison by Predator Cues www.poisonbilliards.com, Delta-13 Rack www.delta-13.com, Ozone Billiards www.ozonebilliards.com, and the APA of North Harris County www.facebook.com/apanorthharriscounty, facilitated another successful Lone Star Billiards Tour event in addition to a women's Gulf Coast Tour side-by-side 9-ball event, for players all across Texas and surrounding states, with a generous $1,500 added which drew 96 players and paid out over $9,000 in prize money.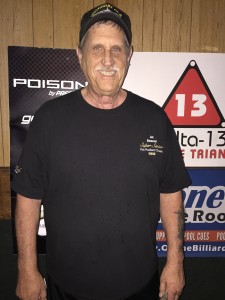 In the amateur 9-ball division, all eyes were on Jeff Sparks, the super-senior pool veteran who came out of retirement to compete in the grueling, 2-day event; the ultimate test in player resolve and stamina. Sparks went undefeated, archiving wins over Will Felder, 7-3, Jack Cavalier, 7-2, Gabriel Romo, 7-5, and Kenneth Price, 7-3. The number one ranked amateur player and strong contender for the 2015 Lone Star Tour Champion title, Kevin Nguyen, kept his eye on the prize, logging wins over Logan Tunnell, 7-1, Tom Welch, 7-6, Chuck Adams, 7-6, Jesse Langston, 7-3, and Bobby Pacheco, 7-3. On the one loss side, after a first round loss to Jonathan Poon, 7-2, Mike White won an impressive five consecutive matches, with victories over Chance Allison, 5-3, Charlie Jenkins, 5-1, Ron Wrobleski, 5-2, Jack Cavalier, 5-2, and Bob Eaton, 5-0, before falling to Langston, 5-4. Welch also blazed through the one loss side, eliminating Keith Keithley, 5-0, Greg Trent, 5-3, Jonathan Poon, 7-0, and Curt Bovenzi, 5-4, before falling to David Chow, 5-1. Lassek ousted Erick Renteria, 5-2, while Romo eliminated Chuck Adams, 5-3. Langston and Lassek overcame Chow and Romo, respectively, by the same score, 5-2. In the next round, Langston found himself on the receiving end, losing to Price, 5-1, as did Lassek, who succumbed to Pacheco, 5-1. The one loss side was down to its final, two players, as Sparks and Nguyen geared up on the west side for a hot seat showdown. In the end, it was age over youth, as Sparks secured the hot seat over Nguyen, 7-4. Pacheco took care of business on the east side, as he finished off Price, 5-1, and dealt payback to Nguyen, 5-4. In the true, double elimination format, Pacheco would have to beat Sparks two sets; the first race to 7, and the second race to 5. Unfortunately for Pacheco, that didn't happen. Sparks narrowly escaped Pacheco in the first set, 7-6.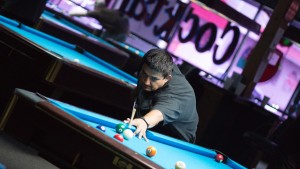 Open 9-ball division action witnessed Pacheco defeat Gabriel Romo, 9-4, Will Felder, 9-0, Steve Williams, 9-1, and Erik Renteria, 9-4. Ernesto Bayaua made a strong bid for the hot seat as well with wins over Chuck Adams, 9-1, Lester Foy, 9-4, John Newsome, 9-6, and John McDowell, 9-6. Following a second round loss to tour newcomer, John Lassek, 9-5, Chase Rudder came back to win four consecutive matches until he was eliminated by John Newsome, 7-6. After suffering a 9-3 loss to McDowell in the third round, Lassek went on to eliminate Charlie Jenkins, 7-4, Sonny Bosshamer, 7-5, Steve Williams, 7-4, and Cesar Arechiga, 7-5, until he was ousted once again by McDowell, 7-4. Following a tough battle with Rudder, Newsome overcame Kenneth Price, 7-1, but was eliminated by Erik Renteria, 7-3. While McDowell and Renteria teed off on the one loss side, it was a battle to the finish for Bayaua and Pacheco. Pacheco slid past Bayaua for the hot seat victory, 9-8, while McDowell made quick work of Renteria, 7-2. McDowell went on to eliminate Bayaua, 7-6, setting the stage for a first-time match-up between McDowell and Pacheco. The finalists appeared fresh and full of energy as play commenced. Throughout the set, Pacheco's ever-increasing momentum overwhelmed McDowell, who found it difficult to gain the least bit of ground. Pacheco captured the first set of the true, double elimination final, 9-3.
New at this event were "live" online brackets, making it possible for players to follow tournament progress on their mobile devices. "The Lone Star Billiards Tour looks forward to implementing new programs for 2016 aimed at increased visibility and value for our venues, sponsors, and players. Online brackets will be accessible through LoneStarBilliardsTour.com, however, we will still use paper charts on-site for our not-so-tech-savvy players and fans" says LSBT founder and tour director, Kimberly Newsome.