Isaac Captures Second United States National Snooker Title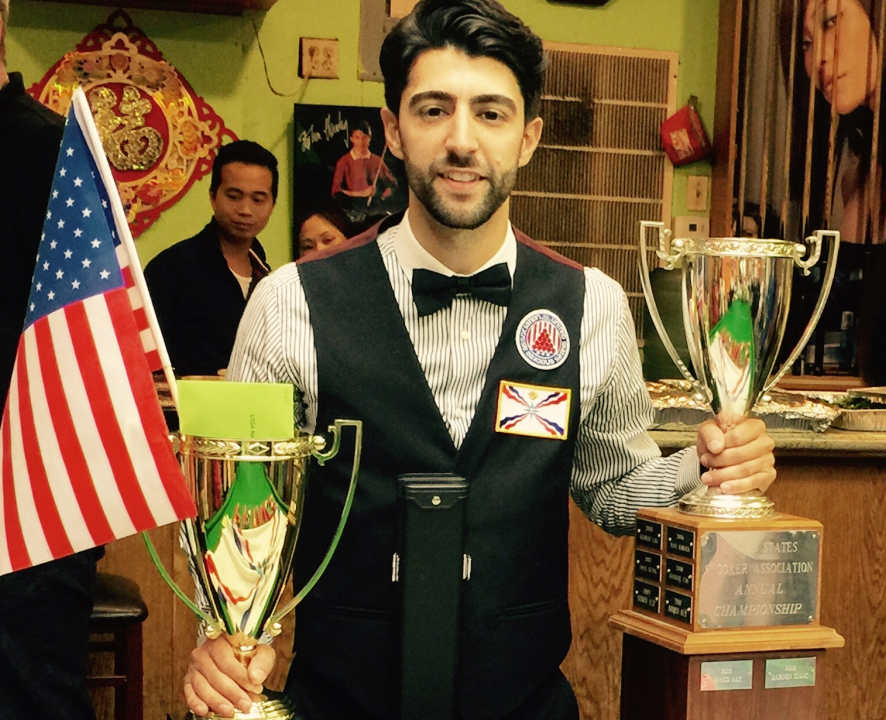 Three years after he won his first title, Sargon Isaac has captured the 2015 United States National Snooker Championship with victory in the final over Ahmed Aly Elsayed at the Prince Snooker Club in Brooklyn, New York.
The Californian had a very easy passage through the Championship until the concluding day of play, where he earlier had a mighty semifinal struggle with last year's runner-up Raymond Fung to come out on top 4-3, and then had a tremendous battle with Aly in the final that went on late into the evening.
Brooklyn's Aly, going for a fourth title after last winning it back in 2011, most certainly seemed up for the fight as in a very high-scoring first two frames, in which he produced breaks of 51 and 40 respectively, he took an early 2-0 advantage, and even though he also stroked in a run of 55 in frame three Isaac took it on the final black.
After a very high-quality first three frames, the match then proceeded to get a little scrappy as both players had to cope with their nerves and the huge build-up of tension.
Aly, who had defeated the defending Champion Ajeya Prabhakar in the semifinals, had his chances to go into the match 10-minute interval with a healthy 3-1 lead, however, for the second frame in succession, Isaac pinched it on the final black after holding himself together for a fine clearance.
The players resumed all-square at 2-2 with Isaac coming back the most confident to convincingly take the fifth frame for a 3-2 lead, but it was level again after frame six when playing for a snooker on the final pink ball Isaac inadvertently potted it.
The long Memorial Day holiday Monday of playing intense matches was certainly taking its toll on both of the players, but Isaac proved to be the stronger on this occasion as he played the more positively to win the following two frames to seal the match and Championship with a 5-3 victory.
Both players have now gained automatic selection to represent the United States in the Men's Event of this year's International Billiards & Snooker Federation (IBSF) World Snooker Championships, which will take place in Cape Town, South Africa, from November 2-14 (TBC).
Results from quarterfinals:
Quarterfinals           
Ajeya Prabhakar (California)                   bt.            Cheang Ciing Yoo (Washington)       4 – 3
Ahmed Aly Elsayed (New York)             bt.             Ian O'Mahony (New York)          4 – 0
Raymond Fung (New York)                      bt.             Tom Kollins (Michigan)            4 – 0
Sargon Isaac (California)                            bt.             Kevin Wong (New York)        4 – 0
Semifinals
Aly                   bt.             Prabhakar           4 – 3
Isaac             bt. Fung                                    4 – 3
Final
Isaac             bt. Aly               5 – 3