Greg Sandifer Wins Fourth Omega Billiards Tour Stop of 2015
On the weekend of April 25-26, the Omega Billiards Tour was honored to play at JR Pockets in Denton, Texas. The players always love playing at JR Pockets as the tables are always newly refelted, food is good, and atmosphere is prime for great pool. In the end, newly crowned BCAPL Texas State Champ would go undefeated and win the $,1,500 added event with 80 players!
After a great opening day on Saturday, there was still a lot of great competing going on. By Sunday afternoon, Crispian Ng defeated Dylan Weinheimer 7-3, Marc Brown 7-5, and Willie Speed 7-4 before meeting up with Greg Sandifer. Greg had defeated Barry Emerson 7-5, David Bell 7-4 and Frank Cherry hill-hill before meeting up with Crispian. Greg and Crispian went back and forth at first, then Greg led to take the match 7-4.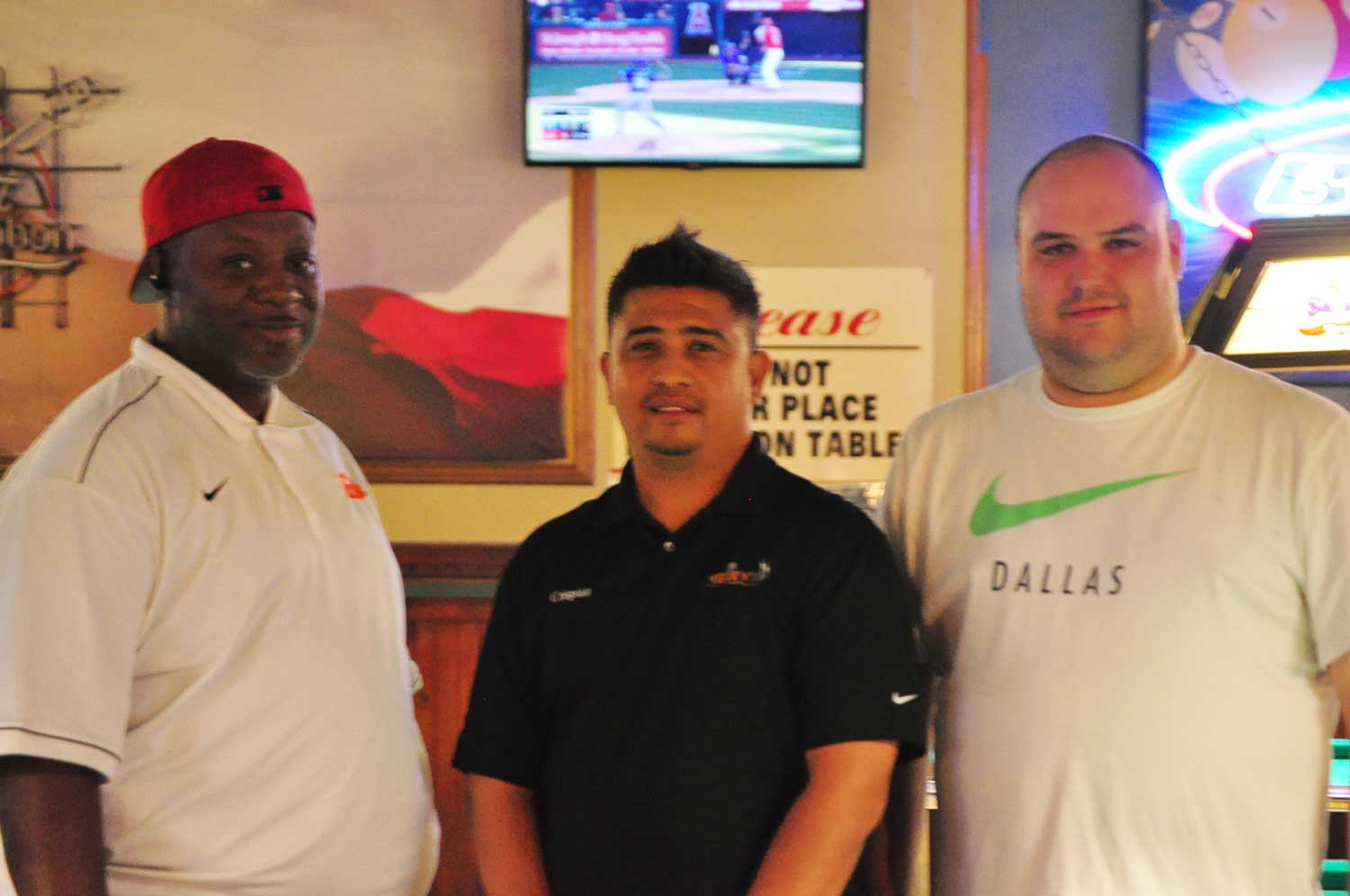 Frank Cherry (3rd), Crispian Ng (2nd), and Greg Sandifer (1st).
On the one-loss side, Tony Matthew was fighting hard and defeated many players Sunday to make it to 4th place. And Frank Cherry was having a great tournament as well and placed an impressive 3rd. Willie Speed and Barry Emerson would place 5th/6th while Jeremy Jones and Jesse Hernandez filled out the 7th/8th places out of 80 players. Congrats to Willie Speed for his highest finish yet, along with Tony Matthew and also Frank Cherry!
Crispian would defeat Frank Cherry 7-2 on the one-loss side to then have a rematch with Greg in the finals. But Greg was playing top-notch and defeated Crispian 7-3 to win his FIRST Omega Billiards Tour stop!
A HUGE thank you goes out to our sponsors Omega Billiards Supply, Predator Cues, Poison Break Cues, BCAPL/CSI, and Lucasi and Players Cues. We would also like to give a big thanks to our additional sponsors, Hulsey Custom Cues, OB Cues, Irving Ink and Thread, Pro Billiard Service, AZBilliards.com, Billiards Digest, and BilliardsPress.com.
After four stops so far this year, Daniel Herring remains in first place on the Predator Player Points Tracker with 500 points. Cory Anderson is in second with 325 points, Greg Sandifer moved up to third with 275 points and Crispian Ng fills the fourth place ranking with 265 points.
Tournament Director Melinda Bailey would like to thank JR Pocket owners and staff for their awesome hospitality all weekend! They worked hard to get the place ready for all the players.
A big thank you also goes out to Michael Hoang, main sponsor of the Tour and owner of Omega Billiards Supply in Hurst, TX. Michael and Omega Billiards Supply are well known for the huge booths at many of the large tournaments across the country.
The next stop of the Omega Billiards Tour will be May 30-31 at Fox and Hound in Dallas, Texas. $1,500 added and limited to 80 players.   Still 4 more stops left before the $4,500 Season Finale! Pool is alive and thriving in Texas!  Check out the website for more details:   http://www.omegabilliardstour.com/
1 Greg Sandifer $900
2 Crispian Ng $530
3 Frank Cherry $400
4 Tony Matthew $320
5/6 Barry Emerson, Willie Speed $240
7/8 Jesse Hernandez and Jeremy Jones $180
9-12 Marc Brown, Jeff Georges, Mike Voelkering, David Bell $90
13-16 Daniel Herring, Paul Sifuentes, Robert Clark, Steve Raynes $70
17-24 Norman Small, Mike Nagaki, Cory Anderson, Alberto Nieto, Phillip Palmer, Dylan Weinheimer, Robbie Smith, Chuck Dement $30
Last Lady – Kara Murphy and Tracie Voelkering, 37.50 each.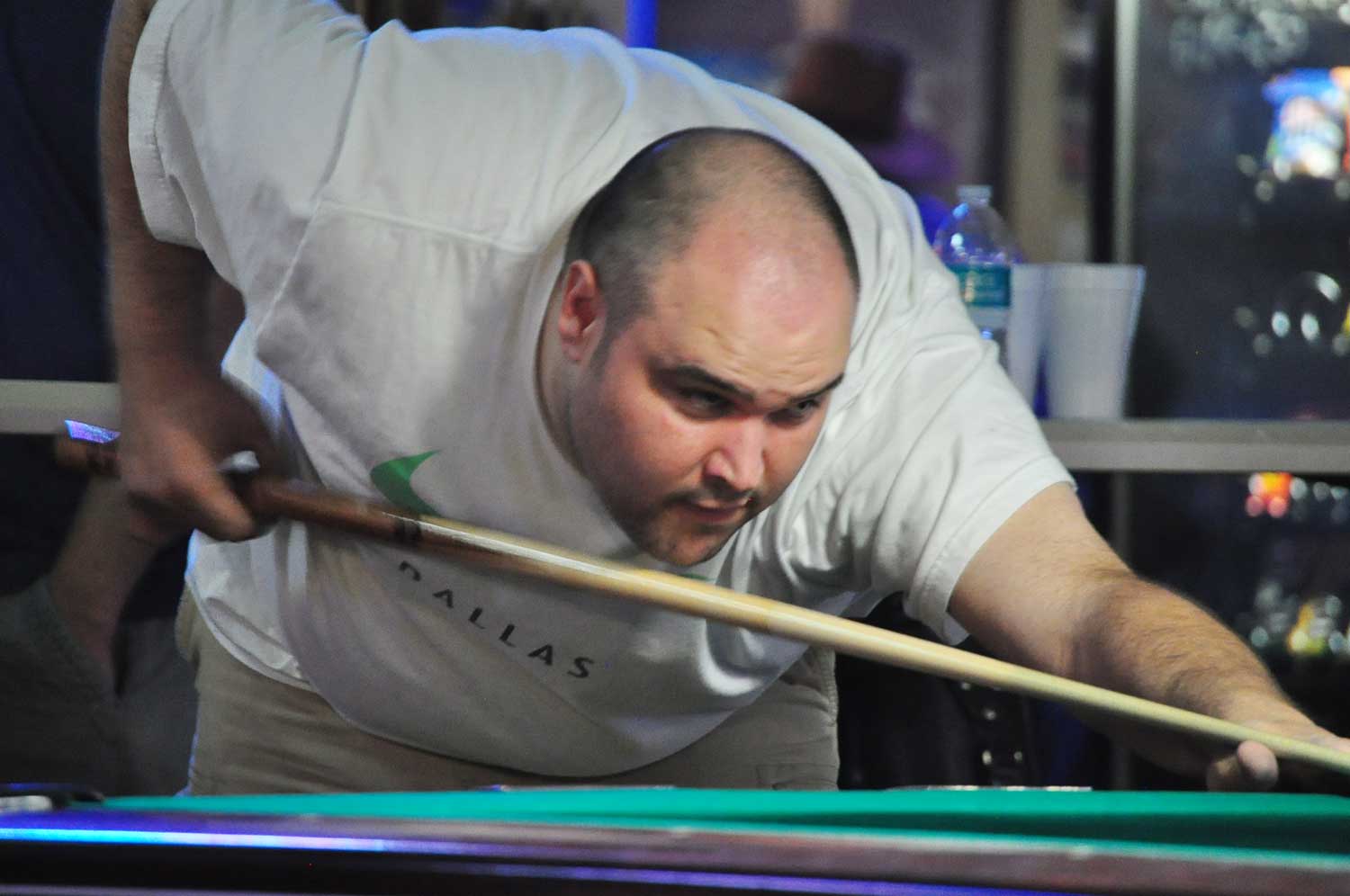 Greg Sandifer $900