Senior Open 8-Ball Tournament.
FLORIDA TOUR
 DiToro & Searing share TFT Senior Open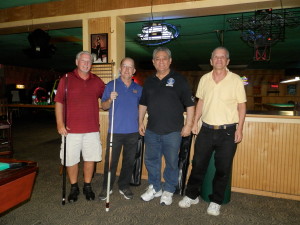 left to right:
Jim Markowitz, third; Dennis Searing and John DiToro, split first place; Tom Wirth, fourth.
 Palm Beach Gardens, Fla. (Dec. 6, 2014) – The talent was impressive at the first Tiger Florida Tour $250-added Senior Open 8-Ball Tournament. Twenty-three players over 50 years of age competed at Palm Beach Billiards in North Palm Beach, Florida on December 6th.
The format was a race to five on both sides, call pocket, double elimination. Local favorite and custom cue maker Dennis Searing went to the one loss side early in the day after losing his first match to One Pocket notable Tom Wirth 5-3. Searing made it back to the final match blowing through Kali Boodhoo, Ken Lee, Mike Bligh and Roe Guarnero 5-1, and holding on after knocking out Ft. Meyer's Jerry Johnson 5-4. Searing ended up in a revenge match against Wirth going to the hill and forcing Worth to settle for fourth place. Searing then easily swept by Jim Markowitz 5-1, putting Searing in the final match against another local well-known favorite and professional player John DiToro.
DiToro remained on the east side of the bracket all day to get to the hot seat with wins over Ed Kiess 5-3, Mike Bligh 5-0, Tom Wirth 5-3 and Jim Markowitz 5-2. It would have been a great match to watch – DiToro v. Searing. However, both decided to split the pot, each taking home $300. Searing got the trophy and DiToro got the chicken wings!
Thank you to Tiger Products and Mike Dolezel, owner of Palm Beach Billiards for their support of this event.
RESULTS ($250-added)
1stJohn DiToro$300
Dennis Searing$300
3rdJim Markowitz$170
4th Tom Wirth$100
5thEd Kiess $50
Jerry Johnson $50