Sept 28th It's England v Holland for the Betway crown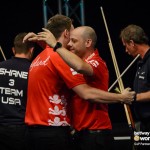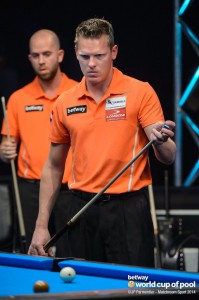 England and Holland complete semis line up
Quarter-Finals
Holland 9-7 Germany
England A 9-7 USA
Darren Appleton and Karl Boyes got the better of 2012 champions Finland – Mika Immonen and Petri Makkonen – who faltered after a good start. They lead 3-1 and 4-3 before England took the next three to lead 6-4.
Despite the Finns coming back at them, they never lost that lead and ran out comfortable 9-6 winners.
Commented Appleton, "It is a little bit of an advantage to be the home nation; a lot of guys have travelled from around the world but we just had to drive down the road. We feel comfortable here which helps and the crowd is on our side.
"That was our best match so far, we played pretty solid and we are really happy to get to the final. The levels here are high and Finland break so well; I have never seen anybody break so well as Petri Makkonen. You think they are capable of running the match out and it puts pressure on your break. "
Boyes added, "Our last match against USA helped because we were 7-2 up, had the lead, and they came back to 7-7 and we knocked two finishes in.
Sept 27
THERE IS certain to be a European winner of the ninth annual Betway World Cup of Pool as England A – Darren Appleton and Karl Boyes – put paid to Team USA in a tense quarter-final encounter at the Mountbatten Centre in Portsmouth.
The momentum ebbed and flowed as the English duo coasted into a 7-2 lead as the American pairing of Earl Strickland and Shane Van Boening looked patchy as they struggled to find a rhythm. That soon changed as the English grip on the match slipped away and at 7-7 the match was anyone's.
A dry break from Shane Van Boening though halted the USA's ascendancy and the English ran out to get to the hill and then broke and ran the last for a great win and a semi-final berth against Finland.
Appleton: "We made a dream start to get to 7-2 and the game was a bit too easy for us; we were controlling the cue ball really well, we kept them off the table really, we didn't have anything difficult to do, and at 7-2 I was thinking we were winning easily without having to do much.
"At 7-2 Karl missed a tough bank on the 2 ball and it is 7-3, then they get lucky in the next rack where they missed a ball but got safe. It happened again the next rack and I am starting to think it is a twist and something was going to happen.
"At 7-4 they break and make a 2/9 for 7-5. At that point we know the next rack is very big and Karl misses a really long, tough two ball and got unlucky to break open the seven which had been tied up. From 7-7 to 7-2 we didn't do a lot wrong and to be fair to them they didn't do a lot wrong.
"Luckily at 7-7 they came dry and we took a really nice rack out to go 8-7. I said to Karl, just put a good break in, and he made a really good one. We just had to keep our arms still then."
Boyes said, "It is difficult when you watch them come from 7-2 to 7-7 to get up and win. Earl Strickland can sit there and say we had a bit of luck but it is pool, they must have had a bit of luck to get back in it; that is the nature of the game.
"We showed a lot of bottle there to just be watching, losing a big 7-2 lead, to make two good finishes under pressure.
"We have been playing well. We have been a bit patchy with the break but we have been getting better and better in every round with the break and doing that under pressure will help our confidence."
Now in its ninth year, the Betway World Cup of Pool features 32 two-player teams from around the world battling it out for a $250,000 prize fund. The defending champions are the Philippines who will be among the favourites to claim a record-breaking fourth World Cup.
Earlier, Holland continued in their quest to amend for last year's defeat in the championship match as they edged past Germany in a hard-fought encounter to book a semi-final match-up against Austria.
The pairing of World Champion Niels Feijen and Nick Van den Berg showed some resolve to come from behind after trailing for most of the match. The Germans had earlier looked on the brink of defeat against Canada on Friday but came back from the dead after John Morra missed an unmissable 8 ball.
Holding that get-out-of-jail free card, the decorated German duo of Ralf Souquet and Thorsten Hohmann looked good as they got the better of the early stages, leading 5-2 at one point. At 7-5, they looked set to reach the hill before Hohmann missed a straight 8 ball which proved to be the turning point in the match.
The Dutch won the next to level the score at 7-7 and broke and ran the last two racks for what was an excellent win. They now face No.12 seeds Austria for a place in Sunday night's final.
Feijen: "We broke pretty well I felt but we hardly had a shot. We made the one every time but couldn't get on the two. We tried to work it out but went on instinct in the end and ran the last two racks.
"We cannot think about winning yet. You see how close every match is, you just have to go out there and play well, go one rack at a time. If you get the chance in the final to close it out, that is the first time you can think about it.
"Otherwise you get out of the momentum and if you start to think you are almost there you will slip and miss it.
Van Den Berg added, "When he missed the eight we sensed an opportunity. Hohmann got up on the shot really fast and missed it. We were tigers and we jumped right on that and won the match."
Sunday's semi-final matches:
1.00
Holland v Austria
England A v Finland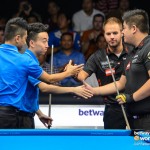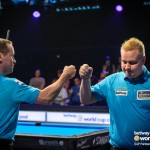 2014 Betway World Cup of Pool
Europe 2, Asia 0 as Finns and Austrians make semis
Quarter-Finals
Austria 9-3 China
Finland 9-7 Philippines
2012 champions Finland fought back from 4-2 and 7-5 down to knock defending champions Philippines out of the Betway World Cup of Pool at the quarter-final stage with a 9-7 victory at the Mountbatten Centre in Portsmouth.
The match was a story of supreme shot making from both sides but it was Mika Immonen and Petri Makkonen who made it to Sunday's semi-finals, where they join an Austrian side who shocked China in a 9-3 victory.
At 7-7 Dennis Orcollo tried a tough jump to pocket the one but cannoned the cue ball into the seven and gave Finland ball in hand. From there Finland reached the hill and didn't allow Philippines back to the table as they booked a semi-final against either England A or USA, who face off tonight.
"It was a nail-biter and we were hanging in there by the skin of our teeth," admitted Immonen. "We somehow got ourselves over the finish line in the end.
"We played perfect position in the final rack. Makkonen is breaking the best of anybody in the tournament. I have figured the break out and we are both breaking well now, which is a good sign for tomorrow.
Makkonen added: "It is easy to play when you have a good partner, good atmosphere and a good table. If we play our own game it doesn't matter who we play, so I don't mind if it is England A or USA."
Earlier, a flawless Austria set up a semi-final against either Germany or Holland with a 9-3 victory over an out of sorts China.
Mario He and Albin Ouschan enjoyed break and runs a number of times but their opponents Wang Can and Dang Jinhu didn't take enough of the opportunities they had, and a scratch in rack nine allowed Austria to reach the hill at 8-2.
China did manage to claim one more rack but when Jinhu fouled attempting a thin slice on the one ball Austria took ball in hand to finish the match.
"We played well under pressure and they made a couple of mistakes which we didn't expect," said Ouschan. "Holland and Germany are both very good and that will be a good match this evening. I don't care who wins and who we play.
"China played perfectly against England B yesterday but today they made a lot of mistakes. It is race to nine, we broke and run four racks today and anybody can do that at this stage. Anybody can win the tournament."
He added: "It was a bit nervy at the end. We could have made it 9-2 but we played a bad safety and allowed them to get back to 8-3. At that stage we made some positional mistakes but finally we got through."
All tickets are priced at £5 (afternoons) and £10 evenings and are available from the venue or www.seetickets.com
Diamond Billiards are the Official Table of the 2014 World Cup of Pool; the Official Cloth is supplied by Iwan Simonis and the Official Balls are Super Aramith. Predator is the Official Cue of the event.
Tonight's remaining quarter-final matches:
19.30
Holland v Germany
England A v USA