THREE of the big guns of the sport enjoyed victories at the Betway World Cup of Pool
Sept 25 Day 3
Easy afternoon for Germany, Canada and the Swiss
Germany 7 – 1 Malaysia
Canada 7 – 1 Malta
Switzerland 7-3 Belgium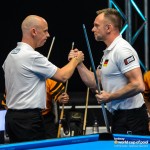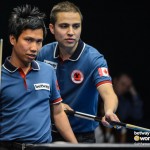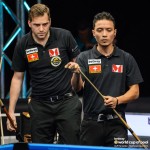 THERE were comfortable wins for Germany, Canada and Switzerland at the 2014 Betway World Cup of Pool as the opening session of day three unwound at the Mountbatten Centre, Portsmouth. There is just one more round one game remaining as India and England B slug it out in the opening game of Thursday evening.
In the opening game, 2011 champions Germany – Thorsten Hohmann and Ralf Souquet – had too much for Malaysia, represented by Alan Tan and Ibrahim Amir, as they coasted to a 7-1 victory.
"We're obviously very happy with the result and the performance," said a delighted Hohmann.
"I missed a bank shot in the first rack but after that we didn't make too many mistakes. We got a little fortunate getting balls after the break, that is very important and we were able to string a few racks together so that helped our confidence.
"We are still trying to figure out the speed of the table but I think this match will set us up positively for the rest of the tournament," he added.
His partner Souquet said, "The break is huge. We were a little fortunate after the breaks to get a shot on the lowest ball, and twice it was tight but we were able to get out and string three or four racks together and that was key."
The Germans will be playing Canada in the second round after Alex Pagulayan and John Morra looked in good shape as they took care of late subs Malta by 7-1. Tony Drago and Alex Borg have had little luck over the years in the Betway World Cup and that continued as they crashed out of the event. The Maltese pair had come in for Vietnam who had travel difficulties and could not make it to Portsmouth.
Commented John Morra: "We haven't had a lot of chance to play together in the build up to this tournament but we have played together in this tournament before so we know where we are at.
"Against Germany we will have to stick to our game plan. We both played them both in individual tournaments and we all have wins over each other. If we repeat what we did today then we should be ok."
In the final match of   the session, Switzerland completed a trio of one-sided wins as they overcame another substitute team, Belgium, who were replacing Thailand. The duo of Ronni Regli and Dimitri Jungo have recorded some decent wins in previous editions of the event, and they looked solid enough today, although Serge Das and Olivier Mortier gifted some chances. They can now look forward to a round two match against Holland tomorrow afternoon.
"We are looking forward to playing Holland, the reason we are in the tournament is to play against the best players," said Regli.
Jungo added, "Holland are one of the favourites but in the last two years we have won against some of the best teams in this tournament."
Now in its ninth year, the Betway World Cup of Pool features 32 two-player teams from around the world battling it out for a $250,000 prize fund. The defending champions are the Philippines who will be among the favourites to claim a record-breaking fourth World Cup.
Sept 24 Day 2
2014 Betway World Cup of Pool
Dutch, US & England A go through
Holland 7 – 3 Sweden
USA 7 – 2 Croatia
England A 7 – 6 Spain
THREE of the big guns of the sport enjoyed victories at the Betway World Cup of Pool as the first round continued at the Mountbatten Centre, Portsmouth. Holland, USA and England A all had wins and will take their place in the second round.
Home team England A – Darren Appleton and Karl Boyes – had a huge scare as they nearly succumbed to Spain, scraping through in the deciding rack of the match. Spain had taken a 5-3 lead in front of a lively crowd but the English levelled it at 5-5.
Francisco Diaz for Spain, though, played a daring 4/9 combination which put the Spaniards on the hill. His partner David Alcaide just couldn't get the requisite number of balls over the head string and control of the table passed back to the English. It was a lifeline that they gratefully accepted to level the match at 6-6.
An inconclusive break from Appleton saw Spain back to the table for a push out. Both teams had visits before Boyes missed a bank on the 2 ball to give Spain a great chance. Alcaide though, failed to pot the 4 ball and with the balls lying invitingly on the table, the English pair cleared to take a nervy win.
"I am absolutely amazed that he missed that ball at the end. I think he tried to do something with the cue ball to get shape on the next ball but he could have just run it through, but that is the pressure," said a relieved Appleton.
"The last rack was really tense and really edgy but besides that it was a pretty good match. To get through at the end like we did, we are very happy. That is the type of luck that you are going to need if you are going to win this tournament, and hopefully that will kick us on now and we can go further in the tournament," he added.
2013 runners-up Holland got their campaign off to a successful start as they had too much in the tank for the Swedish pair of Andreas Gerwen and Tomas Larsson. Nick Van den Berg kept things on track as his partner Niels Feijen was a little sloppy in the early stages, but the reigning World 9 Ball Champion and World No.1 came with some good shots to close out the win.
"We know we are both in form and among the favourites this week. But you cannot expect anything, to get to the final is a high expectation but we want to win this," said Feijen.
Van den Berg added, "We are in form as players but we have to make every ball and take every chance you get. If you have some tough shots early on you can't make them all of the time and in a race to seven you can crash out at any time. We tried our best and we did well."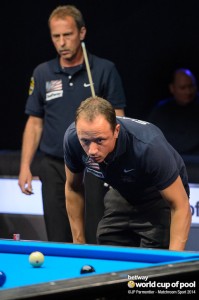 Team USA – Earl Strickland and Shane Van Boening – made light work of Croatia as they waltzed through the racks to take a 7-2 win and a second round match up against Russia on Thursday evening.
The match went to 6-0 fairly quickly before Strickland scratched to bring the Croatians – Ivica Putnik and Karlo Dalmatin – back to the table. They took that one and the next but it was only a matter of time and it was Strickland who downed the winning 9 ball.
Strickland said, "We played virtually flawless apart from a few bad safeties early in the match. It is the nature of the game, you don't know when it is going to change and it can change at any moment and you lose momentum. I made a couple of mistakes early on but overall we played pretty well. We don't have to talk a lot, we pretty much know where we both want the cue ball."
Now in its ninth year, the Betway World Cup of Pool features 32 two-player teams from around the world battling it out for a $250,000 prize fund. The defending champions are the Philippines who will be among the favourites to claim a record-breaking fourth World Cup.
All tickets are priced at £5 (afternoons) and £10 evenings and are available from the venue or www.seetickets.com
Diamond Billiards are the Official Table of the 2014 World Cup of Pool; the Official Cloth is supplied by Iwan Simonis and the Official Balls are Super Aramith. Predator is the Official Cue of the event.
Luke Riches, Matchroom Sport: luke.riches@matchroom.com
Notes: Matchroom Sport are one of the world's leading producers of televised sport and are responsible for over 1,000 hours of original programming across a range of sports. Based in the UK and chaired by charismatic founder Barry Hearn, the World Cup of Pool is one of a stable of pool events that include the World Pool Masters and the Mosconi Cup.