Third Annual Marti Tracy Memorial 3-Cushion Billiard Tournament
Twenty-four players participated in the Third Annual Marti Tracy Memorial 3-Cushion Billiard Tournament, held for the first time at the Ashland Elks Lodge in Ashland, Oregon. (Previously this tournament had been held at the Medford Elks Lodge just 15 miles way.) Just like the two previous Tracy tournaments, this was a USBA B/C Tour event, with separate prizes for B and C tournament winners. This time, there were enough players falling in the C+ category that we had separate finals and prizes for both the C players and for C+ players. In all, we had 10 B players and 14 C players, 7 each of C's and C+'s. The B players participated in one large round robin flight, with the top three finishers winning the trophies and cash prizes. For the C players, we divided them into two mixed flights of C+ and C players, with the top two C+ finishers from each flight playing in a four-person C+ round robin final, and also the top two C finishers from each flight playing in a separate 4-person C round robin final. Scores from the games with the other finalists from the same flight were carried over into the finals, so finalists only had to play against the two finalists from the other preliminary fight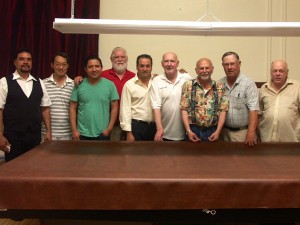 In the B's, Mark Hansen from the Sacramento, CA area finished first with a perfect record of 9 wins and no losses. Cesar Cardoza from Santa Clara, CA, came in second with 7 wins and 2 losses, and Homero Landa of Menlo Park, CA finished third with 6 wins and 3 losses. Antonio Rivera of Greenbrae, CA had the first high run of seven to win that prize.
After finishing his preliminary flight with a perfect record of 6 wins and no losses, including the best game in the entire tournament of 25 points in 20 innings for a 1.250 average, Galen Lee of Union City, CA won the C+ finals with another perfect record. (He generously shared his winnings with the Ashland Elks Lodge by purchasing the Tiger Cue donated to the event by the USBA, with the proceeds going to the lodge.) Marc Smith from Grants Pass, OR, finished in second place, having lost only one game in the entire tournament to Galen Lee (and it was in that 1.250 game.) Marc averaged a very solid .615 in the finals for the best average in the C/C+ event. Third place went to Ashland player Bob Hilton, and the high run prize in the C+ group went to Jerry Gibson of Medford, OR, with his run of 6.
The last game of the C finals provided the most dramatic finish of the tournament. Bill Wood of San Diego, CA came into the game with two wins and no losses, and Toshi Moriguchi of Seattle, WA, had one win and 19 points in a finals game he lost to Ron Hopkins. To win first place, Toshi not only had to win the game against Bill Wood, but he had to hold him to 19 points or less. It appeared for some time that Toshi would prevail, having built a pretty substantial early lead, but unfortunately his scoring slowed down when he got to the low 20's and Bill was able to score 21 points before Toshi finally won the game. So Bill came in first, Toshi second, and Victor Lee of Stockton, CA finished in third place. The high run prize in the C's went to Toshi, who had the first run of 5 among the C players.
One note about averages: to insure that we could finish the event on time, when two C players played one another, both in the prelims and the finals, they started with 5 points on their strings in games that went to 25 points. (When playing C+ players, both players started with zero and played to 25 points.) So the averages for games between C players had to be adjusted to try to make them more accurate. To do so, I simply calculated the averages for all the C player games against C+ players, since those averages were accurate, and then adjusted the number of innings for the C on C games to make sure that the overall average did not change. Although this method does not provide completely accurate averages, I believe it is more accurate than not adjusting the innings. And averages did not ever factor in to determining player rankings, since we used Win Loss first, then Total Points, then Head to Head, and finally Points Against as methods of determining ranking.
Complete results tables – Click here!
Mark Williams,
Tournament Co-Director (with Tom Thomsen)