4th Annual 14.1 Straight Pool Hall of Fame Banquet.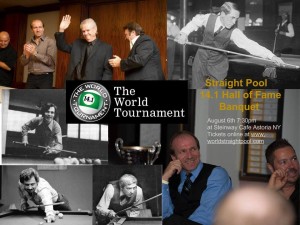 New York City – Pool fans are invited to have dinner with the world's greatest players at the 4th Annual 14.1 Straight Pool Hall of Fame Banquet. The special event takes place at 7:30pm on August 6th, 2014 at Steinway Billiards Cafe during the 74th World Tournament of 14.1. It will be a star studded gala with billiard super stars such as Mika Immonen, Shane Van Boening, John Schmidt, Stephan Cohen, Johnny Archer, Darren Appleton & many more with Charlie Williams as the event MC. The World Tournament takes place on August 4th-9th and is sponsored by Andy Cloth, Kamui Brands, OB Cues, Amsterdam Billiard Club, Realrealcool.com, and Pool & Billiard Magazine. Official patron 14.1 aficionados are Stu Mattana, Tom Gleich, Harold Siegel. The 14.1 Hall of Fame Banquet is presented by Dr. Michael Fedak and produced by Dragon Promotions.
"Every year the Straight Pool Hall of Fame sells out with over a hundred people attending. It's a classy, entertaining, and emotional celebration of the greats of the sport", says Cindy Lee, CEO of Dragon Promotions.
The Straight Pool Hall of Fame Induction videos will be produced by www.NYCGrind.com and www.GothamCityTechnologies.com .  The Hall of Fame ceremonies will be streamed online for free on Ustream by Upstate Al of AZBtv.
Past inductees include live inductions of Ray Martin, Jerome Keough, Jack Colavita, Danny Diliberto, Oliver Ortmann, Gene Nagy. Group inductions by decades include 14.1 Hall of Famer legends Ralph Greenleaf, Frank Taberski, Erwin Rudolph, Jimmy Caras, Andrew Ponzi, Thomas Hueston, Alfredo de Oro.
To vote, please send in your choice at worldstraightpoolchampionships@gmail.com . This year's nominees on the ballot include: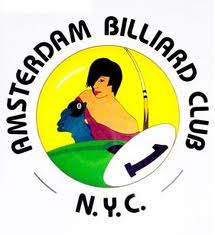 Jim Rempe, -Born in 1947, in Scranton, Pennsylvania, US)- Rempe began playing pool at the age of 6. he turned pro at the age of 22, winning over 100 major championships, and taking 11 world titles, including the World Straight Pool Championship, WPA World Nine-ball Championship, the World One-pocket Championship, All-Around World Championship and, later, the Mizerak Senior Tour. Rempe won 3 US 14.1 Masters Championships, 1973 NY State 14.1, the US Open 9-Ball, and 4 World 9-Ball titles. He accumulated 23 tournament wins between 1972 and 1978, more than any other pool player in the world, thus acquiring the nickname "King James""¨"¨Allen Hopkins- Born in 1951, Elizabeth, New Jersey) He promotes multiple annual pool events and still competes as a professional contender. Known for playing all games on a world class level, World Open 14.1 Champion, 1977 ,US Open Nine-ball Champion, 1977, PPPA World Nine-ball Champion, 1977, PPPA World Nine-ball Champion, 1979.
Hopkins created and still produces the Super Billiards Expo for the past 20+ years."¨"¨Lou Butera- (born 1937 in Pittston, Pennsylvania) , Butera won the 1973 World 14.1 Championship defeating legendary Irving Crane, as well as runner-up in the World 14.1 in 1972. His nickname, "Machine Gun Lou", derives from his stunning the crowd and fellow competitors by running 150-and-out in straight pool in 21 minutes against Allen Hopkins in 1973. He gained exposure to the masses in 1981 and 1982 when he appeared in network trick shot competitions on CBS and ABC."¨"¨Nick Varner – Born 1948 n May 15, in Owensboro, Kentucky – Varner gained notoriety on the professional pool scene after he won two ACU-I Intercollegiate Championships while attending Purdue University. A cliché given to Varner was "Speak softly and carry a big stick" because of the way he conducted himself as well as his competitive endeavors. In 1989, Varner became only the second man to earn over $100,000 in prize winnings accumulating 16 major nine-ball events and was "Player of the Year" in 1980 and 1989. "¨"¨UNSUNG HEROES:"¨Frank "Sailor" Stellman – From Racine, Wisconsin born in 1927. Legend in the midwest, taught and influenced many 14.1 players and groomed over a dozen 100 ball runners. Organized Wisconsin's first state 9-Ball tournaments for men and women; He was the technical host for a weekly TV pool show. He has given numerous pool seminars usually free of charge. Frank's second year on the 14.1 HOF ballot"¨"¨Tom Jennings,- A mathematics professor, Jennings was still able to find time to play pro calibre pool and in 1976 and 1977, he won back-to-back US Open 14.1 Pocket Billiards Championships, being the first player since Steve Mizerak to win consecutive championships. He won both titles while also a full-time mathematics professor at Middlesex County College in New Jersey.
Fans can buy tickets in advance for $55 by going to http://worldstraightpool.com/tickets.html  . The dinner includes a 5 course meal and beverages as well as seating next to the stars of billiards. For $141 you can also join the Elite Members of the 141 Club on the same link.