COLLIN DOWDY WINS 1st FBT JUNIOR TOURNAMENT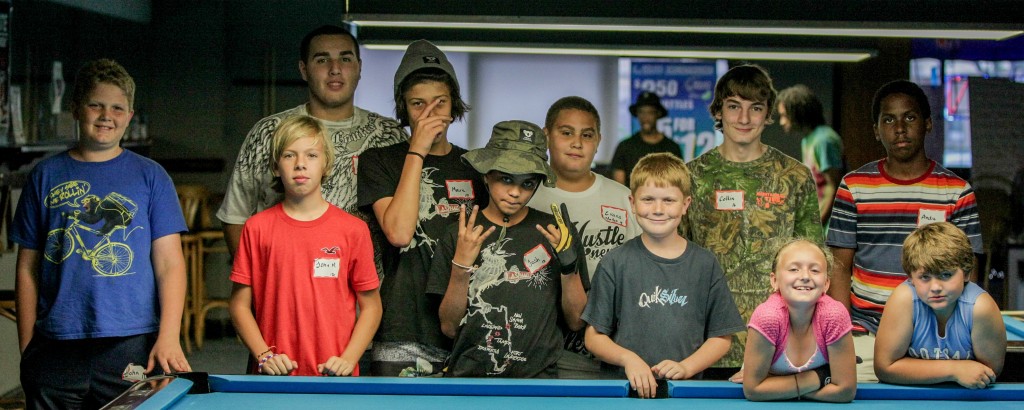 Pictured above: Second row, from the left: John McCormick, Eric Matos, Jr., Marc Arias. Evans Matos, Collin Dowdy, Andre Dunbar. Front row: John Matson, Josh Wolff, Carter McCormick, Angelina Estler ,Hayden Estler.
COLLIN DOWDY WINS 1st FBT JUNIOR TOURNAMENT
 Boynton Beach, Fla. – Eleven junior players showed up at Slate Billiards in Boynton Beach, Florida, last month for the first Juniors 8-Ball Tournament, sponsored by the Flamingo Billiards Tour. Kids came from as far away as Bradenton and Miramar, many of them playing in their very first event. 
The format was a race to three, double elimination, handicapped. The final race matched up local 14 year-old Andre Dunbar and 16 year-old Collin Dowdy.  Dowdy, a talented experienced player from the west coast won the tournament handily over Dunbar. Josh Wolff finished third. The top three players won trophies.
 Although some players clearly displayed advanced skills while others were just learning how to play, everyone had a good time and made new friends. This tournament was held to assess the interest in a Junior Program in South Florida. Flamingo Billiards Tour would like to thank Slate Billiards room owners Mike Bradford and Bill Giffen, and Boynton Billiards. 
Some of the matches can be viewed at Ustream.com (http://www.ustream.tv/recorded/45257303).  More pictures can be viewed at www.pfs.me.
 Results
 1st             Collin Dowdy
2nd             Andre Dunbar
3rd            Josh Wolff
4th             Marc Arias
5th            John Matson
                  Angelina Estler
7th            Carter McCormick
                 John McCormick
9th            Hayden Estler
                 Eric Matos, Jr.
                       Evan Matos