Ng Makes Waves on Gulf Coast Tour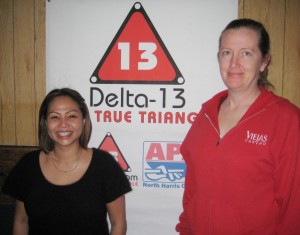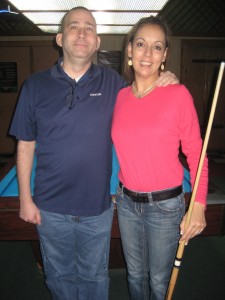 Ming Ng, Gail Eaton, and Kim Pierce were the final three standing in the 23 player field this past Sunday, January 26th, 2014, at the inaugural Gulf Coast Women's Regional Tour, $500 added 9-ball event held at Bogies Billiards and Sports Bar in Houston, Texas. The event began with an 11:00am players' meeting followed by some of best rivalries in women's semi-professional pool.  Tour newcomer Rhea Brooks broke into the final 8 on the winners' side with Beth Weaver, Liz Mitchel and Ricki Casper.  Gail Eaton, 2013 Gulf Coast Tour Champion, came on strong ousting Brooks, 7-3, while Loretta Lindgren overcame Weaver, 7-2.  Ming Ng bested Mitchel, 7-4, and Natalie Mans squeezed by Casper, 7-6.  Eaton dealt Lindgren a blow, 7-6, and Mans sustained a hit from Ng, 7-1, staging an all too familiar, Gulf Coast hot seat match. After losing her first match to tour rookie Sara Bork, Groveton's Jenny Magee secured 4 consecutive matches before falling to Kim Pierce, 7-1. Pierce suffered an early loss at the hands of Ng, 7-3 and waded through 6 competitors, including Mans, 7-4, settling into the final four. Mitchel eliminated Bork, Casper, and Lindgren, joining Pierce in the final four line-up. Eaton handily secured the hot seat over Ng, 7-4, while Pierce bested Mitchel, 7-3. Vying for second, Ng came out firing against Pierce, winning 5 straight games before Pierce answered back with 4 games of her own. Unable to gain control, Pierce lost the set, 7-5. Tensions ran high as the final match commenced between Eaton and Ng. After a couple of unforced errors, Eaton lagged behind, losing the first set, 7-5. During the second set, tied at 5, Eaton jarred the 9-ball and Ng moved into striking position. Ng captured the final game for another come-from-behind win on the Gulf Coast Tour.
The tour would like to recognize its sponsors, Delta-13 rack www.delta-13.com (official rack) and the APA of North Harris County www.facebook.com/apanorthharriscounty.  For more information about the WPBA sanctioned Gulf Coast Women's Regional Tour, please visit www.facebook.com/gulfcoasttour.
1st Ming Ng $375
2nd Gail Eaton $250
3rd Kim Pierce $160
4th Liz Mitchel $95
5th-6th Natalie Mans, Loretta Lindgren $40 ea.