DERBY CITY CLASSIC By Ricky Bryant
MASTER OF TABLE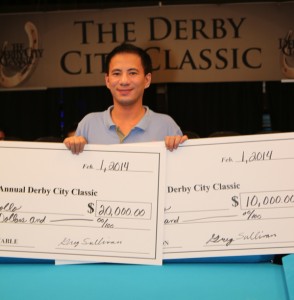 16th ANNUAL DERBY CITY CLASSIC UPDATES after 8 Days
9 – BALL
9 Ball started Wednesday afternoon with 261 players. After 3 days and 6 rounds of play there are 29 players still in for round 7 on Saturday the final day of play.  Corey Duel got the bye and 10 of the players are undefeated, still holding their re-buy.
Master of the Table
1 Orcullo, Dennis $20,000.00
2 VanBoening, Shane $3,000.00
3 Reyes, Efren $2,000.00
BANKS RING GAME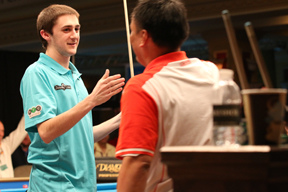 Skyler Woodward takes down six man Banks Ring Game!
Francisco Bustamante takes second!
Six Players with $1000 entry each and Diamond added another $3000 for a prize fund of $9000, $6000 for First and $3000 for second and a thank you for coming hand shake for the other four.
Skyler Woodward – Winner – $6,000
Francisco Bustamante – Second -$3,000
John Morra – Third – Brandon Shuff – Fourth
Justin Hall – Fifth – Shannon Daulton – Sixth
2014 George Fels Memorial Straight Pool Challenge
The $8,000 dollar added event kicked off on Sunday with qualifiers through Wednesday. The single elimination playoff of the top 8 started Thursday.
Thursday Matches:
Huidji See defeats Ralf Souquet
Alex Lely defeats Niels Feijen
Dennis Orcollo defeats Jayson Shaw
Konstantin Stepanov defeats Darren Appleton
Friday Semi-Final Match:
Dennis Orcollo defeated Alex Lely
Saturday Matches:
Semi-Final match – Huidji See vs Konstantin Stepanov
Final Match – Dennis Orcollo vs Winner of Saturday Semi-Final
ONE POCKET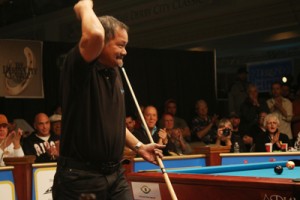 Efren Reyes wins his 6th Derby City Classic One Pocket Championship!!
Efren undefeated in his run for the 2014 One Pocket Crown, defeats Shannon Daulton 3 to 1.
2014 One Pocket
1 Reyes, Efren $12,000.00
2 Daulton, Shannon $6,000.00
3 Frost, Scott $3,355.00
4 Bustamante, Francisco $2,200.00
5 Orcullo, Dennis $2,200.00
6 Hall, Justin $1,400.00
7 Roberts, Josh $1,400.00
BANKS
Dennis Orcollo crowned
2014 DCC 9-Ball Banks Champion!
Results from the Tuesday Banks Matches:
Semi-Final #1: Francisco Bustamante over Dennis Orcollo 3 to 1. Giving Dennis is first loss. Earl Strickland was on a bye.
Semi-Final #2: Three player re-draw. Dennis gets the bye.
Francisco Bustamante over Earl Strickland 3 to 1
Finals: Dennis Orcollo over Francisco Bustamante 3 to 1
1 Orcullo, Dennis $10,000.00
2 Bustamante, Francisco $5,000.00
3 Strickland, Earl $1,900.00
4 Murphy, Shannon $1,200.00
5 Grossman, David $1,200.00
6 Bergman, Justin $1,200.00
Shane Van Boening wins Big Foot 10 Ball Challenger over Niels Feijen, 11 to 7!!
BIG FOOT 10 BALL CHALLENGE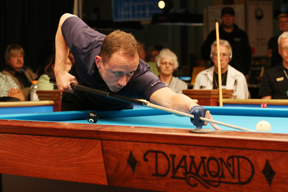 Challenge!  Below are the results to the semi-final and final matches and the payout for the event.
The Monday Results:
SEMI-FINALS
Ralf Souquet vs Niels Feijen – 4 – 11- Shane Van Boening vs Francisco Bustamante – 11 – 8
FINAL
Shane Van Boening vs Niels Feijen – 11 – 7
PAYOUT
Shane Van Boening – $16,000
Niels Feijen – $8,000- Ralf Souquet – $4,000 – Francisco Bustamante – $4,000
2014 Nine Ball
1 VanBoening, Shane $16,000.00
2 Morra, Jogn $8,000.00
3 Klatt, Jason $4,000.00
4 Chinahov, Ruslan $2,850.00
5 Orcullo, Dennis $2,850.00