Summer Classic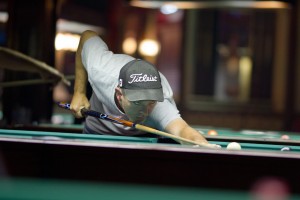 Congratulations to Jonathan Hennessee
This year's Summer Classic at The Rack has to have been one of the best, in my personal opinion.
Drawing only 52, the tournament was 76 players shy of a full field. While this lack of attendance made its mark on the prize fund and player auction, there were no lengthy waits between matches, as were in previous tournaments, the mentality of the players overall, seemed extremely positive.
The player auction was moved later in the evening this year, to allow for more players to arrive and enter. The entry cut off announcement was made soon after Jonathan Pinegar arrived, with a few players from Middle Tennessee, and just before the final cut off, Richie Richeson walked in, with a few additional players. Shortly following the player auction, which brought just short of $5000, the Midnight Madness tournament began, which consisted of 8 players; Daryl Biggart, Joey Grey, Daniel McKenney, Richie Richeson, Benny Conway, Blake Todd, Sam Gilmer and Jon Hennessee.
The final match came down to Joey and Jon, who split, taking $500 each.
The first eight matches were called for 10am Saturday, with only 52 players and several byes, the first and second rounds would go much faster than years past. After only a few hours, a quarter of the field had been eliminated. While the field was short, the competition was not; many well known players had shown up, some frequenters to tournaments at The Rack and also quite a few new faces. Saturday's final hours were near and the tournament had found its final 16 players, who would return Sunday at 1pm.
| | |
| --- | --- |
| No Loss | One Loss |
| Chuck Raulston | Devin Poteet |
| Richie Richeson | Amy Acerra |
| Matt Martin | Ryan Dunn |
| Wade Keeling | Daniel McKenney |
| Benny Conway | Jason Evans |
| Sam Gilmer | Josh Woods |
| Blake Todd | Joey Gray |
| Jon Hennessee | Justin |
Sunday afternoon began with a moment of silence for the recently departed Don Samples, founder of The Rack and the Superbowl 9Ball Open Tournaent, followed by a second players auction, which brought another $800.
Chuck Raulston, sent to the one loss side by Richie Richeson, would battle his way back, defeating Daniel McKenney, Joey Gray and Benny Conway. Sam Gilmer is sent to the one loss side by Hennessee, but hangs in there with wins against Devin Poteet, Blake Todd, Wade Keeling, Chuck Raulston and finally Richie Richeson, who had just found his first loss, also at the hands of Hennessee. Sam's win over Richie brought him to the finals to play Hennessee yet again. While Sam played well, he was unable to reach 7 on the wire against Hennessee.
Congratulations to Jonathan Hennessee for yet another win at The Rack.
Thanks to everyone who came out to watch and play!
Total payout for this event was $7625.
| | | | | |
| --- | --- | --- | --- | --- |
| Payouts | Player | Tournament | Auction 1 | Auction 2 |
| 1st | Jonathan Hennessee | $900 | $1900 | $600 |
| 2nd | Sam Gilmer | $500 | $1450 | $200 |
| 3rd | Chuck Raulston | $350 | $950 | |
| 4th | Richie Richeson | $150 | $475 | |
| 5th | Benny Conway | $75 | | |
| 6th | Wade Keeling | $75 | | |
Words and photos by Josh Gilmore