Roland Forthomme of Belgium Ties World Three Cushion Billiard Record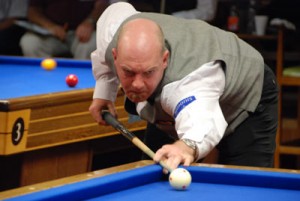 The world three cushion billiard record was tied with a spectacular run of 28 consecutive three cushion billiards by Roland Forthomme of Belgium.
"Junichi Komori (Japanese — one of the top 6-8 in the world for a chunk of time between the late 1970s and late 1990s (I believe) — who played 1x in NY — ran 28 in a Dutch League match in 1993.  Raymond Ceulemans — age 61-ish! — matched it also in the Dutch League in 1998.
2 other "runs" of note:  Ceulemans supposedly ran 32 in a practice match (so does it count?  It's a bit like hitting 6HRs in a game in Spring Training).
More significantly, Jaspers (restricted to 15 point sets — the usual format for World Cup play) ran 34 points without a miss in the 2008 European Championship Final.  He ended the first set by running 13 and out.  In the second set (after Blomdahl broke and made a couple, I think), Jaspers stood up and ran 15 without a miss in his only inning.  Then in the third set, DJ broke and ran 6 off the break. D"
See the link below starting about minute 43 and follow for about 17 minutes. Shots #18 and #21 are particularly special.
Respectfully,
Ned Wagner