PartyPoker.com Mosconi Cup latest news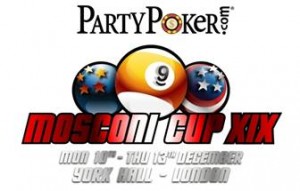 12th December
PartyPoker.com Mosconi Cup latest news
Europe supershow puts Cup in sight
Europe 9 – 6 USA
Van Den Berg & Ekonomopoulos 5-4 Dechaine & Shuff
Nick Van Den Berg 4-5 Johnny Archer
Ekonomopoulos & Feijen 5-4 Hatch & Dechaine
Chris Melling 5-2 Brandon Shuff
Darren Appleton 5-0 Shane Van Boening
TEAM EUROPE needs just two more points to make it three PartyPoker.com Mosconi Cups in a row after a blistering night at the York Hall that saw them win four of the five matches with only a game Johnny Archer offering any sort of resistance.
The two teams shared the opening two matches before the Euros squeezed past the USA in the final doubles match of the tournament. Then followed two demolition jobs as the English pair of Chris Melling and Darren Appleton beat Brandon Shuff and Shane Van Boening respectively, conceding just two racks in the process.
Appleton looked super-focused as he pasted Van Boening, capitalising on the American's errors and taking full advantage of his own excellent break. The Englishman's win made the final score 9-6 and with most of the American side distinctly under-powered, it looks a big ask for CJ Wiley's men.
The session got off to a flyer as the two Nicks – Van den Berg and Ekonomopoulos – finally won a hill-hill match as they took a thrilling decider against the American pairing of Mike Dechaine and Brandon Shuff.
The Americans looked strong at outset but both players missed balls to let the Europeans back in the match. There was drama as the Americans lead 4-3 and Van den Berg made the 9 on the break but scratched into the middle pocket. Dechaine and Shuff came with a couple of miracle shots to keep the run out going before Dechaine missed a bad one on the 6 ball and the Europeans made it 4-4.
Both had chances in the final rack before Dechaine missed another one – this time a 4 ball down the rail. Van den Berg made it and made perfect position on the 6 ball and he and Ekonomopoulos ran the last three balls to spark wild scenes of celebration.
Van den Berg was back out for the second match of the evening as he faced a revitalised Johnny Archer in the first singles match of the evening. Archer had won all three of his doubles matches while Van den Berg was also in great shape.
The Dutchman looked rock solid as he lead 4-2, not missing a ball but somehow Archer clawed his way back into it, fighting both Van den Berg and a rowdy crowd who at times stepped close to the line.
Archer, playing in his 16th consecutive Mosconi, showed immense heart as he took the game to a deciding rack and then gave Team USA its fifth 5-4 win of the competition to level the scores.
"Our team needed that, they needed some boost. I didn't play too well, I really was going to blow it for our team if I didn't do something there because I had chances but I was lucky enough to have chances at the end and I just came through," said a relieved Archer.
"I didn't play well, Nick made some mistakes but I didn't know if I was going to get a shot, I was praying and it worked out. As a team we play hard, we grind it hard. We haven't played great as a team but I know the guys have fought hard and are giving it heart and I would rather that happen than everything go well.
"We lost a couple of heartbreakers but we won some we could have lost so it has evened out. Morale has to be a little better now that I have won that one."
The final doubles match of the competition saw the Europeans regain the lead as Nick Ekonomopoulos and Niels Feijen won the third 5-4 game as they beat Dennis Hatch & Mike Dechaine.
Europe motored to the hill first as the experienced Feijen and rookie Ekonomopoulos looked sharp throughout. The Greek debutant had played superbly over the past two days despite looking shaky on day one.
The Americans came back but once again the decider was claimed by the Europeans for a 7-6 lead. There were scenes of celebration in the arena and somehow Feijen failed to shake Dechaine's hand which lead to a verbal exchange.
"We were 4-2 up and we played pretty well but USA came back to make it 4-4 so they showed a lot of heart there. Everything is going 5-4 so it was close," said Feijen.
"Mike said I was waiting to shake your hand. Everybody gets carried away a little bit, it is the pressure and I meant no harm to the guy. I wanted to shake his hand I didn't see him in the corner of my eye and everyone was going crazy. It was a misunderstanding and it is no big deal I hope."
In the penultimate match of the evening, England's Chris Melling, making his second Mosconi Cup appearance, put on a masterclass to overpower Brandon Shuff and give Europe a two point lead.
Melling hadn't looked at his best in the opening two days and with a point to prove took Shuff to the cleaners. After the three hill-hill battles of earlier, the match seemed over in a flash as Melling cued perfectly and left his opponent at the starting gate.
That left the stage clear for Dynamite Darren Appleton to make it a massive night for Team Europe as he whitewashed Shane Van Boening to put one hand on the Mosconi Cup.
Play continues tomorrow with just singles matches commencing 7.00pm UK time.
www.matchroompool.com ; www.facebook.com/mosconicup
www.twitter.com/matchroompool
The title sponsor of the Mosconi Cup is PartyPoker.com, tables are supplied by Diamond Billiards, balls by Aramith, Simonis 860 is the Official Cloth and Predator are the Official Cue, and chalk supplier.
Luke Riches, Matchroom Sport: luke.riches@matchroom.com
Notes: Matchroom Sport are one of the world's leading producers of televised sport and are responsible for over 1,000 hours of original programming across a range of sports. Based in the UK and chaired by charismatic founder Barry Hearn, the Mosconi Cup is one of a stable of pool events that include the World Cup of Pool and the World Pool Masters