Lone Star event at Bogies Billiards in Houston, TX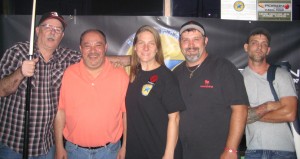 Demetro and Bryant Go Undefeated
There were 72 players at this past weekend's Lone Star 9-Ball Event held July 7th-8th, 2012 at Bogies Billiards & Sports Bar in Houston, with Open and Amateur division entries totaling 106. Owner David Richardson added a generous $1,000 to the event, sponsored by Poison by Predator cues, Delta-13 racks, Pool Websites.com, APA of North Harris County, and Gulf Coast Billiards. The tournament drew Open player notables such as Charlie Bryant, James Baraks, James Davis, Jr., and Sylver Ochoa. Tour regulars and newcomers included Mikey Frost, Yoko Joe, Riley Lemons, Dino Little, David Guerra, Eric Olivo, Charles Granger, Joseph Corona, Anthony Chinan , T.J. Pickens, and many more! From Beaumont to Houston to Bryan College Station, players came in droves to compete for the over $6,000 prize purse.
On Saturday, the Open division played down to 8 finalists for Sunday. The final four winners' side pitted an impressive Will Felder against Charlie "Hillbilly" Bryant and Brian Rosenbaum against Sonny "The Boss" Bosshamer. Bryant defeated Felder 9-2 and Bosshamer steamrolled Rosenbaum 9-4. Bryant then secured the hot seat over Bosshamer, 9-3. Sylver Ochoa fell to Bryant on Saturday, 9-3, and was subsequently eliminated by his own forfeiture. After losing his first match to Bryant 9-5, James Baraks won an incredible 9 consecutive matches on the one-loss side to meet Bryant in the finals. Other surprises included Viet Do who won 6 consecutive matches himself after losing his first to J.C. Torres, finishing a hard-earned 5th-6th. The final match saw Bryant defeat Baraks by a score of 9-8.
In the Amateur division, the story was Jeff Chauncey who worked his way to his first hot seat match by defeating Sonny Bosshamer 7-2, Joey Torres 7-1, Danny Lee, and Phillip Thweat, until losing the hot seat to Sonny Demetro, 7-5. Newcomers Phillip Thweat and Ming Ng were sent west in the final four winners' side by Chauncey and Demetro respectively. After a third round loss to Ng, Bill Fain eliminated Joey Torres, and Phillip Thweat. After a second round loss, Mikey Frost won 5 consecutive matches until he was also eliminated by Fain. Bob Guzik, the "Pittsburgh Kid", had his best finish ever (along with Fain), regardless of an early round loss to Demetro. Guzik eliminated Pedro Medina, Ray Porter, Bosshamer, Felder, and Ng, before he fell to Fain 5-3. A patiently waiting Chauncey was defeated by Fain in the semi-finals, 5-3. In turn, Fain lost his first- ever event final against Demetro, 7-5. Congratulations to Jeff Chauncy, Bill Fain, Bob Guzik, and Mikey Frost for achieving their best finishes to date. The next stop for them will be the winners'circle!
Saturday's play ran extremely late. The Tour would like to thank all of the players, and referee Derrell Montgomery, for the patience they exhibited throughout the event. When the event resumed at 1pm on Sunday, all 24 finalists were on time for their matches. "Thank you!" Lone Star Tour Players! Also, congratulations to Marc McClure who won a beautiful Predator Ikon 3 second generation cue during the 2- day cue raffle.
The next event will be August 11th-12th at Skinny Bob's Billiards in Round Rock, Texas. Being the official precursor to the Texas Open, this event drew well over 100 players last year. As the fields may be limited, please adhere to the 11am-1pm sign-up time. See you there!
Amateur
1st Sonny Demetro $535/$605
2nd Bill Fain $345/$420
3rd Jeff Chauncey $205/$300
4th Bob Guzik $175/$160
5th-6th Ming Ng,Phillip Thweat $75/$100
7th-8th Will Felder,Mikey Frost $50/$50
9th-12th Ray Porter,Danny Lee,Bobby Martinez,Joey Torres $35
13th-16th Sonny Bosshamer, Brian Rosenbaum, Chuck Adams, J.C. Torres $25
Open
1st Charlie Bryant $550/$300
2nd James Baraks $300/$300
3rd Sonny Bosshamer $200/$200
4th Brian Rosenbaum $150/$100
5th-6th Will Felder,Viet Do $75 ea.
7th-8th Coby Rabourn, Ben Deutsch $50 ea.