Samm Diep Vidal Joins Billiard Education Foundation!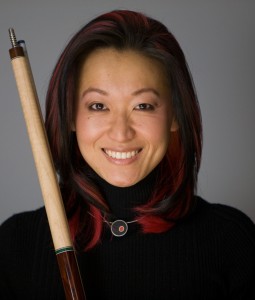 Samm Diep Vidal Joins Billiard Education Foundation!
The Billiard Education Foundation (BEF) is pleased to announce the appointment of Samm Diep-Vidal to the position of Executive Director.
Vidal joins the organization on May 1, 2012 to work alongside current Executive Director, Laura Smith. On August 1, Vidal will assume full executive director duties; Smith will continue on as a trustee of the organization.
Samm Diep-Vidal has made a name for herself in the sport as a player, billiard instructor, writer and promoter. She is most recognized for her online interviews and instructional videos and most recently has been busy as House Pro and Marketing Director for Felt Billiards (Englewood, CO). Said Samm of the appointment, "My goal is to educate players and fans on the benefits of the BEF while creating more event and scholarship opportunities for the juniors involved. The future of our sport depends on each and every one of them."
BEF Board of Trustees president Shari Stauch said, "The board is excited to have Samm join the BEF team. She has built solid relationships within the industry, and recognizes that promoting young players is key to our sport's growth. Samm will bring to BEF several creative, fun and innovative approaches that will allow the industry to get behind the BEF in a big way!"
Diep-Vidal's immediate responsibilities include a re-launch of the BEF's website as well as identifying new ways that manufacturers, promoters, retailers and room owners can each be part of BEF's success. Flagship programs of the BEF currently include the Junior National 9-Ball Championships; BEF Scholarships; and "Pool in School" programs that promote high school billiard clubs, inter-school competition, and billiard phys-ed classes.
Photos/Interviews available on request.

About the Billiard Education Foundation
The Billiard Education Foundation (BEF) was formed in 1993 as a 501 (c)(3) non-profit charitable organization. The BEF funds academic scholarships, produces the Junior National 9-Ball Championships, offers opportunities for billiard athletes to attend the WPA World Junior 9-Ball Championships and promotes "Pool In School" programs. For more information about the BEF please visit www.BilliardEducation.org. To become a sponsor, make a donation or inquiry, please contact Samm Diep-Vidal at samm@BilliardEducation.org or phone 303.667-8000.